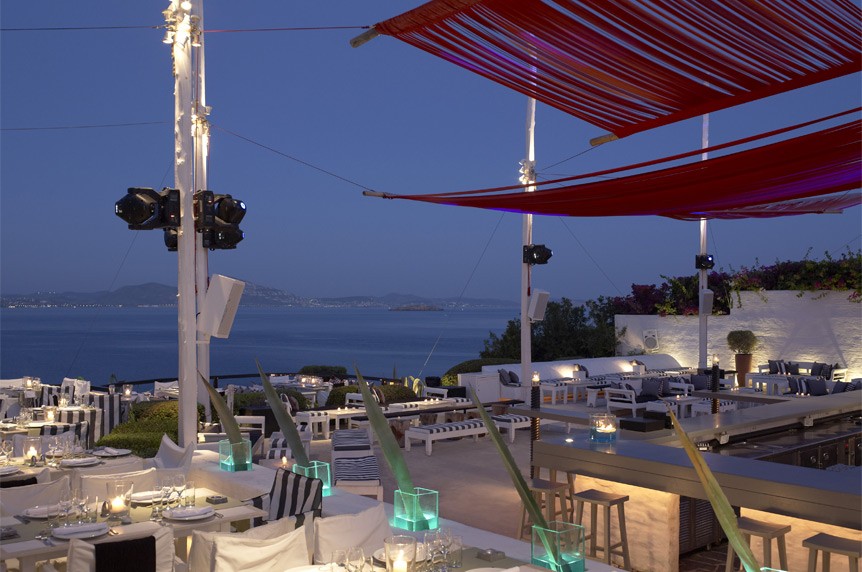 I believe that there only very few restaurants in Greece which could gain – just as they are – international recognition and Island is one of them. The combination of the location, the extremely tasteful decor, music, service, fine cuisine and public relations are what have made it Athens' most emblematic club-restaurant since 1994 (!). And there are not many establishments in the city (indeed, is there another one?) which can pride themselves on having stayed at the top for two decades, particularly in the volatile club-restaurant category, where fashions and trends engender frequent changes.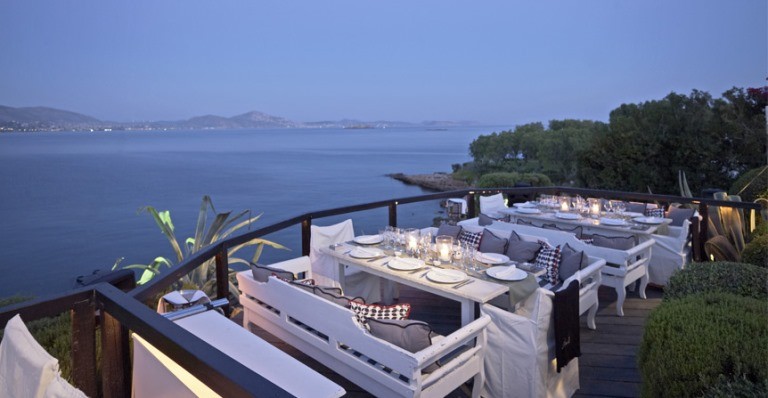 The ambience here is truly unique, not only in the club-restaurant but throughout Island, and if you are lucky enough to get one of the front tables, you can revel in the magic of the Athenian Riviera and realise just how blessed Athens is and what an incredible tourist destination it could be... but that's another story.
The music starts off relaxed and lounge-esque before gradually intensifying, becoming more ambient and mainstream, but without interfering with conversation in the dining area. I know that we are talking about a club-restaurant and most of you arrive after 10-10.30, but anyone who has not been here at sunrise doesn't know what they're missing!
So, is everything perfect at Island? Certainly not. There are some issues with the cuisine and although the wine list is very well thought out and varied, the wines are way too expensive (4x over retail is the rule). But tell me, do you know any better club-restaurant of this size in the world? I think not. In any case, the food is not the main reason for coming here.
Don't get me wrong. The cuisine is actually very good. Especially if you go for the sushi and other Asian fusion options. The maki are well wrapped, with the right rice and properly filleted fish; the signature rolls are very interesting and well made. And the fried fare is good. Try the kataifi-wrapped shrimps with wasabi mayo and you'll remember me. In other respects, the now classic slow baked salmon with miso and green apple is sweeter and less delicate than in the past, while a risotto we ordered was overcooked.
The desserts leave excellent impressions, the standout being the orange fondant with chocolate sorbet, while service is efficient and extremely polite. The unique location may be the cornerstone of Island's longstanding success, but the perfectionism of Spyros and Chrysanthos Panas is the real secret behind Athens' summer hot spot par excellence!  
Island
Phone: (+30210) 9653563 (+30210) 9653564
Website: http://www.islandclubrestaurant.gr
Open: Daily, evening
Price per person (€)*: €70-90
* we do our best to reflect the actual price range per-person of a full meal including first and main courses, desert, water and half a bottle of wine or one beer depending on the type of restaurant.
Scoreboard Key
0 - 3

Poor

3.5 - 4

Average

4.5

Acceptable

5 - 5.5

Satisfactory

6 - 6.5

Good

7 - 8

Very Good

8.5 - 9

Outstanding

9.5 - 10

Excellent
| | | | | | | | |
| --- | --- | --- | --- | --- | --- | --- | --- |
| 0 - 3 | 3.5 - 4 | 4.5 | 5 - 5.5 | 6 - 6.5 | 7 - 8 | 8.5 - 9 | 9.5 - 10 |
| Poor | Average | Acceptable | Satisfactory | Good | Very Good | Outstanding | Excellent |
User Comments
Login or register to join the conversation