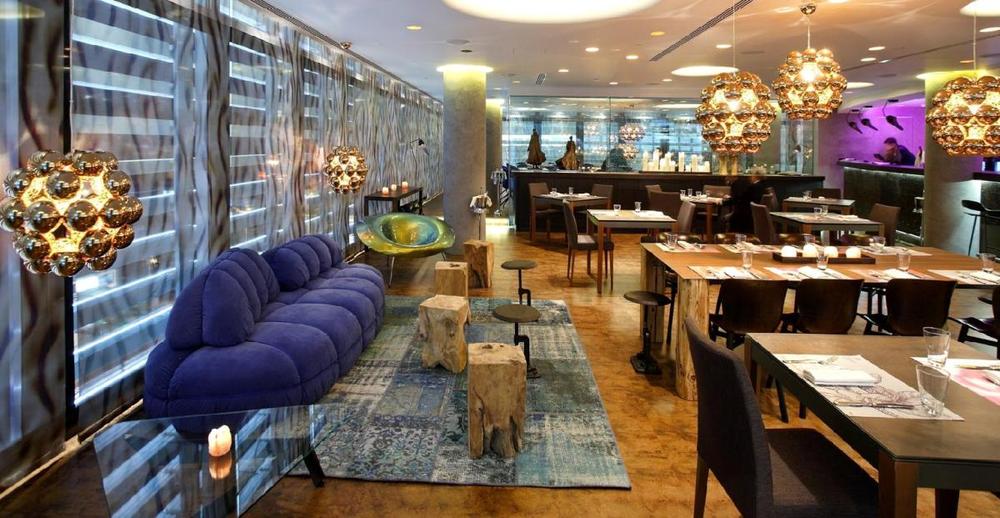 Nikos Karathanos' new menu really impressed me, and highlights the capabilities of the chef and his reinforced kitchen team. For we should not forget to mention the very talented Dimitris Dimitriadis, pastry chef Theodoros Moisidis, and the contribution of Chrysanthos Karamolegos, mainly in the "Hytra Apla" bistro.
The changes to the menu are impressive and there is no doubt it was in need of such an overhaul. And because a good beginning generally makes a good ending, I must note that the improvement was immediately apparent in the amuse bouches. Dinner here had never begun in such striking fashion! I'll leave some of them for a surprise and focus on the best: a delightfully dainty macaron of cuttlefish ink with fish roe salad! Apart from the intensity and harmony of flavours, I will just state that I have never tasted such a sublime macaron in Greece!  
Of the appetizers, I shall refer to three. The first may not be one of this year's arrivals, but it is relatively new and most importantly is quite exceptional: the egg! On a bed of spinach and chard sits an egg, perfectly poached (in terms of appearance, for in actual fact it has been slow baked at around 60 degrees) in a delicate crust of Panko bread "crumbs"  and another "egg", this time faux, the white of which is made from feta and the yolk from tomato water. Truly divine, perhaps the best egg creation at present in the entire city! This charming game of illusions which begins with the faux egg continues with other proposals by Nikos Karathanos. But they are illusions that are also meaningful and extremely flavoursome; they don't simply add playfulness and humour to the dishes... and this is what elevates them! The next intriguing proposal is... bean soup! The chef takes this quintessential Greek dish, deconstructs it and reassembles it in a creation worthy of a Michelin-starred restaurant. The beans become an exquisite, velvety purée, topped with a piece of perfectly grilled herring and a little pickled cucumber with cauliflower. Next to this are black beans marinated in vinaigrette and faux beans of fish roe (!). The dish is further enhanced by a delightfully aromatic and tasty smoked herring broth, accompanied by bread with celery and silky herring salad. The third amazing appetizer is the mushroom. A huge, beautifully grilled porcini on a bed of porcini and caramelised hazelnut with coffee and Madagascan vanilla, together with tiny "spheres" of truffle mayonnaise, hazelnut coulis, milk and terrine of foie gras. Accompanying this, a mushroom consommé, along with a potato ravioli stuffed with mushroom tartare. An incredibly delicious dish in which all the different textures and temperatures create a wonderful symphony of earthy aromas and flavours!
Among the main dishes, I shall again focus on three, with meat. The succulent kid goat with golden thistle and curd which is ingeniously accompanied by a silky carrot and cumin purée, the marvellous rooster with crisps of skin, mustard sauce (accentuated by mayonnaise with chives) and potato of different textures, and the pork. Here we have a perfectly cooked piece of Iberian pork (though I would like to see it with Greek black pig), served with celeriac gnocchi and celeriac purée in a sauce of honey, cardamom/cinnamon, ginger, lemongrass and tomato water with finely chopped pig's feet: the classic pork with celery as you've never had it!
If certain dishes such as the white grouper, the cuttlefish, the veal but also the desserts – which are nonetheless better than ever! – are improved a little and go beyond the simply "very good", then Hytra will climb to 8.5 /10 and could be looking at a second Michelin star
Hytra
Phone: (+30210) 3316767 (+30217) 7071118
Website: http://www.hytra.gr
Open: Daily, evening
Price per person (€)*: € 70-80, in the bistrot €40-45
* we do our best to reflect the actual price range per-person of a full meal including first and main courses, desert, water and half a bottle of wine or one beer depending on the type of restaurant.
Scoreboard Key
0 - 3

Poor

3.5 - 4

Average

4.5

Acceptable

5 - 5.5

Satisfactory

6 - 6.5

Good

7 - 8

Very Good

8.5 - 9

Outstanding

9.5 - 10

Excellent
| | | | | | | | |
| --- | --- | --- | --- | --- | --- | --- | --- |
| 0 - 3 | 3.5 - 4 | 4.5 | 5 - 5.5 | 6 - 6.5 | 7 - 8 | 8.5 - 9 | 9.5 - 10 |
| Poor | Average | Acceptable | Satisfactory | Good | Very Good | Outstanding | Excellent |
User Comments
Login or register to join the conversation