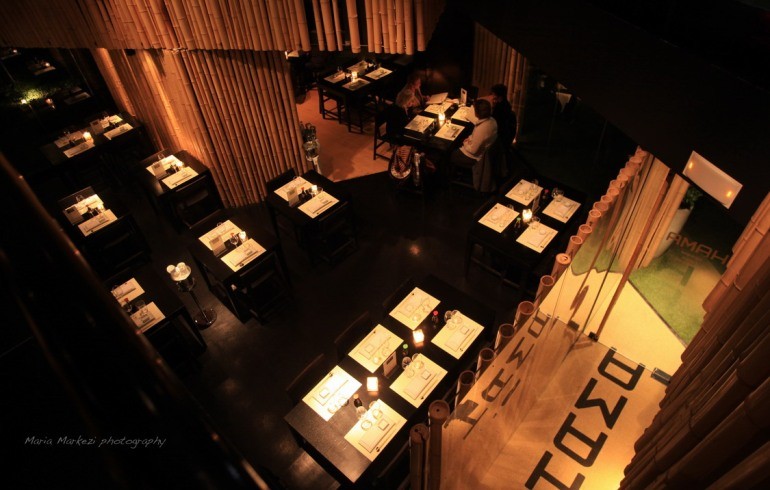 Hama was the first project of K-Studio to catch my eye; many more were to follow. I hadn't been, mainly because I was put off by friends and colleagues whose opinions I trust. But recently I began to hear increasingly good reports and when I learned that chef Take was calling the shots in the kitchen (known to us from Matsuhisa Mykonos and Coo) I decided to pay a visit.
I was given further motivation by the fact that working alongside Take was the very talented Joe Kurauchi, from Morimoto New York, who at the end of March will be running Dimitris Pappas' new restaurant, Rakan, which will be opening in Kifissia.
The decor is impressive but by no means ostentatious, with bamboo screens separating open spaces and dining booths. The interior space is expertly illuminated to bring out the contrast between the dark wooden furniture and light golden bamboo. 
The menu follows the familiar motif of an entire generation of modern Japanese restaurants strongly influenced by the global success of Nobu Matsuhisa. But here there are some aspects that present additional interest, such as certain signature dishes of both chefs. The spicy crab tartare, for example, with chilli mayonnaise and yuzu sauce (and – unnecessary in my opinion – truffle oil) is a delightful dish that created quite a stir on Mykonos when Take served it at Coo and Nammos. The Kurauchi salad too, with perfectly cooked lobster and spicy lemon dressing, is a wonderfully balanced and flavoursome dish. And there are plenty more. Among the more expensive dishes, one of Joe Kurauchi's best known, is Ja Ja Men noodles, a delectable and discreetly spicy Japanese Bolognese! If you don't mind mixing fish and meat, give it a try. As for me, I intend to taste the same chef's spicy lamb cutlets, which were not on the menu when I was there.
Regarding other choices, the tempura was thin, crispy and only slightly more 'oily' than I would have liked. The – inevitable – Black Cod with miso was nicely baked, but it lacked the silky perfection of Nobu's dish, nor did the sauce have the necessary sweetness and finesse. As for the sushi, I believe it is amongst the best in Athens. Let's not forget that Take is perhaps the top sushi chef to have worked in Greece! The fish expertly sliced, the nigiri 'bombshells' and the rolls perfectly formed, compact but with melt-in-the-mouth texture.
Hama is an enjoyable restaurant and prices of €65-70 per head with wine or a cocktail are reasonable for this type of food and the venue's high standard. But I would like to add one thing. It saddens me, particularly in such difficult times, to see talent, know-how and enthusiasm being exhausted in restaurants of this price range. I think it would be really interesting to see a restaurant from the Hama team with prices around €30-35 per person... what do you think?
Hama
Phone: (+30210) 9600595
Website: http://hamasushi.gr/home/
Open: Daily,  in the evening.
Price per person (€)*: €60-70
* we do our best to reflect the actual price range per-person of a full meal including first and main courses, desert, water and half a bottle of wine or one beer depending on the type of restaurant.
Scoreboard Key
0 - 3

Poor

3.5 - 4

Average

4.5

Acceptable

5 - 5.5

Satisfactory

6 - 6.5

Good

7 - 8

Very Good

8.5 - 9

Outstanding

9.5 - 10

Excellent
| | | | | | | | |
| --- | --- | --- | --- | --- | --- | --- | --- |
| 0 - 3 | 3.5 - 4 | 4.5 | 5 - 5.5 | 6 - 6.5 | 7 - 8 | 8.5 - 9 | 9.5 - 10 |
| Poor | Average | Acceptable | Satisfactory | Good | Very Good | Outstanding | Excellent |
User Comments
Login or register to join the conversation