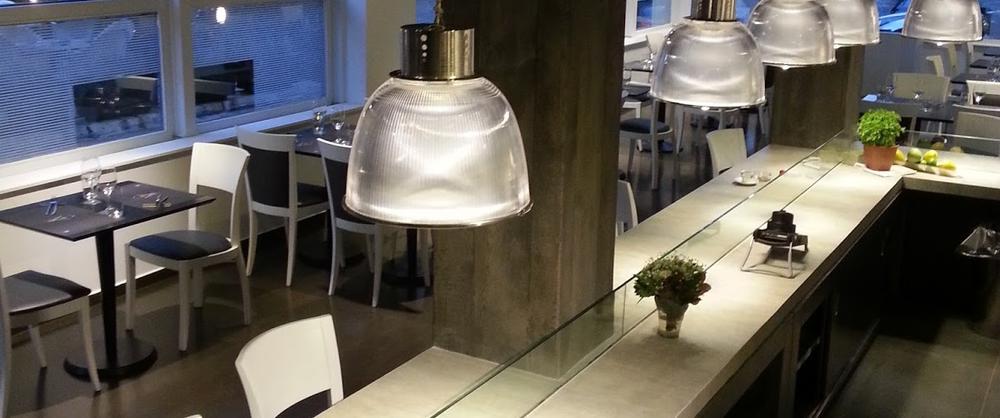 I don't intend to go over old ground;  I will just point out that my main criticism of the restaurant was that it lacked a clear identity, apparently attempting to walk a fine line between a bistro and a more creative French restaurant.
Olivier Campanha now seems to have chosen; he has obviously decided to express himself and impart his own personal culinary touch to his restaurant. The result: sophisticated, aromatic dishes, sometimes elaborate and complex, but always with admirable technique, freshness and elegance.
His king crab "salad" with mango, tarragon, and lime in a sweet paprika velouté with avocado foam is such a dish. The risotto with crab bisque, accompanied by langoustine tartare but also langoustine tempura with Pink Lady apple sticks is one of his characteristic elaborate dishes. But although the risotto is very good and aromatic, the – difficult – langoustine tartare lacks the proper texture (having a somewhat gooey feel), while the tempura does not have the requisite lightness. On the other hand, the foie gras with beetroot-cassis chutney, caramelized onions and pepper and red fruit sorbet was sheer poetry! The lamb too was exquisite: perfectly cooked lamb fillet and chops, with a decadent red curry and red wine sauce, sweet garlic confit and wonderful croutons done in the fat. But the real standout was the quail with an incredible chili sauce and fluffy avocado purée:  a creation of the highest standard. The menu also features the popular (and impressive) côte de boeuf with its significantly improved trimmings, but the French meat is not on a par with the best steaks we eat in Athens and I personally will prefer one of the chef's more… creative dishes.
The desserts crafted by Dimitris Chronopoulos are consistently outstanding and in terms of value for money the restaurant is exemplary. Its present rating of 7 / 10 is well deserved and having now decided its direction, Food + Wine will surely be setting its sights even higher!
Food and Wine by Olivier Campanha
Phone: (+30210) 7211146
Website: http://www.fandw.gr
Open: Tuesday- Saturday, noon- evening & Sunday only at noon 
Price per person (€)*: €35-45
* we do our best to reflect the actual price range per-person of a full meal including first and main courses, desert, water and half a bottle of wine or one beer depending on the type of restaurant.
Scoreboard Key
0 - 3

Poor

3.5 - 4

Average

4.5

Acceptable

5 - 5.5

Satisfactory

6 - 6.5

Good

7 - 8

Very Good

8.5 - 9

Outstanding

9.5 - 10

Excellent
| | | | | | | | |
| --- | --- | --- | --- | --- | --- | --- | --- |
| 0 - 3 | 3.5 - 4 | 4.5 | 5 - 5.5 | 6 - 6.5 | 7 - 8 | 8.5 - 9 | 9.5 - 10 |
| Poor | Average | Acceptable | Satisfactory | Good | Very Good | Outstanding | Excellent |
User Comments
Login or register to join the conversation