Block 146 is the fruit of cooperation among several entrepreneurs, each with his own history in the business (and in others). It opened in Nea Erythraia, at 146 Harilaou Trikoupi St., bringing together in a remarkable way the overtones of a New York brasserie with those of an Athenian all-day bar-restaurant. With exposed bricks, tiles, an impressive bar, an extensive selection of drinks, green leather couches (the decor bears the signature of Afroditi Bonatsou of Stones & Walls), Block 146 has an easygoing ambience and is great for people watching. The music is loud, sometimes too loud. It's still too early to talk about the Block 146 crowd; for the moment its patrons are all those who 'should' be going to a chic bar-restaurant, strong on PR, in the northern suburbs.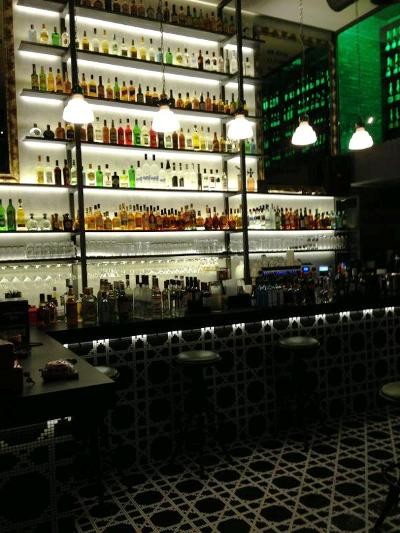 Having said all this, one might assume that the food is simply a 'necessary evil'. It wouldn't be the first time. But here an unusual amount of attention has been focused on the cuisine and that is to their credit because the place would fill up in any case (as we unfortunately see happening all the time), at least in the initial months. They have gone for a young, talented chef, Yiannis Liokas, a 'graduate' of the Trastelis 'school', who has worked at Fuga and here, for the first time, assumes the position of executive chef. Remember the name, I believe we will be hearing a lot about him. Yiannis Liokas presents an intelligent menu that combines certain classic dishes which should always be served in such a venue, along with others that are more demanding to prepare, possibly since he wants to show that he can go a step further. And he succeeds quite well, mainly because even his 'simplest' dishes have something extra, so the final result is harmonious and the overall impression positive. I think the best example of this is the Caesar salad, which may be the best in the city thanks to its freshness, well balanced tangy dressing and exquisite, juicy chicken that is cooked in a vacuum pouch and really lifts it. Or the classic hamburger, cleverly served in 'newspaper' with exceptional double-fried chips and a delicious brioche-style bun. It could easily be another 'best of' if the patty was a little juicier and the general appearance more enticing. But what the hamburger lacked, the outstanding carbonara – which they toss at the table to break up the poached egg – more than compensated (just ask for extra freshly ground pepper). Other offerings include a wonderfully refreshing and balanced beetroot salad with goat's cheese and Granny Smith apples, a delicious, more complex salad with chickpeas, caper chutney, yuzu vinaigrette, silky hummus and confit of cod. This latter would definitely be worth one star if the cod had been a little juicier and 'fluffier'. Technical problems prevent what is perhaps the most emblematic appetiser on the menu attaining the heights it deserves. The poached egg wrapped in kataifi pastry with two types of potatoes (mashed and silky pureed), prosciutto chips and white truffle oil is an ingenious, potentially even more enjoyable dish which, regrettably, was too salty and the egg too hard, which meant the whole point (mixing it in with the purée) was lost. Among the main courses, the cockerel marinated in mustard and lemon cream with truffle oil purée, as well as the pork neck, slowly cooked for 24 hours (also sous-vide) with baked celeriac and carrot purée were both quite delicious and well executed.
Summing up, it is clear that the cuisine has technique and ideas, but also the stuff of high performance. A little care is still needed to avert certain minor mishaps. In addition to the fine cuisine, I should also mention the friendly service, the small but comprehensive wine list and the particularly interesting cocktails courtesy of Yannis Samaris, expertly mixed by the bartenders. My personal favourite is the Sazerac au Chocolat (cognac, absinthe, Mozart and Peychaud's bitters), which goes perfectly with an after-dinner cigar.
Block 146
Phone: (+30210) 6209680
Website: -
Open: Daily, noon- evening
Price per person (€)*: €35-45
* we do our best to reflect the actual price range per-person of a full meal including first and main courses, desert, water and half a bottle of wine or one beer depending on the type of restaurant.
Scoreboard Key
0 - 3

Poor

3.5 - 4

Average

4.5

Acceptable

5 - 5.5

Satisfactory

6 - 6.5

Good

7 - 8

Very Good

8.5 - 9

Outstanding

9.5 - 10

Excellent
| | | | | | | | |
| --- | --- | --- | --- | --- | --- | --- | --- |
| 0 - 3 | 3.5 - 4 | 4.5 | 5 - 5.5 | 6 - 6.5 | 7 - 8 | 8.5 - 9 | 9.5 - 10 |
| Poor | Average | Acceptable | Satisfactory | Good | Very Good | Outstanding | Excellent |
User Comments
Login or register to join the conversation