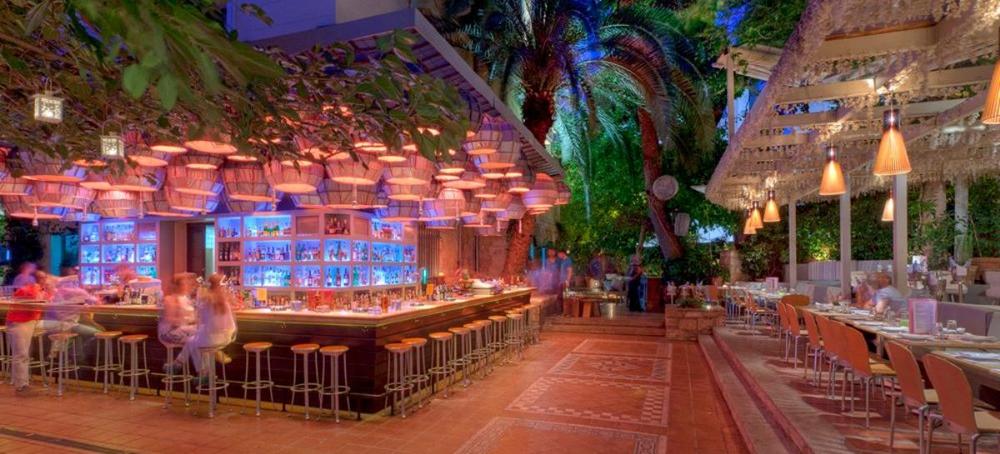 Balthazar is back and so is its gorgeous garden, only this time with a strong team in the kitchen headed by Christophoros Peskias, with Dionysis Alertas on desserts.  Freud Oriental has set up shop separately at the back of the garden.
At the press launch last Tuesday we were able to taste the whole menu from both restaurants.  I don't usually tend to make my mind up after such events so we went back on Friday to focus on Peskias's menu.  The well-known chef spent many years here and at Rock n'Roll (owned by the same group) before his career defining period at 48 the restaurant. 
With his return to Balthazar, he's come full circle and as he has nothing to prove anymore, he's able to take gastronomic risks by offering things like classic meatballs (a nod to his old menu from 15 years ago), via Peru and the Med. The menu could be accused of lacking a clear identity but as it's been devised by such a good chef, I would say it's his idea of fusion. This kind of offering does require some focus on the customer's side though, as you can't really have a bit of everything without leaving feeling a little confused.
My theories aside, even on a very busy night like last Friday, the kitchen worked smoothly. The Cycladic fish n' chips otherwise known as some very crispy dogfish and incredible chips were served with a beautiful tartare sauce. The quinoa salad with smoked salmon was refreshing and aromatic while the beef tataki with the fragrant lime and celery sauce served with crunchy samphire was also excellent.  The buttery buffalo mozzarella with the oven tomatoes was lovely but it definitely needs more tomatoes to balance the dish out.
Moving on to the mains, I have to mention the potentially great spare ribs with a Peruvian peppery sauce.  Order some mash on the side so you can really enjoy that sauce.  I wish I could be so complimentary regarding the meat itself but it was tough and dry and for the second time in a row.  On the other hand the pork chop with a spicy and aromatic sweet chilli sauce was juicy and tender and so was the tagliata with a chimichurri sauce; an Argentinean sauce made with parsley, garlic, olive oil, oregano and white wine vinegar. It might be an idea to be able to spell it correctly on the menu though.
Dionysis Alertas's desserts were, as always, interesting and well executed even though the fusion menu has trapped him into taking bigger risks than what a diner at Balthazar would expect.
  Balthazar remains one of the most interesting restaurants in the city. It has a great atmosphere and I hope that with Peskias at the helm it will get even better and remain open during the winter too. Until then, see you in the garden!
Balthazar
Phone: +30 210 6412300-9
Address: 27 Tsoha, Ampelokipi, Athens
Website: www.balthazar.gr
Open:

Open Monday-Saturday, dinner only

Price per person (€)*: €45-60
* we do our best to reflect the actual price range per-person of a full meal including first and main courses, desert, water and half a bottle of wine or one beer depending on the type of restaurant.
Scoreboard Key
0 - 3

Poor

3.5 - 4

Average

4.5

Acceptable

5 - 5.5

Satisfactory

6 - 6.5

Good

7 - 8

Very Good

8.5 - 9

Outstanding

9.5 - 10

Excellent
| | | | | | | | |
| --- | --- | --- | --- | --- | --- | --- | --- |
| 0 - 3 | 3.5 - 4 | 4.5 | 5 - 5.5 | 6 - 6.5 | 7 - 8 | 8.5 - 9 | 9.5 - 10 |
| Poor | Average | Acceptable | Satisfactory | Good | Very Good | Outstanding | Excellent |
User Comments
Login or register to join the conversation