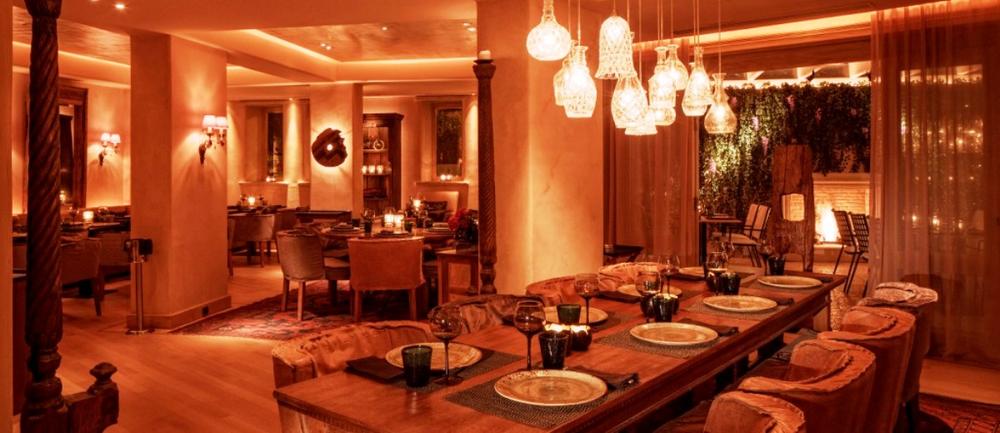 I personally rate Baku, in The Margi hotel, as one of the most beautiful and welcoming restaurants Athens has to offer. 

The décor consists of warm colours, hand woven carpets, soft lighting, comfy furniture and an exotic art de la table, which creates a real sense of home with touches of luxury thrown in for good measure.
Chef Panayiotis Yakalis has put together a menu along the same lines as Malabar, but with a more wintery / comfort food feel.  As you can tell from the high score I gave it, I more or less feel both restaurants are of the same high standard.  If I really had to choose, I would say Malabar shows a touch more finesse to its menu.  One of the main selling points here is the farm they have created in Kalivia, which is slowly starting to provide the restaurants with top class ingredients.
My top two recommendations are both pasta dishes.  The beetroot kritharoto (orzo risotto) with smoked Chalkidiki mackerel and a light garlic cream is a beautifully balanced dish.  The linguini made with Zea flour alongside an excellent rooster cooked in a red wine sauce, are served on a bed of Evritania mizithra cream and present a truly multilayered experience which will stay in your mind for while.  On the opposite end of the spectrum, the spaghetti aglio olio & pepperoncino accompanied by a very tasty spentzofayi in a little brass pot, feels a little out of place.  It misses the true spice kick of the classic dish, and the elements trying to bridge the gap with the spentzofayi, dilute the simplicity of the original recipe. Another great starter is a thick, velvety soup made with Jerusalem artichokes and porcini mushroom purée, served with a fois gras bruschetta topped with pear chutney.  What a combination! Moving on to the entrées, my favourite was a perfectly cooked seabass with stamnagathi and a tarama sauce with sautéed calamari. The herb-encrusted cod was well cooked but lacking in intensity.The meat dishes were a little simpler but tasty nevertheless, especially the rack of lamb with braised artichokes and potato terrine and the classic rib eye with Bearnaise sauce. 
The desserts were also a high point.
  I would recommend the crème brulée lightly fragranced with masticha and the cooked apple with cream and salted caramel.  The wine list has a number of interesting options and the staff are very knowledgeable and courteous.  It's most definitely time to add Vouliagmeni to your winter foodie destinations.
Baku
Phone: (+30210) 9670924
Address: Litous 11, Vouliagmeni, Athens
Website: -
Open: Open daily for lunch and dinner
Price per person (€)*: 50-70
* we do our best to reflect the actual price range per-person of a full meal including first and main courses, desert, water and half a bottle of wine or one beer depending on the type of restaurant.
Scoreboard Key
0 - 3

Poor

3.5 - 4

Average

4.5

Acceptable

5 - 5.5

Satisfactory

6 - 6.5

Good

7 - 8

Very Good

8.5 - 9

Outstanding

9.5 - 10

Excellent
| | | | | | | | |
| --- | --- | --- | --- | --- | --- | --- | --- |
| 0 - 3 | 3.5 - 4 | 4.5 | 5 - 5.5 | 6 - 6.5 | 7 - 8 | 8.5 - 9 | 9.5 - 10 |
| Poor | Average | Acceptable | Satisfactory | Good | Very Good | Outstanding | Excellent |
User Comments
Login or register to join the conversation