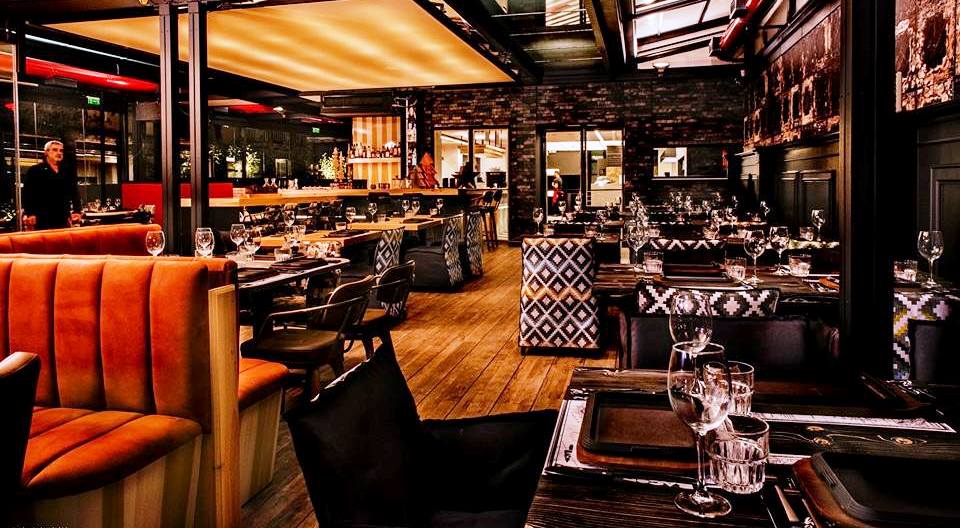 A welcoming space with leather sofas, seats with South American motifs, plenty of wood and a big T shaped bar, form part of this Argentinean inspired steak house. The inspiration in clear in the menu and the theme is clear: meat! 
The classic rib-eye was tasty, perfectly grilled and juicy. It might not have had the depth of flavour an aged cut would have or the complexity of a really high end meat but it was decent overall and good value for money. What I really loved though was the usually forgetful picanha.  It arrived on an Argentinean spit, on a butcher's block trolley, and it was perfectly sliced in front of us. The meat was wonderfully tender and juicy, with good flavour and aroma.  It truly was one of the best picanha I've ever tried. 
The sauces that come with the meats are good, authentic and aromatic, while the fries are also decent. The rest of the side dishes are average as were the appetisers. 
It's clear the Bacoa's strong point are the meat dishes but I have to also give them credit for their interesting and well priced wine list. This is a good option for the Northern suburbs' dwellers as most of their other steakhouse options are more along the classic Greek route.  This is also a good option for those who want something classier for their Tsiknopempti outing than the usual ribs.
Bacoa
Phone: -
Address: Kolokotroni 37, Kefalari, Athens
Website: www.bacoa.gr
Open:

Open every day for lunch and dinner

Price per person (€)*: €40- €50
* we do our best to reflect the actual price range per-person of a full meal including first and main courses, desert, water and half a bottle of wine or one beer depending on the type of restaurant.
Scoreboard Key
0 - 3

Poor

3.5 - 4

Average

4.5

Acceptable

5 - 5.5

Satisfactory

6 - 6.5

Good

7 - 8

Very Good

8.5 - 9

Outstanding

9.5 - 10

Excellent
| | | | | | | | |
| --- | --- | --- | --- | --- | --- | --- | --- |
| 0 - 3 | 3.5 - 4 | 4.5 | 5 - 5.5 | 6 - 6.5 | 7 - 8 | 8.5 - 9 | 9.5 - 10 |
| Poor | Average | Acceptable | Satisfactory | Good | Very Good | Outstanding | Excellent |
User Comments
Login or register to join the conversation