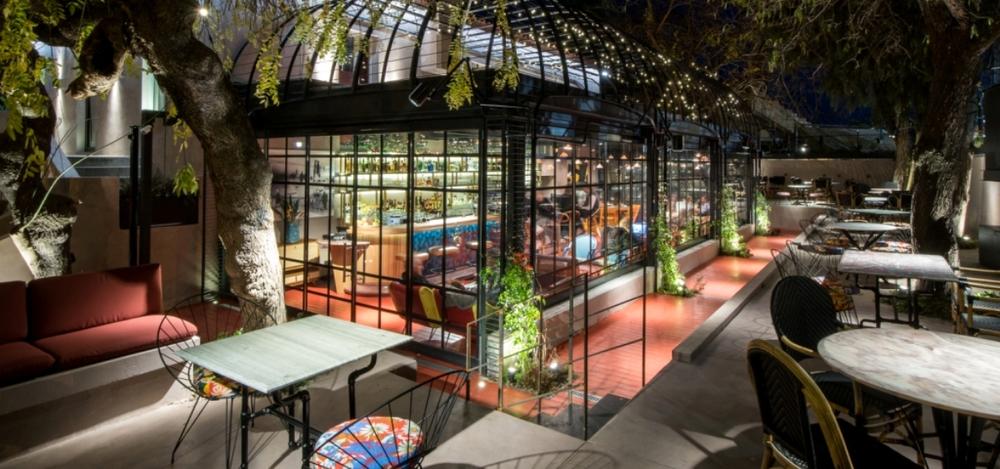 The team behind Gazi's Shamone (with Fotis Sergoulopoulos being the most well known) has created a great restaurant in Kifissia; very tastefully decorated and set in an incredibly beautiful garden full of trees and plants.
Artisanal opened in December but it's taken this long for them to find their culinary feet, hence why we only dealt with it as a bar so far. Having The Gin Joint's Dimitris Kiakos oversee the bar menu was definitely a highlight alongside the great atmosphere. Things have definitely changed in the kitchen since Dimitris Dimitriadis took over though.  Last seen at Hytra, he's put together an interesting menu showcasing Artisanal's concept of Mediterranean cooking with a French flair.  There is no showing off and he sticks to seasonal produce as much as possible.
I tried various dishes and they all had good technique as well as great flavours and aromas in common. I loved the egg en croute with the perfect runny yolk, served with wild greens and al dente asparagus as well as the beautifully marinated sea bass with a fennel, orange and lime salad.  The lentil and juicy pancetta salad was tasty and filling but it needed more mustard vinaigrette and in fact the vinaigrette needed more of a kick in order to compensate for the earthiness of the dish.  Moving on to the mains, the risotto-like cous cous with cuttlefish ink, Florina peppers, fennel and perfectly grilled calamari was very good as was the juicy vacuum cooked chicken with an aromatic orzo provencal.  The veal cheeks bourguignon were cooked to perfection and even though it's a winter dish, you couldn't help but enjoy it.
The desserts still need some work to get to the level of their other dishes but the bay leaf panna cotta with strawberry ice cream did stand out.  The wine list is relatively short but it does have some interesting options while the cocktails are definitely a winner!
Artisanal has found its feet and it seems to have transported some of that boheme flair usually found in Athens city centre to an otherwise mainstream Northern suburb.
Artisanal
Phone: +30 693 6144744
Address: Zirini 2, Kifisia,
Website: -
Open:

Open every day for lunch and dinner.

Price per person (€)*: 40-65
* we do our best to reflect the actual price range per-person of a full meal including first and main courses, desert, water and half a bottle of wine or one beer depending on the type of restaurant.
Scoreboard Key
0 - 3

Poor

3.5 - 4

Average

4.5

Acceptable

5 - 5.5

Satisfactory

6 - 6.5

Good

7 - 8

Very Good

8.5 - 9

Outstanding

9.5 - 10

Excellent
| | | | | | | | |
| --- | --- | --- | --- | --- | --- | --- | --- |
| 0 - 3 | 3.5 - 4 | 4.5 | 5 - 5.5 | 6 - 6.5 | 7 - 8 | 8.5 - 9 | 9.5 - 10 |
| Poor | Average | Acceptable | Satisfactory | Good | Very Good | Outstanding | Excellent |
User Comments
Login or register to join the conversation