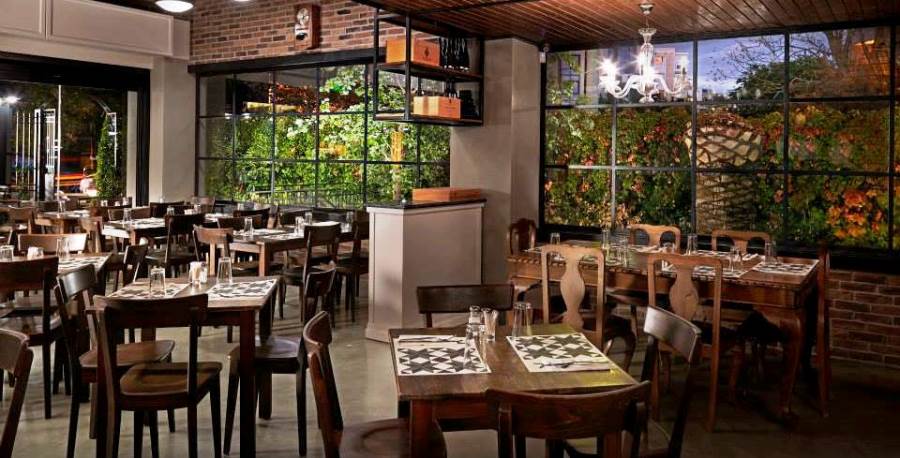 I honestly could never have imagined such a transformation of the tired space at the corner of Kifissias and Parnonos, opposite the traffic lights on Aghiou Konstantinou Street. With a neo-rustic air, extremely welcoming, leather couches, heavy wooden tables, white tiles on one wall and numerous elements that blend harmoniously to create a truly delightful and tasteful atmosphere, Archontiko is a restaurant that should be seen by anyone aspiring to open a Greek restaurant in London or in the Meatpacking District of Manhattan! For this is precisely what springs to mind: an everyday restaurant that appears to have that precious patina of time while artfully combining Greek and Anglo-Saxon elements in the décor.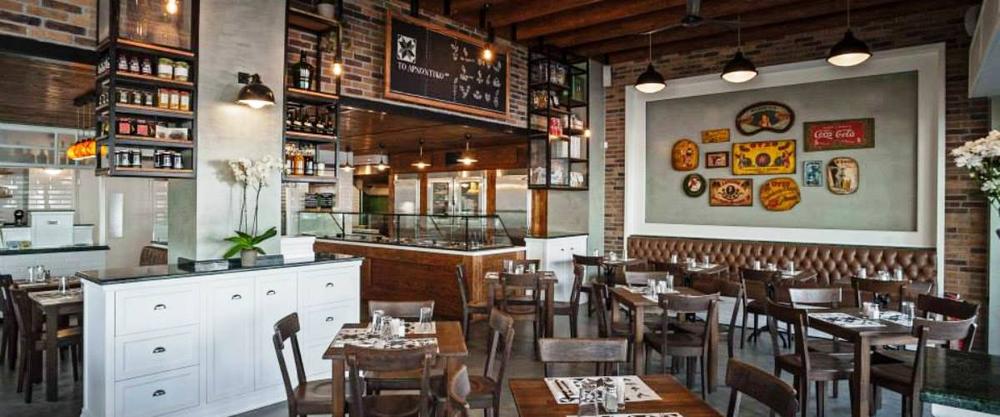 At lunchtime, Archontiko continues a decades-long tradition (in both Ambelokipi and Mani), operating as a new-style mageriko serving traditional oven-baked dishes (magirefta) and olive oil-based vegetable stews (ladera). But for the past month it has also been opening in the evening as "Archontiko by Night". The evening menu has a Greek heart, especially the first courses, several magirefta, accompanied by a well-balanced wine list, interesting cocktails prepared by George Gaitanidis and pleasant music at the right volume.
As I looked over the appetizers on the menu, I realized I wanted them all! I finally compromised with half but I will be returning soon to try the bean velouté with pepperoni and onion chips which really intrigued me. The freshly baked rustic bread put me in the right mood and the lightly fried rolls with kasseri cheese, soutzouki and an amazing spicy tomato dip really impressed me! Equally delicious were the travichtes, the fried hand-stretched bread of Mani, with mushrooms and Vermio smoked cheese (think Greek pizza). If everything I tried was of the same high standard as these two dishes, I would have probably never left the place. But we were soon brought back down to earth (a little). Don't get me wrong, everything we went on to order was well prepared and tasty, but it lacked the deep flavour and perfection of those first two dishes. The stuffed cabbage rolls were good, but I have eaten better and they needed more egg-lemon sauce. The meatballs with sautéed greens and tomato sauce were flavourful, but the dish as a whole had little cohesion.  I would have preferred everything cooked together with the tomato and greens, while the tomato sauce itself was somewhat one-dimensional and too "tomatoey", something that also betrayed the classic Hünkar with its tender meat and exquisitely smoked eggplant purée. In contrast, the short beef ribs were full of juice and flavour, cooked to perfection.
I'll skip the desserts next time and move straight on to the cocktails, although I did chuckle when I first saw them among the restaurant's offerings. So, apart from one or two things, which can be easily fixed, Archontiko is a very attractive option for everyday dining and – more importantly – it shows how traditional Greek eateries and tavernas can move forward to escape the tedium they usually induce... at least in me.  
To Archontiko
Phone: (+30210) 6120808
Website: http://www.arxontiko.eu/
Open: Daily noon- evening except Sunday
Price per person (€)*: 25-40 €
* we do our best to reflect the actual price range per-person of a full meal including first and main courses, desert, water and half a bottle of wine or one beer depending on the type of restaurant.
Scoreboard Key
0 - 3

Poor

3.5 - 4

Average

4.5

Acceptable

5 - 5.5

Satisfactory

6 - 6.5

Good

7 - 8

Very Good

8.5 - 9

Outstanding

9.5 - 10

Excellent
| | | | | | | | |
| --- | --- | --- | --- | --- | --- | --- | --- |
| 0 - 3 | 3.5 - 4 | 4.5 | 5 - 5.5 | 6 - 6.5 | 7 - 8 | 8.5 - 9 | 9.5 - 10 |
| Poor | Average | Acceptable | Satisfactory | Good | Very Good | Outstanding | Excellent |
User Comments
Login or register to join the conversation