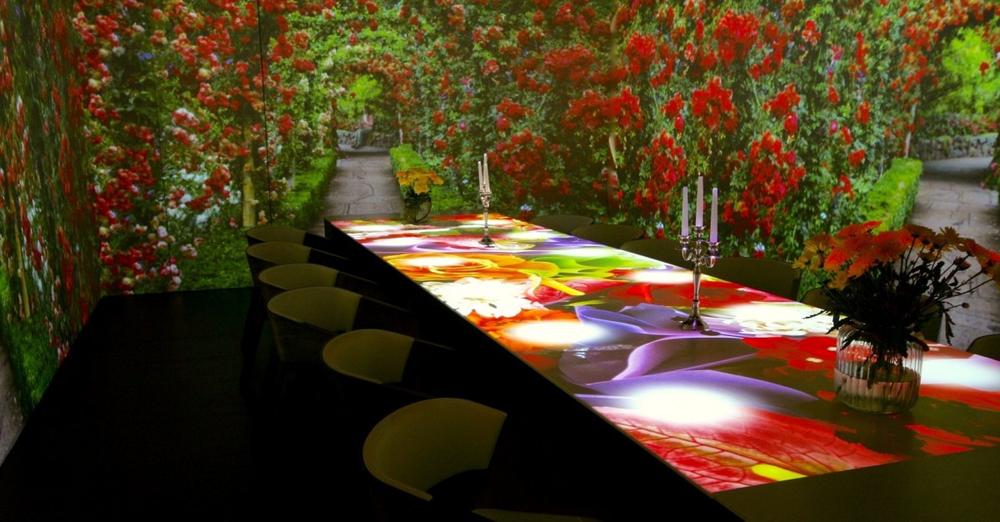 It really is impressive that in austerity stricken Athens, a project like this has even been able to take shape; impressive and heart warming. What's concerning though is that such a restaurant has opened without instantly becoming the talk of the town!
Let's start at the beginning though.  All Senses Gastronomy in Glyfada (above well known Spiti restaurant) is one of the few establishments in the world (and obviously the only one in Greece) preaching from the multisensory kitchen bible. The kitchen is part of a complete experience that not only activates all the senses but is also able to bring back or challenge memories, feelings and preconceptions. 
"I only want to go out and enjoy some food with my friends", I hear you say.  My answer is that I usually do too but given the chance to have a once in a lifetime experience, wouldn't you be a bit tempted? That's exactly what's on offer here so leave your preconceptions at home and forget about 'going out for dinner'. Here you'll enter a world where a succession of images, videos, music, aromas and flavours will take you on an all-consuming voyage!
All Senses Gastronomy is a 12-cover restaurant. There is a big table with a screen and four walls with screens all showing images and videos relevant to each dish, with music and sounds playing an equal part. The staging is down to the team at Indigo View with Thodoris Papadoulakis directing (from 'The Island' fame) alongside the two creative restaurant owners: Anastasis Sotovikis and Konstantina Batziou. The setting around each plate, the impeccable service and Danish chef Trine Frausing are part of the process of making everything a true gastronomic experience. 
The menu has been put together by twice Michelin starred Danish chef Ronny Emborg. He has an impressive CV and what's even more impressive is that his dishes are full of Greek ingredients. This is a style of cooking based around modern techniques, one that plays with textures, deconstructs them and puts them back together. You might think that the food might play second fiddle to everything else going on around it but you'd be wrong. What actually happens instead is that already interesting dishes are taken to the next level.  Depending on the day and time, there are three different menus; one with 6 dishes (€45 plus €20 for the wine or €12 for juice), one with 12 dishes (€80 plus €30 for the wine or €20 for juice) and one with 24 dishes (€135 plus €40 for the wine or €30 for juice). Every dish is successfully paired with wine or a specially made juice and it's the only restaurant in town offering that as an option. The whole thing lasts for about two hours for the middle menu and three for the long one. It's difficult to judge every dish individually but what I will say is that if this menu were served in a normal restaurant, we would still be talking about one of the best places in town!  Some dishes are extraordinary like the amazing combination of apple, celeriac and Aegina peanut sauce, or the beetroot with scallop tartare unexpectedly served in red roses! There are some 'quieter' rustic dishes like the burnt bread with a smoky, creamy cheese and salmon roe, the steamed brioche with Evritania prosciutto or the slices of wild boar with fresh mushrooms and salsify. The more extreme options include raw prawns you dip in mayonnaise and dehydrated cheese or the lamb tartare with wood sorrel and sea buckthorn. They're all very interesting with a story to tell and some are simply exquisite. Anyone with an interest in gastronomy or in a mood for something truly different should definitely visit All Senses Gastronomy. If nothing else you will experience something you won't easily forget! 
All Senses Gastronomy
Phone: (+30) 210 8980080
Address: Lazaraki 12, Glyfada, Athens
Website: www.allsensesgastronomy.gr
Open:

Open for dinner Tues to Sat

Price per person (€)*: 57-175
* we do our best to reflect the actual price range per-person of a full meal including first and main courses, desert, water and half a bottle of wine or one beer depending on the type of restaurant.
Scoreboard Key
0 - 3

Poor

3.5 - 4

Average

4.5

Acceptable

5 - 5.5

Satisfactory

6 - 6.5

Good

7 - 8

Very Good

8.5 - 9

Outstanding

9.5 - 10

Excellent
| | | | | | | | |
| --- | --- | --- | --- | --- | --- | --- | --- |
| 0 - 3 | 3.5 - 4 | 4.5 | 5 - 5.5 | 6 - 6.5 | 7 - 8 | 8.5 - 9 | 9.5 - 10 |
| Poor | Average | Acceptable | Satisfactory | Good | Very Good | Outstanding | Excellent |
User Comments
Login or register to join the conversation