This is my mother's recipe and with so many of her recipes uploaded here, you might imagine her to be a modern-day Mrs. Beeton. But trust me, nothing could be further from the truth. It's simply that my mother and her friends belong to that category of women who exchange recipes (which more often than not turn out perfect) but who, maintaining impeccable style, spend far less time in the kitchen than they do at the local cafe or nearest Chanel boutique. I find this disappointing, but then I am not a member of their intriguing group, which is why my mother jokingly (I think) calls me a hippy. Anyway, this soup is a real winner, so here's the recipe.
Beef & vegetable soup
Ingredients (for a large pan)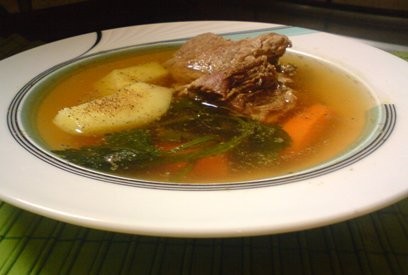 1 kg beef shank

3 courgettes

3 carrots

3 potatoes

1 onion

½ bunch of celery (half bunch)

2 Knorr beef stock cubes

½ can of chopped tomatoes

2 hot chillies

2 eggs

2 lemons

1 cup of soup pasta

Salt and pepper
Preparation
Place the meat and whole onion into a large saucepan with enough water to cover them by two fingers and allow to simmer, scooping off and discarding the foam until the water becomes completely clear. This skimming is very important and you should take care to do it properly. If necessary, top up with hot water. Test the meat by poking it with a fork. When it's almost ready, add the vegetables whole, the celery (again whole) with its stalks, chillies, beef stock, chopped tomatoes, salt, pepper and boil for about 30 minutes until soft. Remove the ingredients with a skimmer and if necessary top up with water so there is enough for about six bowls of broth; add the pasta and boil for another 15 minutes. Lastly, beat the eggs and lemon in a deep bowl, whisking continuously. Add two ladles of the broth to a large mixing bowl and gradually add, a little at a time, the egg-lemon while continuing to whisk, until the mixture is completely amalgamated with the broth. Then pour the mixture back into the pan. Serve in deep bowls after first adding a piece of meat and some vegetables to each bowl.
As you can see, this recipe uses no oil since the meat has its own fat, but if you like you can add a little before boiling the vegetables. Also, when serving, I recommend adding plenty of pepper. You're in for a real treat!
User Comments
Login or register to join the conversation