The truth is that I have a soft spot for comfort food and am currently in my anti-delivery phase, so the recipe today is one I make frequently. Not only because it's extremely simple, as you will see, but also because my boys love it and often beg me for it. In this particular recipe, I use ready-made meatballs from Creta Farm and if you live in Greece, I encourage you to use them too. Even though they don't sponsor this column – as they should – they really are delicious and all I have to do is remember to keep two packets in the freezer. You can use any label of frozen meatballs you will find at your local super market.
Meatball youvetsi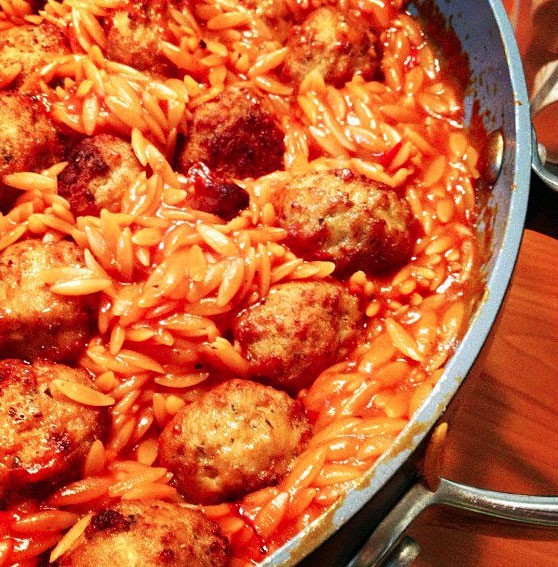 Ingredients (for four hungry mouths)
2 packets Creta Farm meatballs

1 packet thick orzo pasta

2 cans tomatoes (as I have mentioned in the past, I always use Santos)

3 tbsp olive oil

1 onion, finely chopped

1½ glass white wine

500 ml beef stock (if you can find it, try Bovril)

Optionally, if you like your food spicy, two dried hot chillies
Preparation
Place the meatballs straight from freezer in an ungreased baking dish and fan bake on the middle shelf of the oven at 180oC for about 20 minutes.
Pour the oil into a wide, shallow saucepan with a thick bottom and sauté the onions. When translucent, add the tomatoes, salt, pepper and oregano (along with the chillies if you are using them) and allow to cook for several minutes. Lower the heat, add the orzo and mix well to prevent sticking. Add a little stock so the pasta has enough liquid to boil, but not so much as to 'drown' the orzo. Continue in this way until the pasta is ready (12-14 minutes depending on the packet cooking instructions). The result should be well cooked pasta in a moist sauce without too much liquid. When ready, remove the meatballs from the oven, place them in the pan and gently stir all the ingredients. Serve with grated cheese, preferably spicy.
User Comments
Login or register to join the conversation