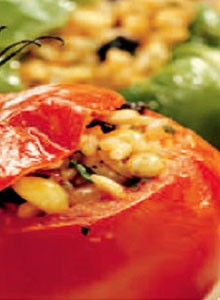 Obviously, it's not as if anyone will be reinventing the wheel with this recipe. However, it is tried and tested, based not only on the quality of the ingredients used but also the variety of herbs that – in my opinion – give the greatest boost to the dish. So, stuffed vegetables with rice... First of all, pick out as many tomatoes and peppers fit in your biggest oven baking dish. You will need ripe, sweet tomatoes and thin-skinned peppers, along with 2 courgettes, 2 onions and 3 spring onions, 1 bunch of parsley and a few potatoes. Top the tomatoes and peppers (the tops will be used as caps) and scoop out their content.
Place the tomato pulp and all the juice in a wide, shallow saucepan and finely chop. Add the onions, again finely chopped, salt, pepper, plenty of oregano and as much olive oil as you want – I prefer a lighter dish and do not use more than 3 tbsp. Cook for several minutes on high heat. Then lower the heat and add 1½ tbsp of rice for each stuffed vegetable – I use Agrino's fancy rice – together with the two courgettes, grated.
Stir well until the mixture is well blended, turn off the heat and toss in the finely chopped parsley and two handfuls of pine nuts.
Stuff the tomatoes and peppers, close the tops with the 'caps' and place the stuffed vegetables in the baking dish, with potatoes cut into wedges in between to provide support. In a shaker, mix a little olive oil, salt, pepper, oregano, a few tablespoons of tomato juice – personally I prefer Pummarò with basil and oregano – and a little water. Use this mixture to coat the stuffed vegetables and sprinkle lightly with breadcrumbs.
Fan bake on the bottom shelf of a preheated oven at 180oC until your stuffed creations turn a nice colour and the potatoes are properly cooked. If necessary, add a little water for a delicious, thick sauce on the bottom of the baking dish.
User Comments
Login or register to join the conversation