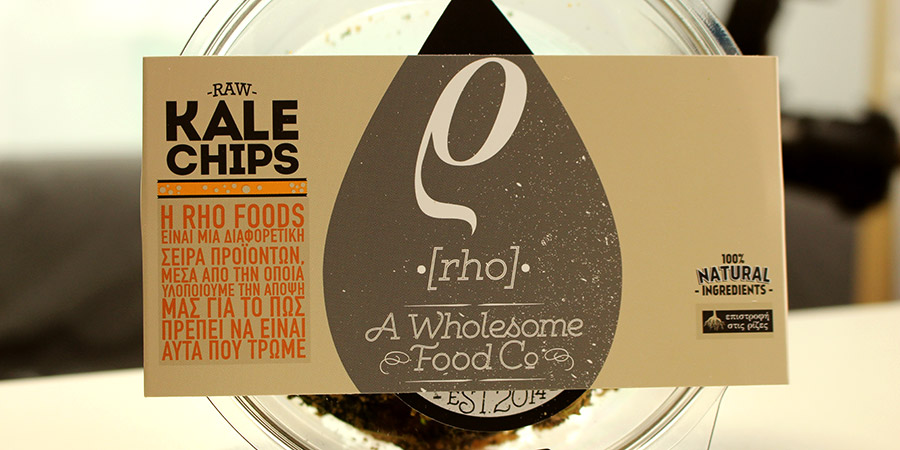 Kale chips are a relatively new product for the Greek market, having only been launched in June 2014.  Despite the crisis, Greece is following one of the biggest international gastronomic trends: that of health foods produced using natural processes, otherwise know as raw foods.  I have been looking into the case of kale in general as it's a very popular vegetable in the U.S. In recent years it's been used in fresh fruit juices, smoothies and in salads.
Kale is a type of cabbage with a high nutritional value including vitamins A, C and K, proteins, natural fibres, iron and calcium among others. I decided it was time to meet Rho Foods founders Nikos Tsatsaris and Iris Malama and find out more about the philosophy of raw foods taking flight in Greece because of the wealth of local produce and an increasing public demand.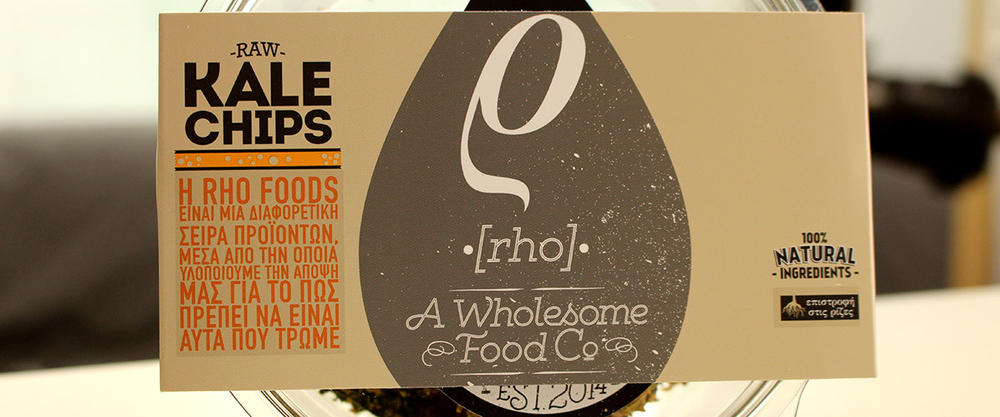 Rho foods
Rho is the phonetic spelling of the Greek letter r but there is also the obvious connection with the word raw.  In veganese, raw means natural, fresh and unprocessed.  Using this play on words Nikos and Iris wanted to respond to market demand by also stating that this philosophy was in perfect harmony with Greek nature itself.
Nikos is mechanical engineer and Iris is a photographer, so although come from completely different professional worlds, they share a similar outlook on life.  Nikos spent years studying and working in the UK in the field of aerodynamics and Iris lived in New York for many years so they were both inspired by the healthy food revolution evident all around them. 
"When I returned to Greece, I wanted to return to the natural environment I so missed in England.  I started growing truffles in the Northern Corinth region just to be closer to nature, something I still enjoy doing when I go wild truffle hunting with my specially trained dogs" Nikos told me.  Iris had spent years looking into ways of balancing her vegan diet and kale chips were one of her staples.  When they both came back to Greece, they decided to join forces and create a healthy snack company, starting with kale chips.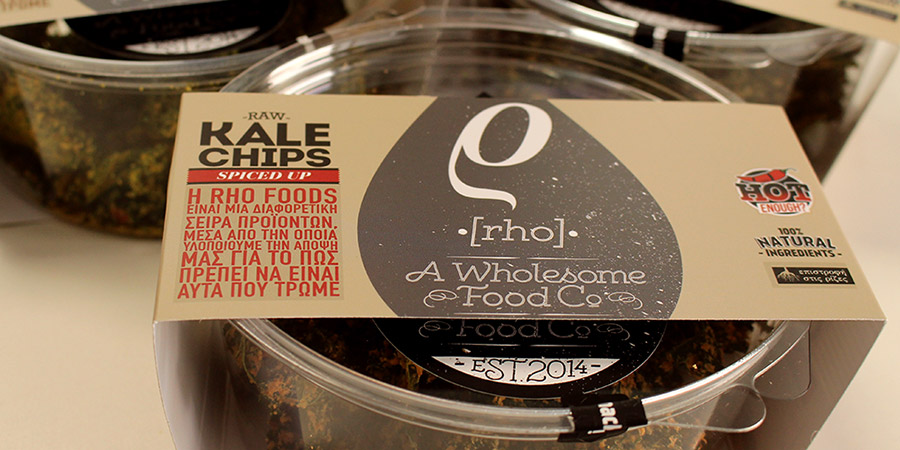 In order to make kale chips, you need a variety of curly cabbage with a neutral vegetable flavour reminiscent of lettuce, with the high nutritional value as described above.  The kale Rho Foods use is collected every week from a number of producers in Attica and Evia, who despite their initial reservations started growing kale in their fields.
After collection, the hard stalks are removed and the leaves are taken apart by hand.  They are then washed and temporarily stored while the secret Rho nutty sauce is made using cashews, sunflower seeds, cider vinegar, pepper, onion, yeast, olive oil, Himalayan salt and cayenne pepper.  The yeast gives a cheesy aftertaste to the 'cheesy snack', hence the cheese graphic on the packaging.
The kale leaves are then chopped up and mixed with the sauce so they can marinate in it, all done by hand again.  They are then placed on trays and put in the dehumidifier, which is at the heart of the raw food philosophy: no cooking, frying or baking. In the dehumidifier the kale leaves gradually lose their humidity during a 24hr process where the temperature slowly rises to no more than 45 degrees.  The chips are not baked, they remain raw and retain 100% of the nutrients.  What you're left with is a healthy snack with the texture of crisps, suitable for vegetarians, people on healthy eating regimes and a balanced food for kids who can't say no to crisps!
If you're after a more gourmet option you can get them in curry or spicy flavour (spiced up) which has a bit of a kick.  You can add kale chips to your salads or sandwiches or enjoy them as a snack with your drink.
Another Rho product also following the rules of a vegan lifestyle are fruit chips, made with organic apple, orange and pineapple. Using the same process and without the addition of sugar, they are another healthy option you can add to salads, cereals, a jug of sangria or something you can give to kids as a snack.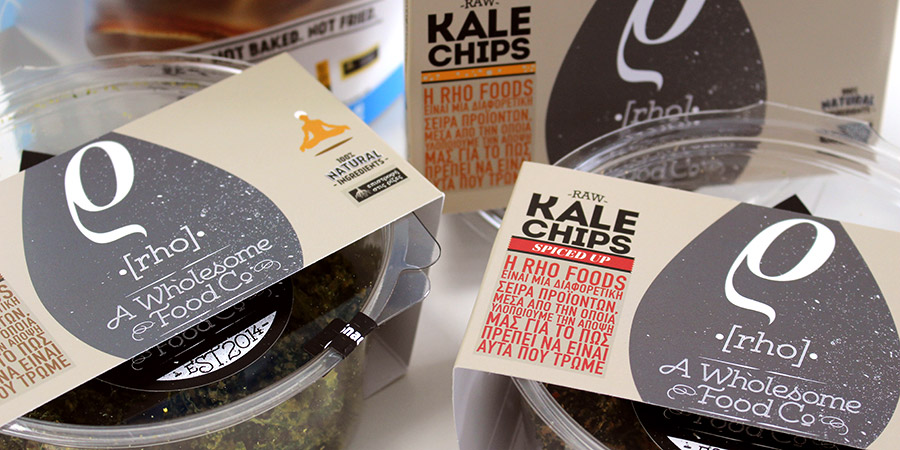 The producers
Nikos and Iris have joined the ranks of new Greek entrepreneurs focusing on homegrown products.  In their case they are part of a trend, not a fad in my opinion, which is here to stay.  They don't eat meat and are constantly trying to find ways to making their diets better by looking for pure foods.  Their motto is 'return to nature', so Nikos and Iris have made an American idea into something suitable for Greece.  The soil here produces all manner of wonderful fruits and vegetables and will continue to do so given the respect it deserves.  Add to that passion, love for innovation, modern processes and marketing and you have Rho Foods.  They hand select their stockists and move slowly and carefully as their business develops.  There are more and more enlightened consumers out there looking for quality as well as healthy and nutritious foods.  Many of those people end up becoming producers themselves and enrich the market with great options for the rest of us.  It is not a coincidence that when I interview businesses like this, they always mention that they want to produce something they would happily give their own children. 
Rho foods kale chips are a great example of a product of great quality already being exported before it's even really got well known in Greece.  Welcome to Greece kale! 
User Comments
Login or register to join the conversation