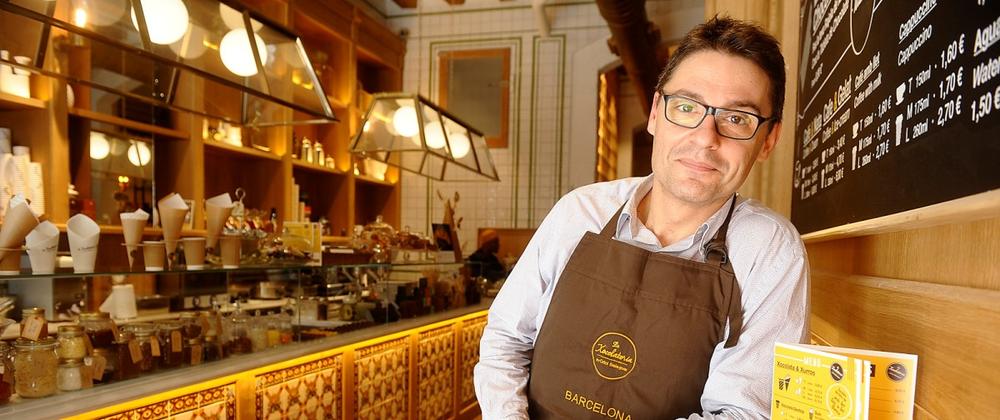 Many would envy his career but if you glance through his CV, you'll soon realise that nothing happens by chance. People have named him a whizz kid in the past but he has consistently proven he is more than that.
He was born in 1971 in Tarragona's Calafell and by his 23rd birthday he was named the best pastry chef in Spain thanks to his work at Ferran Adria's El Bulli.
His awards just kept on coming: in 2000 his Dessert book was named the best gastronomy book in the world, in 2001 his dish 'the 8 textures of chocolate' was awarded the title of 'Best Dessert in the world', in 2005 his site was named the best culinary site in Spain while his patisserie was 2008's 'Best Gastronomy Shop'.
These days he owns two pastry shops in Madrid and Barcelona and a patisserie school, while he travels the world writing books and delivering seminars for pastry professionals.  I met him at 'Obsession', his two-day seminar focusing on chocolate which took place as part of Gastronomy Essentials' programme of events.
Having had such a successful career all these years, what keeps inspiring you to make new desserts?
I'm not going to tell you anything you haven't heard before but I find inspiration when I'm travelling as I'm lucky enough to do loads of that because of my seminars etc. Inspiration can't be explained anyway.  I can go for days without anything coming to mind and suddenly I can be in a town where the buildings, the trees or even two people walking hand in hand can get the wheels in motion. Inspiration could also come from a song or even a name.  For example I have a series of chocolates called High Tech because I simply love the sound of those words.  We started working on an idea and I think the result really is high tech.  All that can just happen from walking around a city. 
So should we expect a dessert inspired by Athens?
Why not? (laughs). It's a wonderful city.  I instagramed the Parthenon this morning actually.  I came straight here afterwards to start preparing for Obsession. Do you know how many times I've thought about that incredible image since then? Come to think of it, I really enjoy walking around museums and I do that often when I travel.  I get inspired by architecture as well although don't ask me how.  I don't even know (laughs). Harmony in sculpture or the colours in a painting make me think about how I should balance one of my dishes.
So when you create something, your ultimate focus is the right balance?
No.  A dessert has to be tasty.  That may come through balancing ingredients but not necessarily.  What do I mean by that?  I like playing with textures.  A dessert can include many textures, let`s say crispy, soft and creamy.  I might want to play with the crunch so I will allow it more space compared to the other two.  That 'imbalance' may elevate the dish in the end. It all comes down to how experienced you are.  The same could apply to flavours or aromas.  Patisserie has strict rules.  A momentary error could really influence the end product. I always make a point of saying that during my seminars or when I'm at my school.
What led you to start a school or deliver these seminars?  Weren't you fearful of venturing outside your comfort zone?
On the contrary, I felt it was an extension of my existing career.  I felt I had to pass on the knowledge I had gained. I have a really strong team which helps me with this as we work and experiment together. The same applies in my two stores in Madrid and Barcelona.  We don't just display our desserts and leave it at that.  We keep changing things up, whether that's the concept or seasonal ingredients. You have to really love this job as it's tough and at this level it's exhausting.  We moved into the US market with chocolates and it's actually going well as we seem to have convinced our buyers about the level of our workmanship. The result will be good if the ingredients are what they should be and the execution follows at the same high level.
I'm tempted to ask you if there is any dish you find hard and therefore avoid making?
Don't get me started! (laughs).  I think it's safe to say that there isn't one.  Don't take that as a show of arrogance but I have dealt with challenges all my professional life.  I've always said: 'Oriol, you have to make the best croissant or the best cake so that people never forget it'. I would try again and again until I achieved it and that had a lot to do with working in restaurant kitchens.
I was actually about to ask what you thought of pastry chefs in restaurants.  Do you think it's better for them to work in restaurants instead of pastry shops?
It depends on what goals everyone sets for themselves.  I have been in many different roles and I would say that in order to become a rounded patissier, you need a lot of experience. When it comes to restaurants and my personal experience, the research we had to do before delivering a dessert for the menu was a huge learning curve.  It's all about sequencing dishes, a restaurant's philosophy and seasonal ingredients.  I encourage my colleagues to eat out a lot as that's where the heart of gastronomy beats. That's where you'll notice what will end up being a future trend. It's magical.
I can't help but ask about your experience at legendary El Bulli. Did it change your career or was it just an important experience?
I had worked in many pastry shops before El Bulli but I just wanted to know what it was like to make desserts in a restaurant setting. I thought I would go for a year and then return to my normal job but Ferran Adria made me stay in the restaurant world for 7 years. The time I spent with him and his team was an indescribable experience.  I learnt so much about technique and creativity as I watched him and decided there was no way I could absorb all that in a year. He coordinated his team by inspiring them so we had to show initiative in order to complete the picture.  We were hesitant but it happened.  It influenced the way I think during my creative moments so, even though I was really young then, I stored as much information as I could and I still use it to this day.
Do you carry anything from your childhood into your professional kitchen?  A recipe for example?
Absolutely, a toasted sandwich with olive oil bread and dark chocolate.  My mum used to make it for us when we came home from school. It was very simple but it tasted amazing.  That dessert is my childhood and it has inspired many dishes, from croissant to cakes and chocolates.
What are your next steps going to be or have you not planned ahead?
I am so passionate about my work that I would be lying if I said that I haven't made any plans.
  It might sound weird but my work is my hobby and vice versa. There is nothing specific other than constantly improving on what we have already done.  For now, we're just enjoying being here as that might lead to something else.  I guess that's how I work in general.
User Comments
Login or register to join the conversation