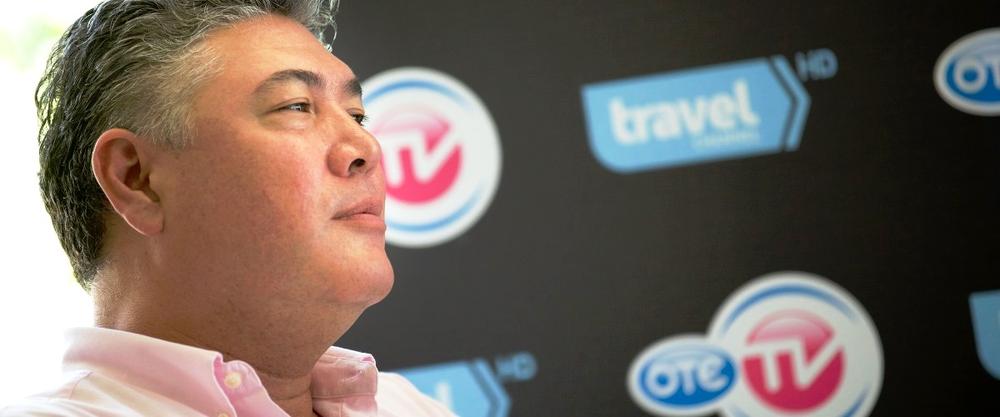 Jonathan Phang describes himself as a "bon viveur", which is convenient, since this relieves others of the difficult task of attributing to him some specific professional capacity. "I am involved only with things I love and believe me, I feel very fortunate, but at the same time I have often paid the price for my choices". And the sudden change of course in his professional career was certainly impressive. For almost 30 years Phang had worked in the fashion industry as an agent for some of the world's top models, including Naomi Campbell and Jerry Hall. He was also a host on Britain's Next Top Model. However, he had come to Greece in his capacity as chef, to attend the World Travel Awards Europe Gala Ceremony 2014, which was organised with great success at the Divani Apollon Palace & Thalasso in Kavouri.
Author of the bestselling cookbook Pepperpot Club: A Celebration of Caribbean Cuisine, he now travels the world on Jonathan Phang's Gourmet Trains, as host of the TV show that airs in England, for now leaving behind the "gazelle-like" models and fashion shows. In the cities where he stops off, Phang cooks and searches for little known street food with gourmet flair while exploring what's new on the food scene.
At noon on 1 August, in the Divani Apollon restaurant "Mythos of the Sea", Phang donned his chef's apron and summoned up his good humour in preparation for the culinary "battle" with the restaurant's Greek chef – a happening on the eve of the Travel Awards ceremony – with two classic Greek specialities: stuffed vegetables and the ever popular cheese pie.
- Are you happy with the result?
- I think I did very well with the stuffed vegetables. And they were voted the best. It's the first time I have prepared this recipe and I'm quite satisfied. Well done Jonathan! [laughing]. But I don't think anyone actually expected me to win the cheese pie contest. To be honest though, if I had not used so much oil, I think the result would have been much closer. Anyway, my colleague was outstanding and very cooperative. You threw me in at the deep end, but I survived.
- Who inspired you to get involved with cooking?
- Well, it wasn't one of the famous, Michelin-starred chefs. I admire some of them, but they could never have inspired me. I would never create a dish in the same way as a top chef. I like watching them present a dish; I like trying it; but it doesn't excite me. The answer to your question is very simple: my mother. I was the youngest member of the family and when I was a kid I would hang around in the kitchen. With mouth wide open, I used to watch my mother cooking. And it was these memories that impelled me to write my book. Images ingrained in my mind from a very early age. All those years I was working in fashion, the cooking bug was biting away at me. So, I took the next step, which I had been preparing without knowing it since I was a boy. When this love matured inside me, it itself showed me the way. 
- It may be a cliché, but I would like you to tell me a dish and a restaurant you regard as unforgettable.
- My answer will also be a cliché [laughing]. I probably haven't hierarchised the dishes and restaurants I like. It's something that definitely depends on my mood. Two dishes I adore, for example, are plain Curry & Rice and Kentucky fried chicken. I won't say "no" to tasty junk food, nor to Nobu's signature black cod. The latter is a great dish that I can't cook at home, so each time I have it I really enjoy it. As a result, I go to Nobu quite often. In London I have savoured some incredible dishes by a number of very capable chefs. But it's no good when you have to pay 100 pounds or more to eat good fish. I am very interested in the concept of value for money. There are countless restaurants in London, so you will find almost everything. But what does it for me is a dish that is scintillating, well prepared and delicious, but also affordable for the average person.
- What was the idea behind Gourmet Trains?
- I like travelling and I like eating, so this is the ideal assignment. In London I can have almost anything I want on account of the enormous gastronomic diversity. The city has outstanding Asian restaurants, Japanese cuisine, incredible French restaurants, exceptional burgers. You really can find almost anything. But when I travel, I feel like a kid that has tried hardly anything. First of all I discover new destinations and food cultures. I try to remember recipes that impress me as best as I can, not only so I can later prepare them, but also to disseminate them or possibly include them in a book. I have experienced some amazing moments in the cities I have visited with Gourmet Trains. I know that if I didn't have this show, I wouldn't have seen even half the things in those cities. You have a different perspective when you do this work. Which is why I consider what I do to be very important.
- Tell me a person who gave you a hard time in modelling and a correspondingly difficult recipe.
- Naomi Campbell was a very difficult person for many years. An experienced eye could see her potential, which was huge and in time became quite apparent. Unbowed, really gorgeous, impressive but far too inflexible. I stopped working with her after five years because she nearly drove me crazy. Mentoring an adolescent child requires great skill. You must protect her from the wolves, safeguarding both her career and your job. I can't remember any recipe that gave me a hard time. If you are self-disciplined and stick to the recipe unswervingly, you have a good chance of making it properly. In both lines of work, discipline has played a key role in my professional advancement. And believe me, it has not always been easy.
- What would you like to do in Athens after fulfilling your World Travel Awards obligations?
- I certainly want to see the Acropolis at night. Take a walk in the historic centre and perhaps eat a tasty fish. I like it a lot here in Vouliagmeni. The view from the hotel balcony is amazing. This relaxes me, particularly in view of a very important event at which we must all rise to the occasion.  
User Comments
Login or register to join the conversation