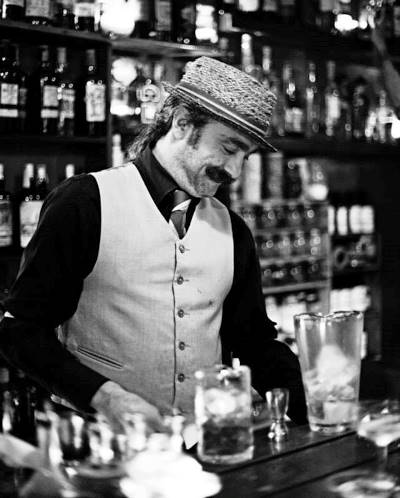 His dislike of competitions, his admiration for Greek bartending, the concept of an authentic speakeasy and a new vermouth! All this and much more in an interesting conversation with Antonio Parlapiano of The Jerry Thomas Project in Rome, an establishment among the top rankings in the list of the world's best bars.
What made you decide to open a speakeasy bar?
Our bar opened on 11 April, 2010 after very careful consideration of the location. We were looking for an almost hidden side street, but one that was in the centre of Rome. We didn't want a place with windows, so people couldn't look inside, and in general we wanted to recreate the elements and style of an authentic "speakeasy" bar.
It has always struck me that in a country like Italy, and more specifically in Rome, which has such a long tradition associated with wine, amaro and vermouth, every side street is not packed with excellent cocktail bars. How do you explain this?
Italy is one of the biggest producers of traditional and local liqueurs, with bitters and vermouth, along with many other spirits and alcoholic beverages. This means we have an equally long tradition – in a way – with ready-to-drink or bottled cocktails, especially when you consider that even vermouth and bitters belong to this category. And the way they are served – straight, on the rocks, with soda or with a twist of lemon – has been considered quite "mainstream" ever since the aperitivo became a tradition in the country. As for cocktails in the form we generally perceive them today, the truth is that we were late in adapting. In fact, I could say that this is now the "Italian golden age" of cocktails and we are seeing an increasing number of good bars opening.
What makes The Jerry Thomas Project "one of the best bars in the world"?
It 's a combination of things: attention to even the smallest detail, the creation of an atmosphere that really feels like something out of the '20s, a choice of straightforward and classic cocktails tweaked only very slightly with our very own twist, passion, passion and finally… passion for what we do.
Your menu presents a brief summary of each cocktail period. Which is your favourite period?
Our drinks have always been firmly on the "classic" path. We begin with the period prior to Prohibition and work our way through to tiki culture. We place emphasis on the remarkable "schools" of the Cantineros in Cuba but also UKBG in Europe. Personally, my favourite period corresponds to the "golden era" of American cocktails. 
You have visited Greece more than once, either as a bar guest or for seminars. What is your opinion of the standard of Greek bartending?
The Greek bartending scene has developed rapidly in the past three years. I can most definitely single out the high degree of professionalism shown by Greek bartenders and I could easily reel off a list of amazing bars in Athens. I love the Greek bar scene! I have outstanding colleagues and very good friends there!
What's your opinion about competitions?
The team at The Jerry Thomas Project doesn't trust cocktail competitions because they are inextricably linked with the companies that organize them. The winner is always the bartender of a bar in which the company organizing the competition has particular interest.
Even now, in this "revolutionary" period for cocktails, your colleagues are not shy of expressing their dislikes. What is it that might irk the team at The Jerry Thomas Project? 
We dislike people who lack new ideas, who work without inspiration and especially those who copy their colleagues.
Your bar stocks a wide variety of almost every spirit. Which are you proudest of?
At The Jerry Thomas Project one can find even long forgotten spirits or liqueurs, or drinks one has never tried before. Most of all, we are proud of having the greatest variety of genever in the world.
You recently launched your own vermouth. What makes it different from the rest?
"Vermouth Del Professore" belongs to the "primo" category and constitutes a twist on a classic recipe dating back to 1750. In a way, it is our "response" to the massive corporations worldwide which constantly launch new products that bear no relation whatsoever to the authentic recipes. Our proposal is of very good alcoholic strength, with carefully selected spices, flowers and herbs, made from Moscato wine, created with an extra dose of passion and love by JTP and Antica Distelleria Quaglia, our official associates, for an authentically Italian result.
Which is your favourite bar in the world?
The one that maintains the feeling of warm hospitality at very high levels.
Upcoming plans?
We have dozens of ideas and projects we are working on… We shall see!
User Comments
Login or register to join the conversation