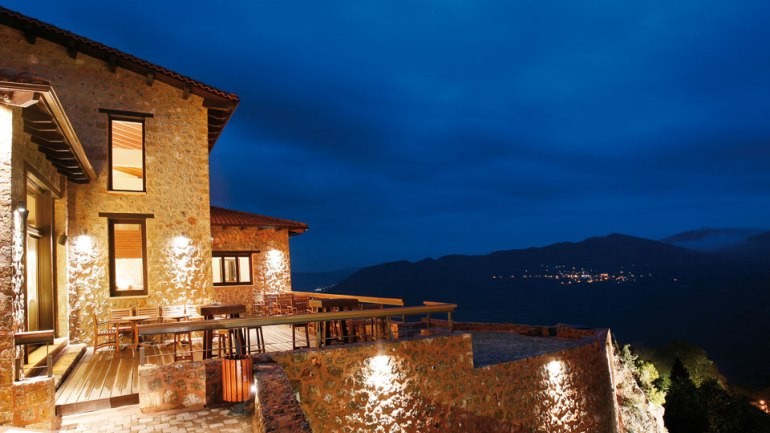 Pleiadon Gi Mountain Resort & Spa,Kato Trikala Korinthias 
One of the finest mountain hotels in Greece is located in the village of Kato Trikala in Korinthia, which, in recent years, has become an extremely popular destination due to its proximity to Athens and the numerous and worthwhile food & drink choices it offers. Pliadon Gi will immediately impress you with the style and elegance of its spaces.  It has twenty suites of various types and sizes which will satisfy even the most discerning visitor, with their comfort and amenities.  Common areas exude a sense of relaxation and are very stylishly decorated. The hotel has a very impressive spa, with a heated pool, steam bath and hydromassage. The wonderfully decorated restaurant awaits you to enjoy the chef`s inspired creations from the Greek and international cuisines.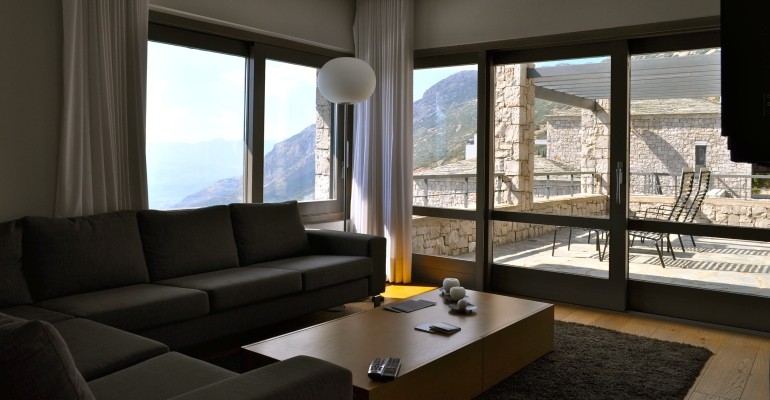 Elafivolia Arahova Suites,Arahova 
Within earshot of the most cosmopolitan winter resort, the famous Arahova, there is a complex offering the best possible hospitality.  The renowned Greek architectural firm ISV that was commissioned to build it, has created a truly impressive complex blending together modern architecture and traditional materials. There you will enjoy unforgettable hospitality and breathtaking views! The complex has five luxurious suites, with king-size beds, designer furniture and light fixtures, flat-screen TVs and a jacuzzi in the bathroom.  Superior suites also have working fireplaces.  Impeccable tailor-made services are bound to make your stay in this magnificent hotel, one that you will never forget. 

Valia Nostra Escape Hotel,Grevena 
 In the past years, Valia Nostra Escape Hotel has managed to establish itself in the Grevena area; situated just 6 km from the Vassilitsa ski centre, the hotel awaits to embrace you in its warm and welcoming atmosphere, and offer unique moments of enjoyment and snugness. You can expect the best form of hospitality in the beautifully decorated and discreetly luxurious 5 rooms and 8 suites. So, after a lavish breakfast buffet, get ready to storm out into nature and down ski slopes.  On the other hand, if you are not so much of an outdoors fan, the fully equipped spa will keep you busy throughout the day, with its heated pool overlooking the forest, its steam bath, the sauna and hydromassage facilities. 
User Comments
Login or register to join the conversation