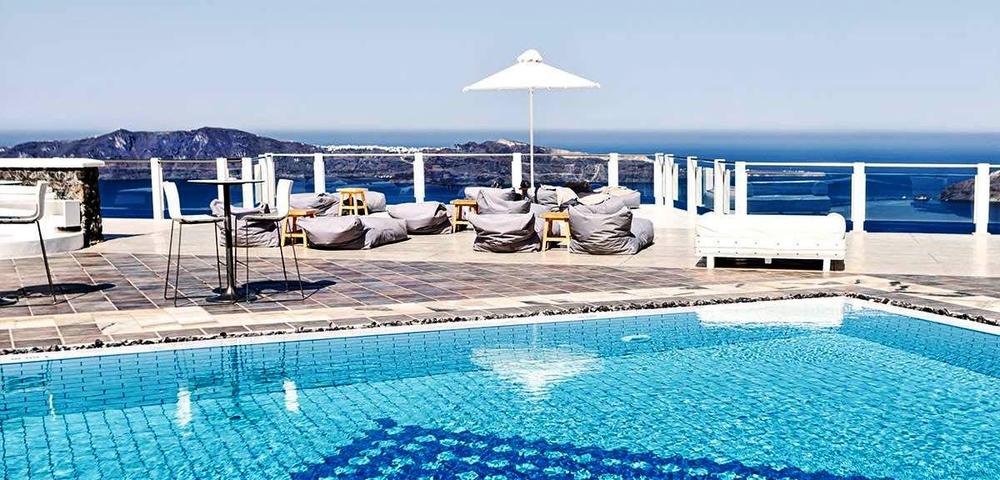 It's a known fact that all the Caldera hotels enjoy that stunning view. Most of them are luxurious, offering top class service and facilities and prices to match. What is it about Rocabella which takes it to the top of the island's resorts then?
Location
The hotel is at the end of Imerovigli, on the country road from Fira to Oia. It's strategically located so it's the perfect starting point for getting to any of the island settlements. Most reviews say exactly the same thing, but that's not the only positive.  The view towards Oia beggars belief. It looks like someone has put it there just so that the hotel could be right opposite. Sunrise and sunset take your breath away at Rocabella as the natural light and its reflection on the sea and rocks turn the natural surroundings into a film set.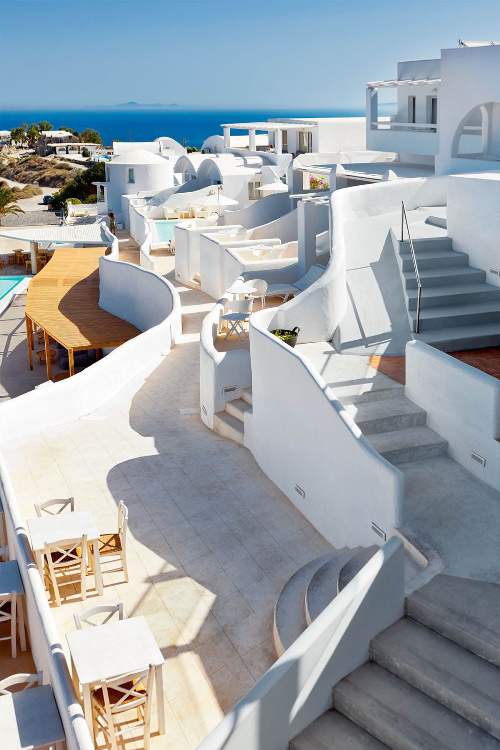 An island within an island
Rocabella is a complex of beautiful rooms and superbly designed suites spread across various levels.  Their minimalist design ties in perfectly with the primitive beauty all around it, making it an island within an island.  Its four infinity pools are also very impressive, all in different shapes and sizes. Whichever level your room is on, you won't have difficulty enjoying any of the facilities. Rocabella Santorini was created with total respect to the particularities of Caldera's geology and the special island ecosystem. Its environmental sensitivities have led to two important awards, Green Key and Travelife. 
There are two pool cocktail bars, a restaurant where the tables seem like they're floating in mid air, a spa and a boutique with clothes and accessories. The hotel is pet friendly, there is a big parking area and it has great transport services for its guests as this is one of the problems visitors face in Santorini.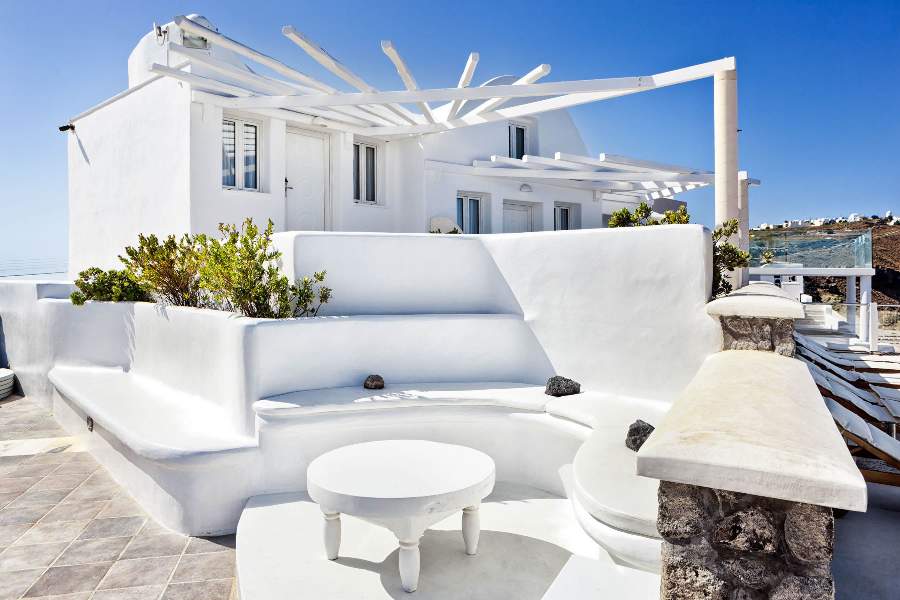 Island breakfast
Santorini is a top culinary destination because of the great local produce, the wine and its restaurants, although the hotel restaurants are not always the best bet.  Rocabella's restaurant is really good though.  You would understand what I mean if you tried the ceviche, the fluffy tomato fritters or the grilled fish and crunchy vegetables. They also serve great baked goods and snacks.  What really is its top achievement though is the breakfast.  It's rich, with a great array of local produce, the biggest variety of fresh fruit juices I have ever seen in a hotel, Cycladic cheeses and cold meats and gorgeous pies.  Brunch just keeps things going wonderfully with kayanas (traditional Greek tomato and cheese scrambled eggs), the fried bread (tiganopsomo) with mizithra and honey from Elliniko Arkadias and the croque monsieur with bread from Ioannina and smoked pancetta from Serres. There are also gluten free options which combined with everything above, mean someone has really put some thought into this.
Last but not least, let me mention Yiorgos Kalfopoulos, the young workaholic entrepreneur behind Rocabella.  His staff are just like him: full of positive energy, very professional and polite. The combination of these qualities with the beautiful surroundings make Rocabella unforgettable. Out of season the rooms are substantially discounted, for a hotel at this level, making it accessible for those with more limited budgets.
If you're lucky enough to visit, you'll probably forget what I've just said the minute you get there.
  You will be taken in by Rocabella and immediately go on to create your own memories.  That's the real beauty of this place.
User Comments
Login or register to join the conversation