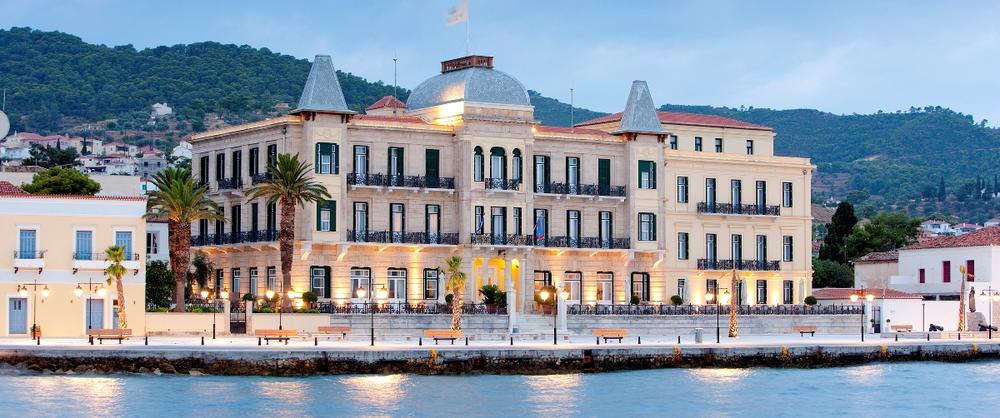 I took a short trip to Spetses; so short in fact that I missed brunch but did enjoy dinner in the royal suite, tasting the new menu by much talked about chef, Stamatis Marmarinos.  I also had a lovely picnic lunch in their vegetable garden the following day. The whole day was a true experience, steeped in the hotel's stylish surroundings and the vision of its owners, Manolis and Antonis Vordonis, while being cared for by the team managed by Maria Strati.  Poseidonion Grand Hotel is not just another luxury hotel. It's like going back in time during a period where we rarely get a moment to step back and enjoy the finer things in life. You're able to relax and enjoy the view onto the grand esplanade, wishing you could have been lucky enough to walk on it when the hotel first opened. For a moment I thought I could see passers by from the interwar period, in crisp white suits holding parasols. I could see myself on a warm summer night, enjoying a cocktail at the new cocktail bar, Palms on the Verandah, having dinner at On the Verandah or even at sushi spot Freud Oriental.
Chef Marmarinos's Greek yet cosmopolitan menu complements the zen atmosphere all around you. It's fish and seafood based, with super fresh vegetables and fruit from the hotel's own garden.  He uses the latest techniques but without the need to show off which is often the downfall of many of his contemporaries.  It felt like a culinary journey bridging yesteryear and today.  The flavours of the vegetables were reminiscent of a time when a tomato actually tasted like a tomato and you could buy carrots with their leaves still attached.  I felt exactly the same about the dreamy picnic with a view towards the green hills and out towards the sea.
In the short time I spent there it was as if all my favourite hotels were rolled into one.
  Manolis Vordonis explained how he has breathed new life into the hotel based on the vision of those who came before.  Sotirios Anargiros built the hotel in 1914 based on the standards set by the grand hotels of the Cote d'Azur in order to give more of a European air to his beautiful yet poor island. He even bought up forests in order to stop them being used for wood.  These are the footsteps Anaptixiaki Spetson and the Vordonis family were following in when they delivered a fully renovated hotel in 2009, after a five long years, thus helping towards the current rebirth of Spetses island.
User Comments
Login or register to join the conversation