A year after the travel log we did on Santorini, we returned to the Cycladic hot spot and visited some of the best restaurants on the island. This doesn't mean there aren't other good choices too, we just had to pick five!  Santorini is a true culinary place to be so expect regular updates from FnL.
Selene: A top Greek cuisine restaurant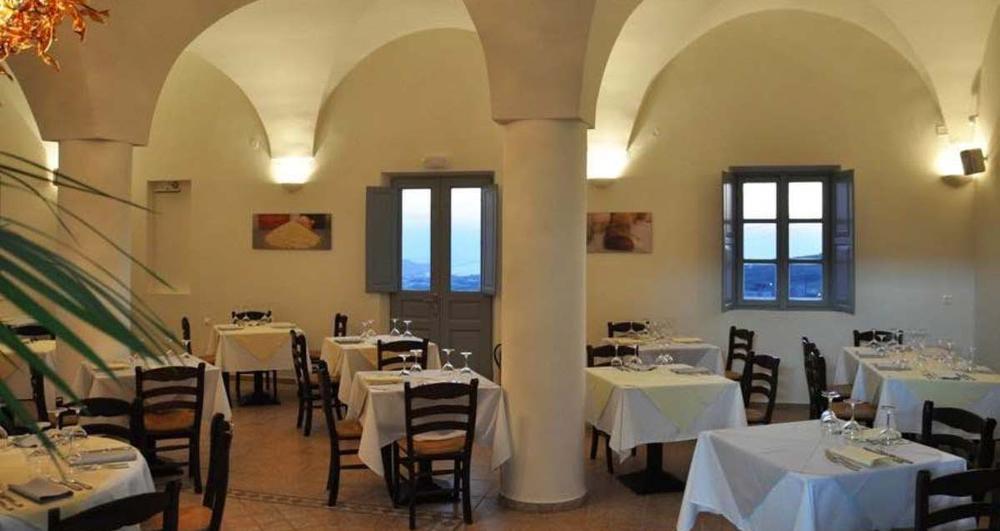 Yiorgos Hatziyiannakis's Selene has been in Santorini's Pyrgos village for the last 30 years and it can easily claim to be one of the best restaurants in Greece.
With very talented chef Thodoris Papanikolaou at the helm for the last two years, it currently produces a mature and creative Greek cuisine with exceptional technique and incredible flavours. Even though his potential was evident from the start, Papanikolaou's development in the last year has been spectacular.  With experienced Hatziyiannakis to back him up, he is letting his culinary memories come to life with Greek dishes that are unrivalled.  With the exception of the excessive salt on the scallops, chickpeas and olive oil ice cream dish, which was interesting nevertheless, everything else we tried ranged from good to simply unforgettable.  The whimsical spinach risotto with leek, kale, ewe's milk yoghurt and raspberries was a work of art, while the quail cooked on poached apple, Florina pepper ketchup and Yellow Donkey beer jelly was great to look at as much as it was to taste.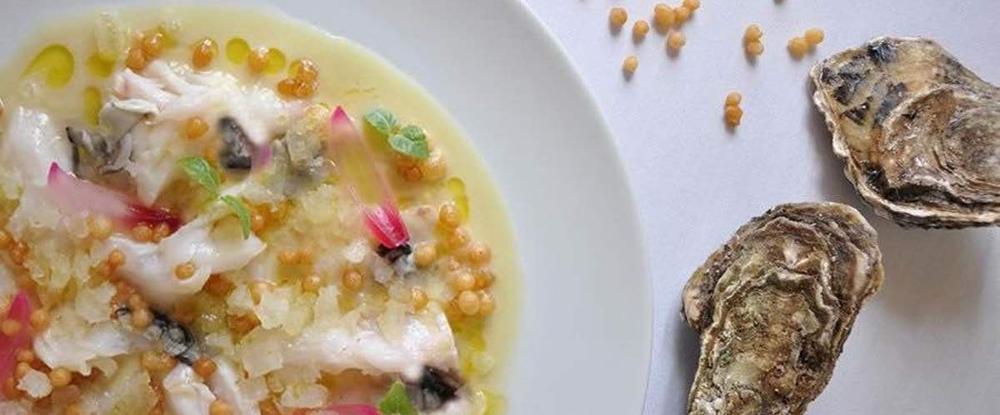 The Aegean cod is poached with garlicky Santorini fava dip, lime sorbet, oysters, capers and batter pearls which makes the whole dish look like a deep water painting. In my opinion, Thodoris's crowning glory this year is the lamb.  Cooked to perfection and combined with gemidia, a traditional Northern Greek Easter recipe of buttery fried livers. If someone were to tell me I could find such a dish in a restaurant like this alongside Greek coffee butter and porcini dust, I would say he was definitely crazy. Too good to be true. 
The service is smooth but unpretentious. The wine list, primarily made up of local labels, is well thought out and the restaurant director Yiorgia Tsara coordinates everything with great attention to detail. All in all a great experience.  *Selene has an additional space, at the bottom part of the restaurant, where you can enjoy a cheaper but equally as good meal (€25 to €35 per person including wine).
Info: Pyrgos, Santorini, tel: 22860 22249
Website: www.selene.gr
Price per person: €75 to €85 including wine.
Koukoumavlos: A grand restaurant in Fira celebrates its 26th birthday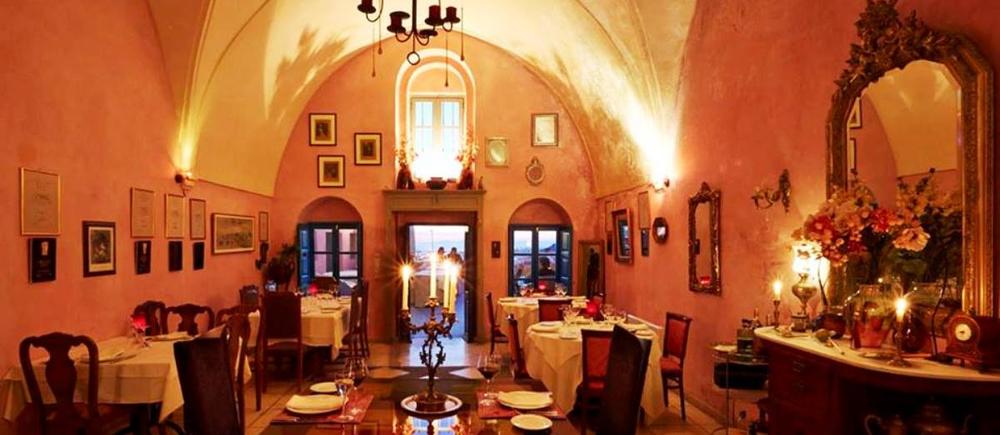 Its front tables look like they're hanging in mid air and the Caldera views are breathtaking but the inside space is equally as magical.
Nikos Pouliasis's Koukoumavlos has been the standard everyone has measured themselves against for 26 years. The creative chef's philosophy might seem a little out there but he manages to balance the ingredients in his dishes with great flair.  The best dish I tried was the amazing langoustine tails with chocolate, green apple carpaccio and herring caviar. Exemplary technique and balance of ingredients in the hands of a chef who is not afraid to take risks and is establishing is his very own path for others to follow.  The refined risotto with wild capers, Greek coffee, ginger confit and Blue CuraCao gellies was delicious and the mini duck burgers with foie gras, strawberry ketchup and Chios Turkish delight were really intriguing.  The slow cooked lamb with the jasmine infused potato muslin and coffee doesn't quite match up to the other dishes though.  It is refined of course but is not at the same level as everything else on offer. The gorgeous, if a little too sweet, Syros Turkish delight in a buttery crispy filo pastry was a great end to the meal. The wine list is good, if a little overpriced, but the overall Koukoumavlos experience is good value for money.
Info: Fira, tel: 22860 23807
Price per person: €90 to €100 including wine.
Website: www.koukoumavlos.com
Assyrtiko: Charming and creative comfort food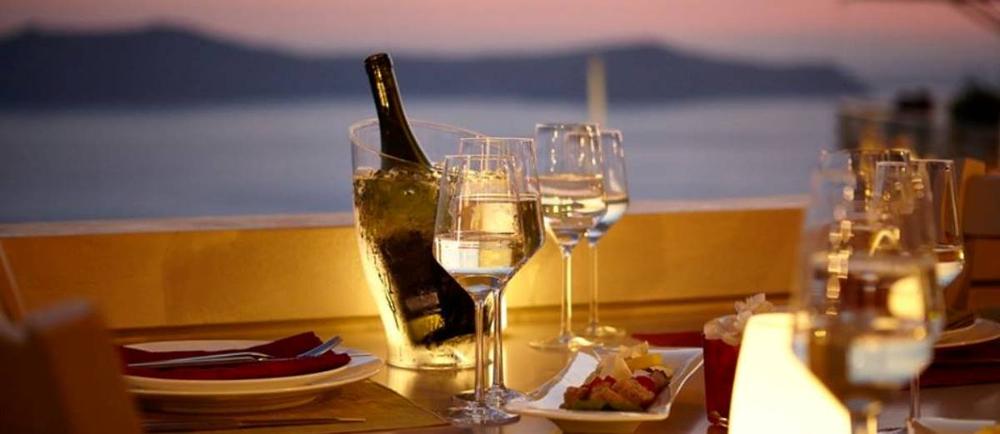 I love going to this beautiful wine restaurant when I'm in Santorini.  I know it gets boring when people go on and on about the wonderful views here but they just are as amazing as people say. In this case the views are combined with a particularly good all-day menu overseen by Nikos Pouliasis of neighbouring Koukoumavlos restaurant. Last year we mentioned the pappardelle with limoncello and fruits of the sea but this year I had the wonderful tagliatelle with saffron infused calamari.  I also liked the orzo risotto (or kritharoto) with chicken, rosemary and feta; perfectly cool if a little too heavy on the rosemary.  From the starter menu, the tomato soup and the vinegary octopus salad with chilli and Prespes beans are both fantastic choices. If I had to choose one of the mains, it would have to be the slow cooked joint of lamb with tomato sauce and cream of Santorini aubergine.  Come to think of it though, I would be quite happy eating the amazing bread with beans and yellow pepper too.
The ever vigilant Assyrtiko owner, Lia Papadea, is the heart and soul of this place. She is thorough and a born perfectionist so she's always on hand to deal with any issues arising from the kitchen.  She also has an all-day café bar, Egli, on Assyrtiko's ground floor, which opens at 8am offering great breakfast choices and is working on opening a wine bar with only Santorini labels on the menu.
Info: Fira, tel: 22860 22463
Price per person: €35 to €45 including wine.
Website: www.assyrtiko-restaurant.com
Oozora at Santorini Secrete: Japanese and Thai culinary art in magical Oia.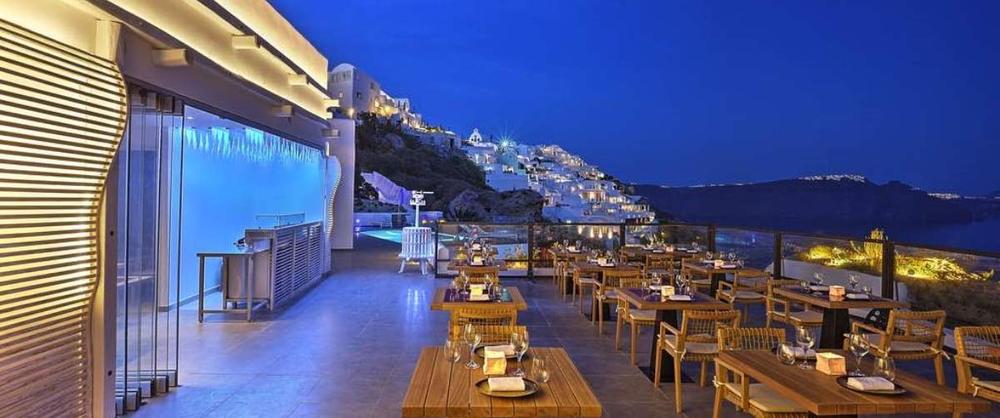 Well known Oozora might have moved to where Cash used to be but its sister restaurant is located at the beautiful Santorini Secret's veranda. As you walk down the numerous boutique hotel steps to Oozora, you take in both Oia's wonderful ambiance and the Japanese vibe evident all around you.  Manolis Platis's restaurant, now entering its second year, is more mature and more sure of itself. I would like it to be a little more daring though, especially when it comes to the Thai part of the menu put together by chef Yiorgos Venieris who we so liked in Kifissia.  The Thai choices are limited in comparison to the Japanese options.  I tried various sushi rolls and they were all great; in fact the spicy tuna and niji maki were even better than they were in Kifissia and that's saying something. The ebi mayo were just sinful, as was the fried calamari with chilli and ginger, while the amazing thai shrimp tartare shows off a kitchen team with great technique.  The cocktails were also great and the service runs a close second to Selene. It's not easy moving such a gourmet restaurant from Athens to Santorini but I have to give it to the staff: they have surpassed themselves.
Info: Santorini Secret Boutique Hotel, Oia, tel: 22860 27337
Price per person: €75 to €85 including wine.
Website: www.santorini-secret.com
Red Bicycle: Greek gourmet dining by Gikas Xenakis on the island's most beautiful balcony.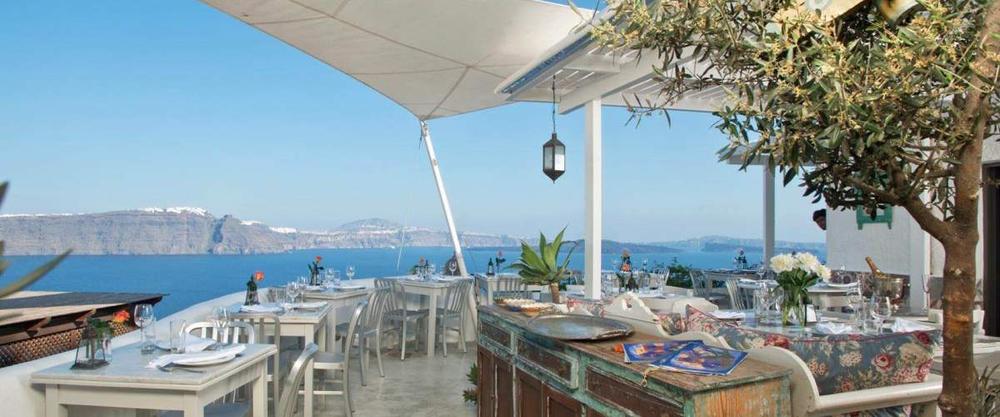 It's pretty difficult to describe the magical atmosphere and energy you soak up in Oia's Red Bicycle.  You have to see it to believe it. Hara Kourtis's restaurant is the best in Oia and in the island's top 10.  It's strategically located in the best part of the village so the moonlight and the Caldera views attract fans who want gourmet dining in the most stunning setting. I can totally understand why people call in advance to request certain tables but to be fair, there are no bad tables here.  The very chic owner does not rest on her laurels though.  When she turned her old home into a restaurant, she knew longterm success could only be guaranteed with great kitchen staff. This year she has set the bar even higher by hiring Aleria's Gikas Xenakis to oversee the menu. We are usually suspicious when people simply oversee menus but in this case the ingenious Greek recipes are brought to life just fine by young chef, Nikos Koutsoukos.
The grilled calamari on white fish roe with cucumber and coriander sauce, and the super tasty dolmades with veal tail, truffle avgolemono and apaki crumble will immediately convince you of Koutsoukos's cooking skills. There is also the melt in the mouth lamb in tomato sauce with aubergines imam, and the white grouper in rock fish broth and manestra (orzo pasta) which show off both Xenakis's inspired recipes and how well the restaurant's on the ground team execute them. Red Bicycle won't serve house wine and Mrs Kourti is adamant on the matter.  What you have instead is a good wine list and if you're lucky enough to be served the Sigalas prickly pear liqueur at the end, then you will really need nothing else.
Info: Oia, tel: 22860 71918
Price per person: €50 to €60 including wine.
Website: www.redbicycle-oia.gr
We still have some restaurants on our to-do list for next time.  Mylos in Firostefani and La Maison in Imerovigli come highly recommended for example.  We also had a great lunch at both Dichtia in Perivolos and Ammoudi (in Ammoudi) where we enjoyed a great slipper lobster and kritharoto.  I would wholeheartedly recommend both tavernas if you want fresh fish.
User Comments
Login or register to join the conversation