From the medieval buildings of the Barrio Gotico district in the centre of Town and Antonio Gaudi`s modernism, to Barceloneta`s hyper-design buildings and the unique works of art of Roy Lichtenstein and Claes Oldenburg that grace its streets, Barcelona has definitely something worthwhile to show. 
Moving about - Getting there  
Get the Barcelona Card, that gives free access to public transport and discounts to major places of interest.  See the town on a bicycle Rent it for the entire day and it will cost you just €16, while if you don`t feel like pedalling too much, 2 hours cost €7.  Direct flights from Athens on Aegean. 
 Tips- To do: 
• Walk along the Barceloneta, Barcelona`s beach, with numerous hotels, restaurants and cafés. 
• Visit El Born, the district with the trendy boutiques, coffee shops and bars, ideal for shopping and browsing.
 • Go for a ramble down La Rambla, the famous pedestrian way starting from Placa Catalunya and going all the way down to the Old Port, a definite must-see. It is the place where you can see everything from open-air plays, to tango and tap dancers, as well as music bands entertaining passers-by. 
• Don`t forget to walk to the Barrio Gotico, the Gothic district at the centre of the old town of Barcelona.  Stroll down the narrow alleys which resemble a maze and are filled with little antique shops, restaurants and bars.
  • One of the city`s cannot-miss places is the
La Boqueria
one of the largest food markets in the world, heaven for fine food enthusiasts! It is approximately half-way down La Rambla, and in 6,000sq.m., you are sure to find all sorts of delicacies.
 • Even if you are not a football fan, you must visit Camp Nou, FC Barcelona`s home field and one of the city`s top attractions; a tour of the field and of the club`s museum are favoured among most Barcelona visitors. 
• Marvel at Gaudi`s astonishing architectural creations, excellent examples of Catalan Art Nouveau that resemble modern sculptures and continue to impress visitors.
 • The must-not-miss sights include the Sagrada Familia and the famous Casa Mila or La Pedrera (on Passeig de Gracia of the very hip Eixample neighbourhood), that definitely need no introduction. The same goes for the eccentric Casa Batllo with its colourful mosaics, one of Europe`s most particular buildings.
 • Walk around Parc Guell , the psychedelic park designed by Gaudi west of the city. 
• You should definitely see the Columbus statue in the Old Port, well you can`t really miss it, since it`s 76 meters high! Visit as many museums and galleries as you can. The following, though, should take priority: 
• Showcasing works of the famous Catalan painter Joan Miro, dating from 1914 to 1978, the Fundacio Joan Miro is a museum dedicated to surrealism and the visual strength of its works. It was constructed by architect, and Miro`s friend, Josep Lluis Sert and houses a stunning collection of 220 paintings, 180 sculptures and more than 8000 drawings of the painter.
 • The Museu Picasso, apart from the fact that it showcases 3,500 of the great painter`s works, it is housed in a grand medieval building, surrounded by beautiful gardens. 
• On Montjuic hill, you will find the Museu Nacional d`Art de Catalunya (MNAC), covering 100 years of Catalan art.
 • The Centre de Cultura Contemporania de Barcelona (CCCB) is Barcelona`s modern art museum. Following a total refurbishment, the former home for the indigent (Casa de la Caritat), dating back to 1802, was transformed in 1994 into a multi-storey museum, hosting exhibitions on architecture and modern art, as well as artistic events on music, dance and theatre. 
Also, don`t forget: 
• The Gran Teatre del Liceu, a historical city landmark, is the opera house and is located on the famous Las Ramblas boulevard. Built in 1847, it has since been the home of exquisite performances.  
• For more than 100 years, the Palau de la Musica has been Barcelona`s favorite artistic and concert venue. Designed by Catalan architect Lluis Domenech i Montaner, the floodlit and colourful building was constructed between 1905 and 1908 and has since been a national heritage for the city.
 Where to stay 
One of the city`s top restaurants takes the next step and opens a beautiful small 15-room hotel surrounded by lush gardens. You can now enjoy, under the same roof, a gourmet meal and 5-star accommodation in a hotel that`s part of the prestigious Small Luxury Hotels chain. 
Located in one of the most symbolic streets of the city (Passeig de Gracia) the hotel features six very exclusive double suites (150 sq.m.), that perfectly bring together modernism, advanced design, classical style and luxury, to offer guests a unique experience. 

Atop the Tibidabo hill, the hotel offers stunning panoramic views of the city and the Mediterranean, coupled with 5-star accommodation. It may be that some find its distance from the city centre a disadvantage, nevertheless it aces everything else and therefore is rightly considered one of Barcelona`s best hotels.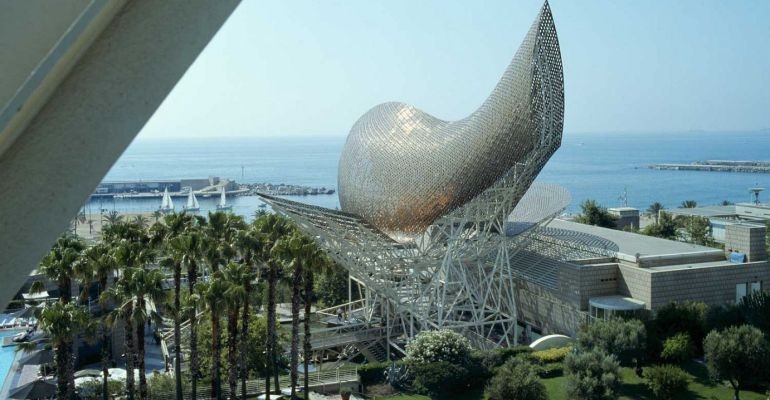 Housed in an impressive skyscraper in Villa Olimpica, with astonishing views of the sea, on one side, and of the Tibidabo hill, on the other,  the hotel features particularly elegant indoor spaces, a very impressive pool, starred restaurants, and a spa that is part of the famous Six Senses Spas chain.

Palace One of the city`s old, historic hotels, with a very classical decoration style that enthusiasts will love. It does have the advantage of having hosted the Beatles during their visit to Barcelona in 1965, as well as many other international personalities such as Ernest Hemingway, Joan Miro and Liza Minnelli. 
A mix of modern and neoclassical architecture with influences from Asian art, Granados 83 offers discreetly luxurious accommodation in a very particular environment combining comfort with state-of-the-art technology.
The hotel is housed in a palace dating back to 1892 with the impressive original façade intact, creating a contrast with the building`s impressive modern architecture . It has its very own archaeological museum with one of the largest Egyptian art private collections in Spain, while more than 400 sculptures and paintings adorn common areas and guest rooms.  The roof-top pool with stunning views is a definite plus. 


A modern design boutique hotel, with an artistic style and one of the city`s most famed restaurants, the Μοο. Head up to the roof-top pool for stunning views of Gaudi`s Casa Mila, and indulge yourself to special treatments and massages at the Spaciomm spa.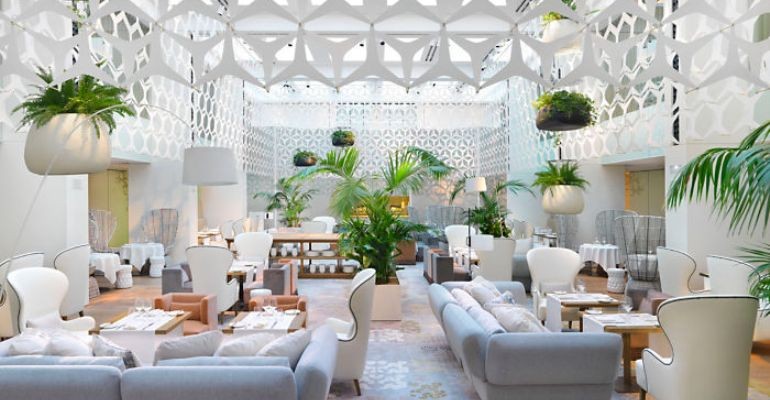 Included in the hot list 2010 of Traveller magazine and that says a lot. One of the city`s finest and most impressive hotels, located right on the famous Passeil de Gracia, very close to Gaudi`s Casa Battlo. Luxury combined with modern design, a Michelin starred restaurant, and the world-renowned service of the Mandarin Oriental chain, will guarantee a stay that you will never forget. 

Undoubtedly one of the most impressive hotels of the well-known W hotels chain. Ideally located, in Barcelonetta, it stands out for its avant-garde Ricardo Bofill design, and state-of-the-art technological equipment.  Wonderful rooms with spectacular views and W signature beds, impressive indoor and outdoor areas and all the fun atmosphere of a W hotel. 
Where to eat 
Barcelona is nothing short of a paradise for those who love fine food and haute gastronomie. Whether you go for a simple tapas bar, a fish tavern at the port or a Michelin starred restaurant, one thing is certain; you will eat well. 
Catalonia is famous for its cuisine.  From traditional dishes to the molecular gastronomy of probably the most famous chef in the world right now, Ferran Adria, the variety of flavours is simply stunning.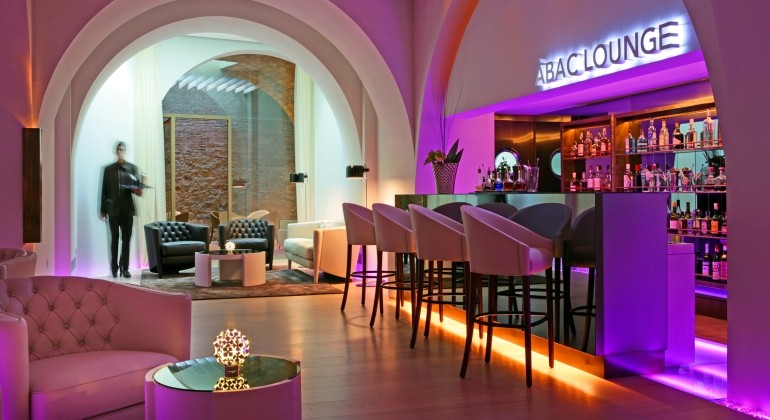 • ABaC Restaurant: in a restaurant with 2 Michelin stars, the only sure thing is that you will eat well!  Chef Jordi Cruz is right at home with creative international cuisine. 
• Cal pep: You may need to wait in line for a spot at the bar, but it is definitely worth it to enjoy the wonderful tapas, especially the seafood ones for which the restaurant is best known. 
• Moo: Moo restaurant in the Omm hotel offers splendid dining. Don`t forget to try the foie gras with apple and the famous desserts, inspired by well-known fragrances such as Eternity by Calvin Klein or Angel by Mugler! 

• 41 Degrees: This is a cocktail bar by Ferran Adria where you can taste many interesting dishes from the famous chef, even some of the specialities of El Bulli, at very reasonable prices.
• Tickets: yet another new opening by Ferran Adria, this restaurant-tapas bar that opened its doors last February, is already the talk of the town. Here you can watch the tapas preparation live.
• Botafumeiro Moncho: : one of the best fish and seafood restaurants. Chef Moncho Neira knows how to make the best of the super-fresh material to create astonishing dishes for the enthusiasts of sea flavours. If you sit at the bar, you can taste dishes in smaller portions and at lower prices.
• Comerc 24: industrial chic environment and a 10-dish tasting menu by Ferran Adria`s student, chef Carles Abellan, yet another supporter of Catalonia`s avant-garde cooking. The menu is constantly renewed and the tapas-sized portions will allow you to taste many different flavours. 
• Hisop: in cool minimal surroundings, dominated by red and black, you will taste the mouthwatering flavours of Guillem Pia and Oriol Ivern. Top-level modern Catalonia cuisine. 
• Fishhh: this is where you will have the best oysters in Barcelona in huge variety (12 different kinds from Spain, France and Ireland).  White dominates and creates a very pleasant atmosphere in this restaurant where they serve all kinds of seafood, wonderful mussels with French fries, raw tuna with lemon and spices, but also fresh fish prepared in different ways. 
Where to shop 
• The Inaki & Aitor Munoz twins are designers and owners of Ailanto. They make clothes in original colour combinations and geometrical forms, while now, they have started expanding into furniture and house object design. 
• Women`s collections of Azpeleta & Martinez, seem to be getting their influences from decades past, and that`s the very reason why hip Barcelona ladies prefer them. 
• Combining classic and modern, the El Delgado Buil house presents the most subversive and avant-garde style in modern Catalan fashion.
• Go to Castaner for all-time classic espadrilles, a must in every wardrobe. 
• Many stars have from time to time worn Josep Font`s haute couture creations. The talented Catalan designer, who`s even created outfits for Lady Gaga, has his studio at 304 Carrer Provenca.
• Boho chic but also luxurious, laden with diamonds and precious gems, Carrera y Carrera jewellery can be found at 101, Passeig de Gracia. 
User Comments
Login or register to join the conversation