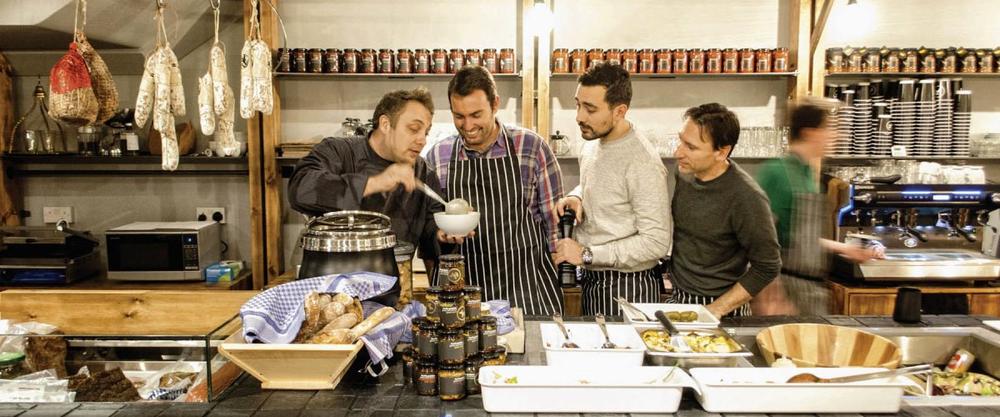 More on account of occupational obsession rather than any sense of patriotism, I decided to visit the fashionable new Greek establishments in the British capital, which are not only opening one after the other but are also enjoying enormous success. Perhaps because Greek hospitality along with "Yassou!" and moussaka – albeit in its foamy version – continue to be a sure way of disseminating Greek culture abroad.
And my conclusion? That the line between local and folkloric (in a pejorative, negative sense) is much finer than I had imagined.
I won't deny that I'm a tough critic. Like anyone who has tasted traditional Greek country salad with the proper, ripe, aromatic tomato, or wild greens pie made with hand-rolled dough by some grandmother, or moussaka made with artfulness andmom-like passion. Greek cuisine, as we envision it at its best and as it should be eaten by every foreigner, is very difficult to make elsewhere. The ingredients are generally not up to scratch – where will you find tasty tomatoes in London, for instance? – and the rendering of recipes often gets lost in translation, even when the chef is Greek… On the other hand, the deconstruction of dishes in accordance with the modern gastronomic trend of "interference" certainly has some interesting aspects, but personally I am not fond of foams, nor do I enjoy eating my salad in spherical form.
That said, I really appreciate the spread of Greek products via new, well thought outstores and I believe that their shelves – stacked with goodies from all over Greece – are reason alone to visit all of them without exception. Having searched high and low in London for manestra (the greek orzo pasta) to make a decent yiouvetsi, and having waited impatiently for the parcel to arrive from my mother, containing Santos tomatoes, oregano and olive oil from Crete, I believe it's great to be able to buy Greek products somewhere other than the old-style grocery store in Bayswater. And we should all applaud and support efforts in this direction.
So, putting to one side any gripes I may have about Greek salads in which the tomato was more like a courgette, about the moussaka I have eaten when aubergines were not even in season, about tzatziki foams, and about all the deafening cries of "Yassou!" I heard from drunken Brits in full party mood à la grecque, I shall focus on the positive aspects of this development..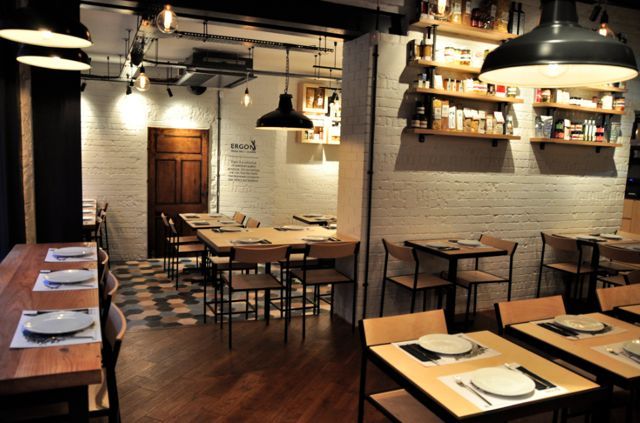 Such as the Greek coffee accompanied by loukoumi which I tried at Ergon, the London "child" of Thomas and George Douzis, and which made my heart sing even though it wasn't that long since I had been in Greece. The shelves of the delicatessen are filled with dozens of tasty treats – spearheaded by Santos tomatoes – and if you stay for a meal, be sure to try the stuffed vine leaves served with yoghurt and the exceptional fava…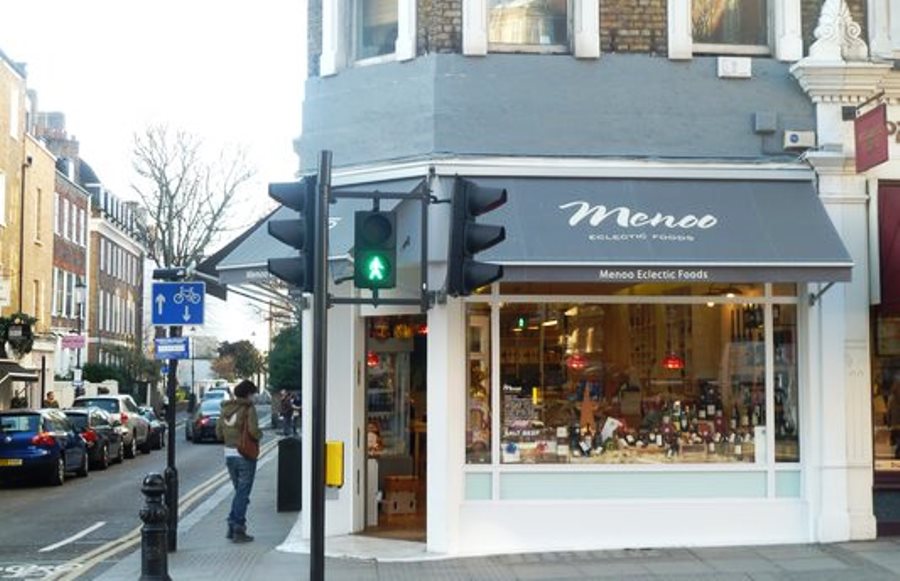 If you want to indulge your craving for Greek pies in London, Menoo Eclectic Foods on Church Street in Kensington is a very agreeable solution. Even the way they are written in the window is fun – "Ti ro pi ta ki" – and I liked everything I tried. At Easter they have Terkenlis tsoureki, so make a note…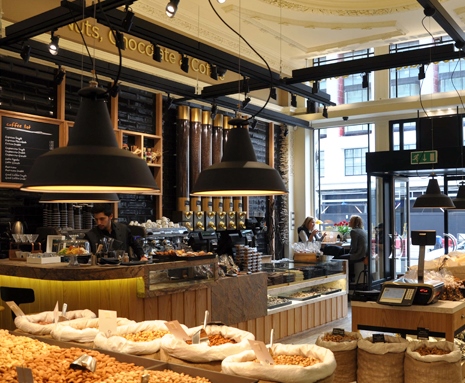 At Carpo, which opened in the heart of Piccadilly Circus, you will find a wide range of nuts, dried fruits and chocolates from Greece. The Greek-style sacks of products raised a few eyebrows among the British when the store first opened – they just couldn't fathom how food items could be left exposed to dust and exhaust gas – but they appear to have got used to the idea; anyway, the products are also available in airtight bags. Naturally at the coffee bar, Greek coffee is served too.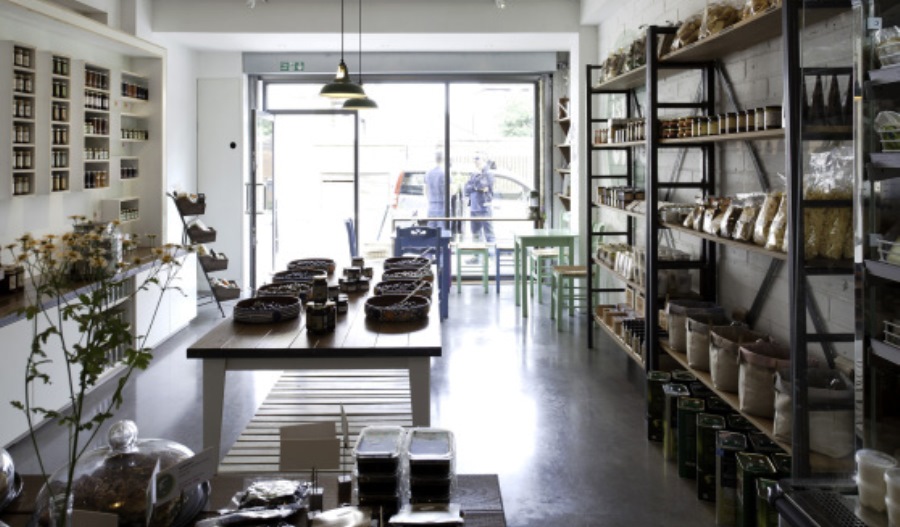 At Isle of Olive, two young people, Grigoris and Paulina, have gathered a wide and interesting variety of products based on what else… the olive. In addition to olive oil, olives and herbs, you will also find olive paste, tinned salted fish, exceptional honey, vanilla "submarine" and spoon sweets. In particular, the Pyliaki Gi products of my good friend Gianna deserve special mention, since they are quite amazing and I am very glad I can now also find them in London.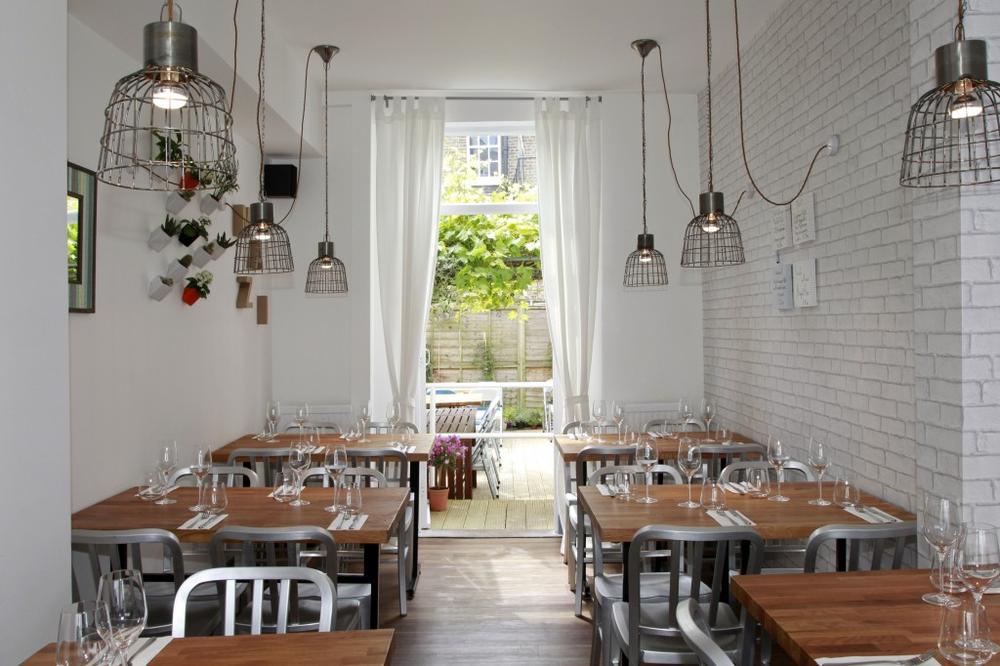 I didn't go to Mazi in Notting Hill but I know it's doing very well. In any case FnL has already been well represented by Peter Stat, who paid a visit and wrote some very positive things… and we all know how difficult he is.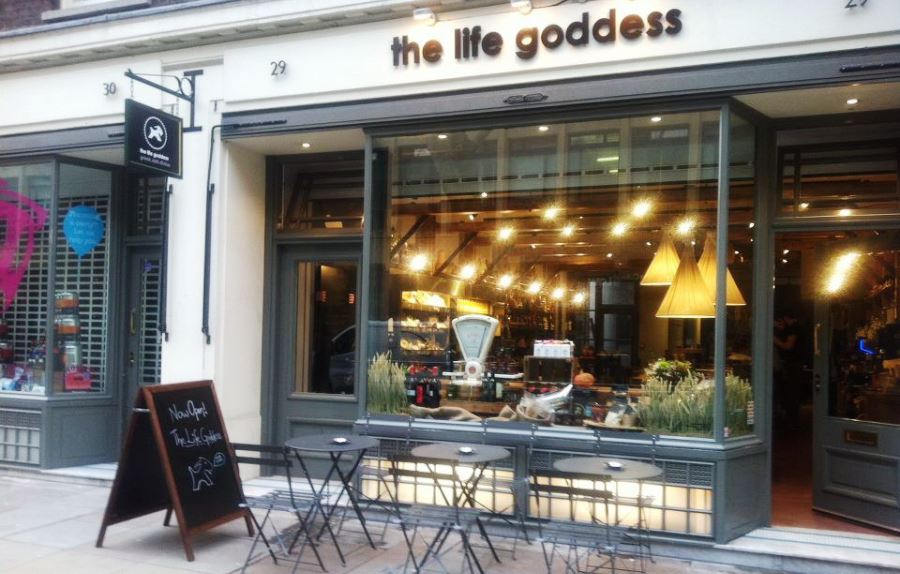 I have left my own personal favourite for last, The Life Goddess in Bloomsbury. In the heart of Store St., which is itself a case study to which I shall refer below, Nikos Nyfoudis along with his brother Giorgos and Ilias Koulakiotis have set up a store that is totally Greek yet at the same time thoroughly European. A delicatessen and a restaurant are housed in the same space, and on entering you are greeted with the sight of various delicacies laid out in the window. From delicious sandwiches – I loved the one with smoked pork (apaki) and green salad on country-style bread – to some delectable oven-cooked dishes that change daily and disappear in a flash. At the nearby tables there didn't seem to be too many Greeks but rather guests of different nationalities, which I consider to be a huge advantage, given that I found all that Greek mingling among customers and staff which I saw in other restaurants quite depressing; it made me feel like a poor immigrant, not a citizen of the world. Another thing I really appreciated on both occasions I ate there, is how the cuisine avoids the trap of cliché dishes… They don't serve tomato or Greek salad when they can't find good tomatoes, nor dishes with ingredients out of season, something which safeguards the authenticity of the flavours. At The Life Goddess you will also find outstanding Greek cheese, while a second eatery will soon be opening in Soho – The Life Goddess, Experimental Greek Divine – which will be a restaurant only and for which the guys already have many wonderful ideas about how they can introduce and promote various Greek products on the British market.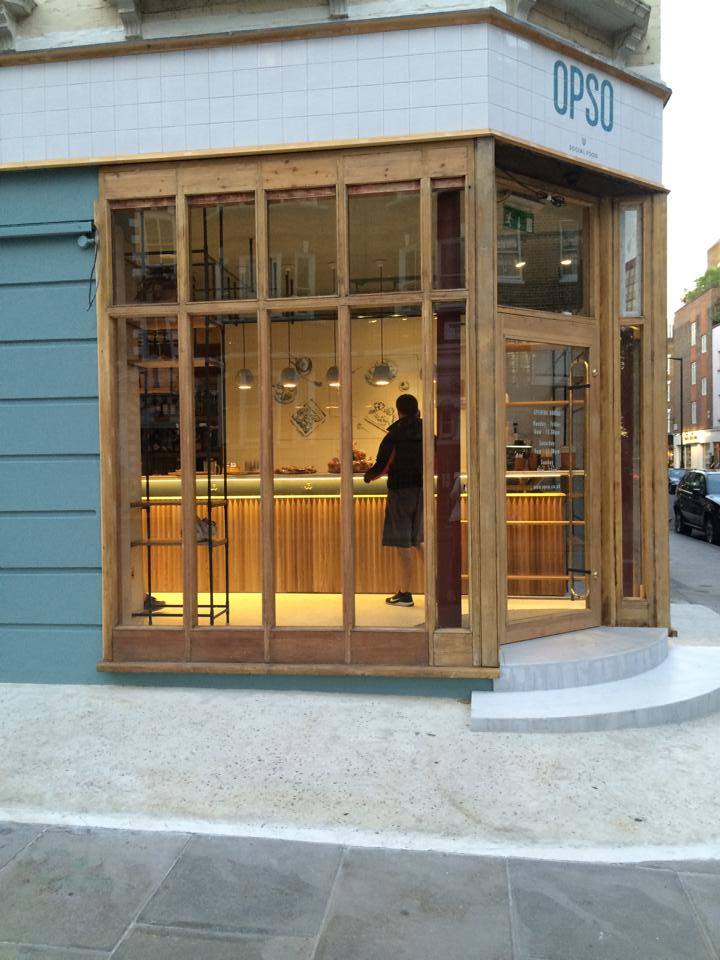 Concluding this piece, I shall say a few words about Store Street and the way it has developed in the past three years, mainly to see how things are done abroad and perhaps gain one or two ideas that we can apply here. Well, the shops on this street, along with many others in the wider area, belong to the company Bedford Estates. Its new administrator is a lord who instead of simply milking the family estate decided to develop it by combining business with pleasure. He bought out the previous proprietors and emptied all the stores before renovating and leasing them to selected enterprises, thereby creating a new "niche" as they say in estate agent lingo. That is to say, an area that is developing rapidly but according to a plan and which hosts not only various types of business premises but also cultural centres. In fact the company itself frequently organizes events aimed at attracting visitors and supporting the local entrepreneurs. Great care is exercised when selecting the enterprises because the managing company wants every business that opens to succeed, not close after a short time, since closed shops means a decrease in the value of the entire property. In other words, the entire project is implemented with planning and the proper marketing, with sights firmly set on the future rather than a quick profit. 
I should of course point out that I didn't have time to see all the stores, though I plan to visit them in the immediate future to complete this piece. And as always, any proposals would be welcome, so I look forward to your comments. Also, bear in mind that if you live in England and want to buy Greek products online, pay a visit to The Greek Deli, which offers an interesting variety.
Lastly, at the time of going to press, as we once said, news arrived of another promising opening in May. The old Ping Pong on Paddington St. is opening as Opso (photo on the left), under the supervision of Funky Gourmet's chefs who have just been awarded a second Michelin star, Georgianna Hiliadaki and Nikos Roussos, with Stefanos Avdis as head chef. It sounds like a very ambitious project and an interesting one, with dishes such as snails and chips served with bacon and cherry vinegar, or baked white grouper served in a squid ink bun with a tomato confit, so we anxiously await further news…
User Comments
Login or register to join the conversation