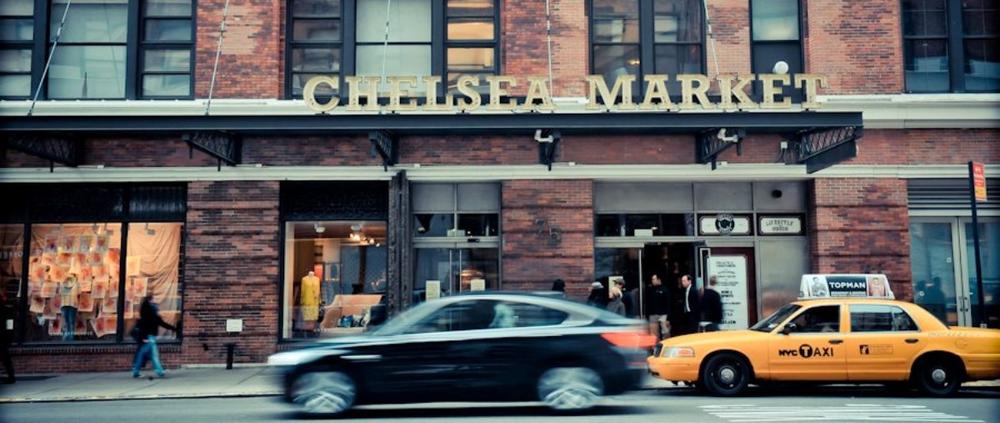 New York is one of my favourite places in the world, so I try to visit as often as I can.  Whenever I do, there are two things I always stick to: never stop eating and always visit Chelsea Market. 
Named after the area it's in and a stone's throw from Penn Station, it's a large space very reminiscent of our Technopolis.  Industrial design touches like exposed red bricks, pipes and chimneys are the main features in this maze.
What exactly is Chelsea Market though?  Simply put it is New York's foodie Mecca.  The first oreo cookie was made here in 1912 and it used to be the spot to get the best bread, with local bakeries making all kinds of different treats from all over the world.  In the late 90s, it was the place to come if you worked in the trade in order to buy the best raw ingredients on offer in the city. The multi-ethnic element remains, but it is not limited to bakeries; there are tons of street food options here, in the tastiest and highest value for money form you could possibly imagine. Chelsea Market is more of a food mall these days, with plenty of shopping options, cultural events and happenings, which really capture the spirit of the city that never sleeps.

Here's where you come to find the coolest up and coming New York fashion designers. You can also dig around for affordable flea market options too; at Artists & Fleas for example, there are vintage and tailor made clothes and accessories as well as rare vinyl records and homeware.  Prices are not exactly low but you can find one-off t-shirts for $35 or a vintage lamp for $60.  There is also a great supermarket for interesting foodie treats, from all kinds of savoury pancake mixes to limited edition cocktail bitters.
If you are one of the lucky ones who gets to have their own apartment while in NYC, you just have to come to Chelsea Market and buy some meat or fish.  The meat corner offers all cuts imaginable, with highly knowledgeable staff who will advise you on how to cook anything you buy or which of the lovely sauces, spices or marinades sold here would mostly suit your meal.
In the fish market you'll be able to choose from scallops, super fresh Atlantic lobsters (at $10 a pound no less), all kinds of fresh fish and any other produce of the sea the wonderfully knowledgeable staff can recommend.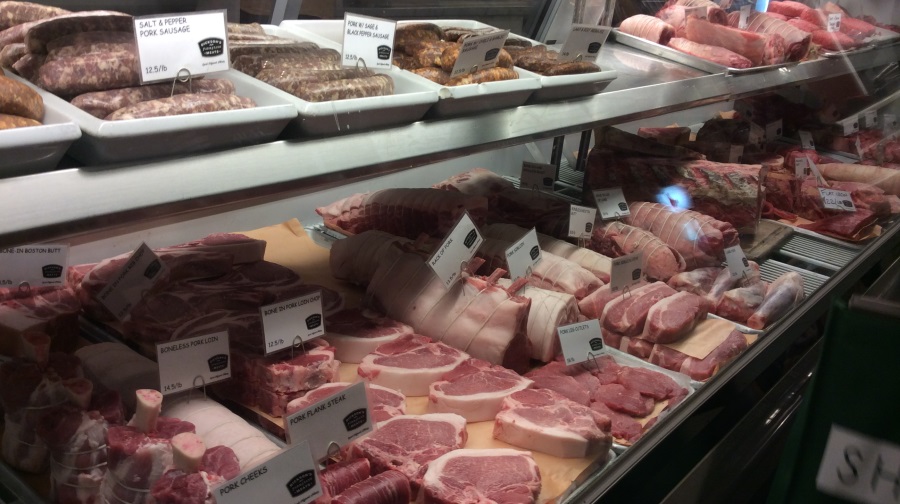 If all this looking at food makes you hungry, there are plenty of things to eat here too.  I would recommend you come here hungry and walk around trying a little from as many stands as you can. Just keep in mind that there is no seating at each individual stall, just a few seated areas dotted around the space.  Another one of my top tips is to walk around checking out the blackboards for any offers before you make your final choice. You might for example be able to enjoy a 50 (!) oysters and a bottle of Prosecco offer at $40 or even get some half price deals for groups of 4 and above.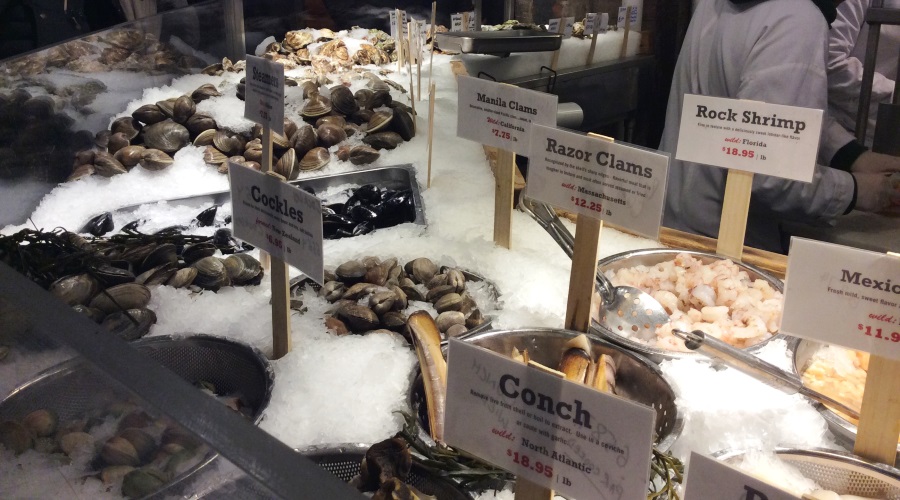 My food recommendations would be:
-The authentic triple cheese Mac & Cheese at the Ronnybrook Dairy.
-Any of the salads at One Lucky Duck, one of Manhattan's favourite spots for raw, organics and vegan dishes.
-A burger at Friedman's Lunch with meat from small farmers, served with fries, a pickle, in a brioche bun. 
-Cheeses from Lucy's Whey, the 'American Artisanal Cheese Corner', where some of the best New York restaurants come to shop.  Don't leave without trying their toasted cheese sandwich.
-Authentic Australian pies from the Tuck shop and even some sausage rolls, which are also great here.
-Lobster from the Lobster Place, which is effectively Chelsea Market's fish market. How often can you take a break from shopping in Manhattan to enjoy a butter-tastic lobster and ignore the mess you've made in order to savour every last drop?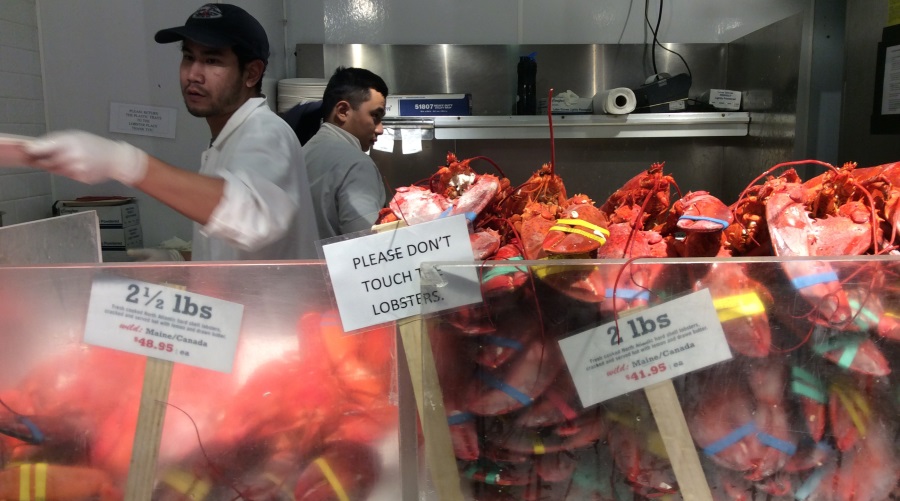 -A great cold meat sandwich from Amy's Bread, one of the few remaining bakeries.
-If you'd like something more exotic, there is a Thai corner and a Mexican taco stand, which is a real winner!
-Gelato from L'Arte de Gelato, serving traditional ice cream in long forgotten flavours and most definitely the best peanut gelato I've ever tasted.
-Behind the barber shop, you can also have a sneaky drink at the market bar.  Their cocktails are nothing to write home about but their huge selection of beers is.
Chelsea Market opening hours:
Monday to Saturday 7am to 9pm
Sunday 8am to 8pm
75 9Th Ave, New York
User Comments
Login or register to join the conversation