And when they are in New York, even better! Besides, this is culture too and I was dying to find out "how they do it in the Big Apple". As for our own Greek bartending community, for which I have the greatest respect, my experience in NYC led me to a gratifying conclusion: We're doing fine!
Anyway, after hours of research and armed with a "list" of the best bars in Manhattan (many thanks to Dimitris Kiakos), for an entire week I spent my evenings in speakeasies, brand new bars and several watering holes that were just... well... different.
Let me say from the outset that this is indeed a city that never sleeps, one "born" to provide for the needs of millions of people from every corner of the world. So, it came as no surprise that the variety of choice was huge, but what did surprise me was that it was not that different from the situation in Greece.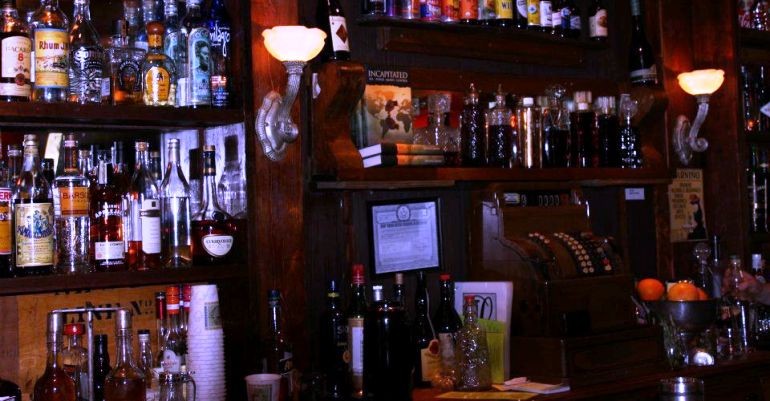 First stop, Brooklyn, an up-and-coming borough where a different NYC heart beats. Lucey's Lounge may be on a main street but it remains alluringly inconspicuous with discreet lighting. The lounge area and the bar itself are small, with emphasis placed on the drinks, shelves of them, attractively illuminated from behind. The bottles are clearly arranged in distinct categories, so even novice drinkers can immediately single out the most uncommon, the most special, which makes it easy to disregard the commercial brands and order a totally different Negroni. The surprise comes in the form of a significantly smaller quantity than what you are used to, and without ice, but made with Genever – a category of spirits in itself – and moreover Bols Genever, a spirit I can only describe as the finest in terms of results, with aromas and flavours of rye and corn effectively transforming my favourite cocktail into something divine, and which here is served as both a house recipe and as a variation on the classic, something for which Lucey's Lounge is renowned. Among the pros... the tiny patio that allows smokers to have a puff with drink in hand, while among the cons I would have to count the entirely inappropriate (to put it mildly) music... sort of RnB, sort of pop, sort of indescribable...

From Brooklyn we now head for Manhattan and its most deeply scarred neighbourhood, the Financial District, which occupies the southernmost part of the island, and the brand new – just three weeks' old – Dead Rabbit. Again the lighting is subdued, again the spirits are prominently displayed, but here there is additionally an impressive – in terms of size and variety – array of equipment at the bar. As soon as you sit down, you are informed about the private Parlour upstairs, ideal for the select few, with over 80 cocktail proposals, extra service and goodies. The sales pitch is so convincing that you start looking round the Taproom where you are seated and saying to yourself "I don't like it here; I'll do anything to get upstairs". Anyway, after some earnest beseeching and a short wait, our request was granted. The upstairs Parlour was so impressive that we felt it was worth the effort. At first glance there does not appear to be much difference with the Taproom in terms of atmosphere and general decor, but then at one table you spot the customers tasting the homemade punches (that's what they call them; in my eyes they were just five cocktails that you can sample in double shot size for $30). At another table they were serving welcome cocktails in porcelain glasses, whatever the bartender felt like making at that moment, while at others, guests were poring over the most remarkable mixed drinks menu I have ever seen, divided into categories depending on the flavour one desires. There are over 80 cocktails to choose from and the menu can be yours for $60. I won't dwell on the bartenders' well crafted creations, but I should mention some of the details that made the difference: The waitresses with bright red dresses and same colour lipstick; the service, which was amazingly fast and polite, so much so that Greeks may even find it oppressive; the PR guy who went from table to table chatting with customers; and the cherry on the cake... the sawdust on the floor, which may have gone unnoticed in the semi-darkness but provided the ideal olfactory accompaniment to the imbibing.
Next stop, E 6th Street in East Village, for a visit to the highly acclaimed Death & Co with its many awards and ominous entrance. I must say that my first effort was typically "Greek" (I hadn't made a reservation), so I had to wait about 2½ hours before they informed me that I could come back as a place was now available. It was in those 2½ hours that I began drawing certain conclusions. In this city of 8 million inhabitants and as many visitors, there is quite clearly unlimited choice when it comes to savouring a drink at an interesting bar.   
And so, just a few meters further on you come to the dark, almost hidden, Amor y Amargo. What attracted me was the glass front, which clearly informs visitors that they are about to enter a bitters tasting room. Yes, the incredible choice and diverse needs in Manhattan result in such a high degree of specialisation that here we have a bar devoted exclusively to those precious, vitally necessary bitters.
The emphasis here is on classic cocktails without a twist. And the leading roles have gone to the bitters, conspicuously positioned wherever you look, tempting you in their tiny bottles, some revealing that the content was made in Brooklyn, others that they are from a tiny speck in the Caribbean, and others that you won't find anything like this again. Again, the music was lame, this time somewhere between Michael Jackson and late 90s, but I appeared to be the only one who found it irritating.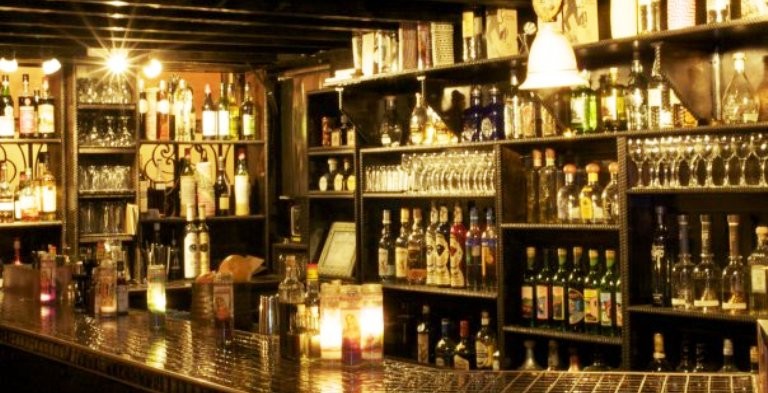 And while the wait for Death & Co continued, my next stop was "Mexico", or rather its taste ambassador, Mayahuel, which is just a few steps further along the same street. Like at any other bar, the age verification formality at the door is observed here too, but by now I am feeling that pleasant alcohol buzz and... for the first time as I wait to be admitted to a US bar... I view the possibility of being taken for under 21 as flattering. Entering the two-storey Mayahuel, the first impression is one of Mexican dishes and spices, which is incompatible yet at the same time so in harmony with the gothic, red stained-glass lighting and the grey, dark shades of the interior décor. Here too the drinks list is impressive, with a clear focus on tequila but also a large section devoted to Mezcal, which at Mayahuel is used to create some of the most amazing Mexican cocktails I have ever tasted. And here too, the music is on a scale between hardly perceptible and extremely dull.
The call I had been waiting for finally came through and a few minutes later I was heading back to Death & Co.
Gin Palace is right next door and there was a queue outside, even at 2 in the morning, but its blue – almost phosphorescent – lighting, burly doormen and deafening (even from outside) RnB music in no way induced me to enter, no matter how many rare and special gins it may have. What a pity.

In contrast, Death & Co welcomes customers with a polite girl at the door. You pass through a black curtain and once again find yourself in a dark, neither small nor large space, where the lighting and layout place the focus on the bar, around which there are a number of booth-type tables. Behind the bar, two young guys who are clearly very knowledgeable and capable made me some extremely interesting and original cocktails which prompt me to speak about an exceptional bar, a model bar on a global level. I shall confine myself to just two of the cocktails I really loved for their very different result. The first was with oat whiskey, grapefruit liqueur, freshly squeezed lemon juice, cinnamon, wild cherry syrup, tiki bitters, all shaken, while the other was from the "Resurrection" category (it was the evening of Holy Saturday and I felt I should get into the mood), prepared with Plymouth Gin, St. Germain liqueur, Creme Yvette (a violet liqueur made with blackberries, raspberries, wild strawberries, cassis, honey, orange peel and vanilla) and freshly squeezed lemon juice.
Concluding, I ascertained a number of things during my bar wanderings, including the following:
- The majority of bars I visited were in no way superior to any good Greek bar. The techniques are the same, as is the level of creativity (I won't say ours is better so as not to be accused of exaggeration), the spirits were very similar and the bar rooms themselves felt very familiar, to me at least.
- There was certainly a difference with regard to spirit brands. It is worth noting that I only rarely encountered a familiar label and not once did I have a cocktail made with one of them.
- The bartenders gave me the impression they were very well-read but that was all. The feeling I got from all of them, without exception, is that someone crafted the exceptional menus, someone taught the bartenders well, but at the end of the day it was not the same person who produced the result, which, to avoid misunderstandings, was always excellent. It was as if a dash of passion was missing, not from the cocktail per se, but from the vibe it exuded.
- The music was in most cases ill-suited. But to be honest, nobody seemed to mind.
- The cocktails were never, and I mean never, sweet. No matter what I tasted, and regardless of how sweet some of the ingredients may have been, the palate was never exposed to that disgustingly excessive sweetness which sadly, here in Greece, is still considered by some to be all the rage.
- There was never, and I mean never, the slightest trace of "molecular" mixology... foams, mousses, spheres or any other ingredient or technique which might indicate that the "good" bars have embraced the molecular movement. Thank goodness, for I detest this particular cocktail "trend" and therefore feel somewhat vindicated.
- Garnishes may be a violet leaf, a piece of orange peel, red pepper applied to the rim, perhaps even a cherry. OK, the cherry may be tacky, but that's as far as things went in the kitsch department.
- None of the bars I visited were drinks only; they all served food. And obviously, you can't smoke in any of them.
- In all the bars the drinks list had a special section for punches. After inquiring on several occasions, I came to the conclusion that these are simply cocktails in a greater quantity for large groups of friends. A nice idea!
- Getting to the crux of the matter, prices, I do have a gripe, though I do not care to elaborate: one cocktail in the best bar in Manhattan: $12; one cocktail in the best bar in Athens: €12...
To sum up, if any of these bars were in Greece, they would not make much of an impression on me. Which also means, conversely, that if any of the good Greek bars were in the centre of Manhattan, again I would not be bowled over. The only real difference is that "something extra", that confounded marketing at which the Americans excel. You stand in a queue for hours, thinking you're never going to get in. You feel you need to know a password to be admitted. The place smells of sawdust. The drinks list is so impeccably structured and presented that its creation probably required a separate budget. Nevertheless, you have the feeling you'll never see anything like it again. And you probably never will, at least not for a very long time in Greece.
Have a nice trip...   
User Comments
Login or register to join the conversation