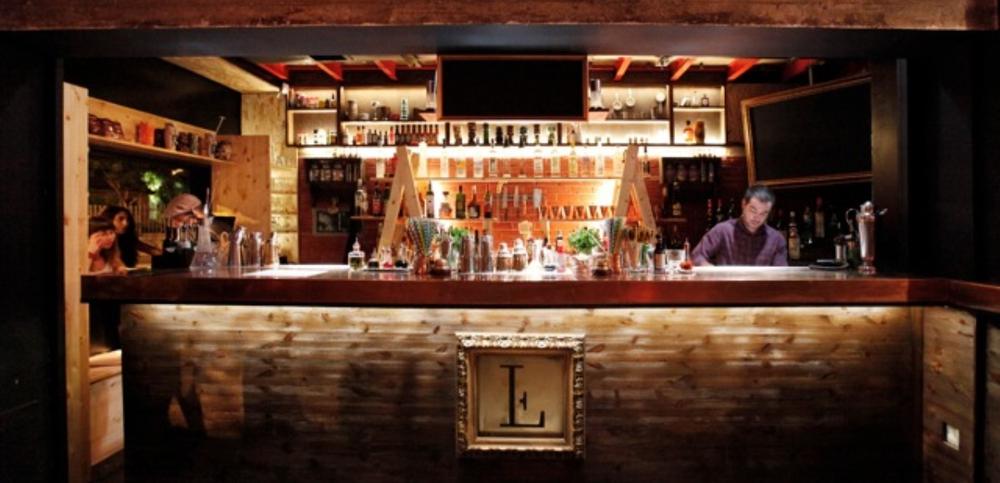 Forming up the puzzle of what makes a good bar, seems like a relatively easy task. You need exceptional service, a top notch sense of atmosphere, great drinks and of course a soundtrack that everyone can find (relatively) agreeable.
Having breezed through Lost &Found, I can honestly say that it ticks everything on the "good bar" list and then some, which is of course even more impressive since it calls Cyprus its home, which hasn't made much of a habit of presenting us with too many "modern bars". 
It's right in the center of downtown Nikosia,  it's been running for little less than a year and I must say that I've been hearing some rave reviews for a while now, which is naturally surprising, since it's only a toddler in "bar years". 
I first met owner and head bartender Dinos Konstantinidis when he was a finalist at the Bacardi Legacy world cocktail contest in Moscow, but I'd heard of him earlier, during his visit to Greece to parade the cocktail with which he was entering the competition.
Ever since then, he has morphed into something of a globe trotter, filling up his bartending notebooks with knowledge and going on a one mission to promote his bar, by drawing in world-class bartenders from some of the world's best bars, to come and pull a shift at his establishment and be the main attractions of seminars he sets up in Cyprus. 
Marian Beke and Luca Cinalli from London's Nightjar, Shingo Gokan from New York's Angle's Share and our very own Vasilis Kiritsis, Spiros Kerkiras, Yannis Korovesis, Alexandros Gikopoulos and Yannis Alexopoulos have all been there, showing off how Lost & Found is really acting as a bar beacon for some of the most established names in the bartending field.
Though quite a small venue, fitting no more than 30 or so people in its colorful interior, it's the comfortable outdoor area that really shines, providing a cool hangout to all those bar patrons, looking for a world class drinking establishment in Nicosia.
Inside, it's a comic wonderland, with Marvel characters crawling, jumping and running up and down the walls. The old school pinball machine holds court in the center of the room, leaving the bar to spread itself across the back of the venue. That's where we find the dj as well, who usually spins some soul, funk and jazz, loud enough to make sure that no one gets bored.
The drink selection is another point that impresses, since there's an impressive array of great spirits on show, despite the fact that in Cyprus, importing any type of alcoholic label beyond the most basic is a feat in itself.
What's more, anyone with any real knowledge of the bar scene, be they professional or just a regular bar patron, can't be anything but impressed by smaller details that Lost & Found presents to the knowing eye. High quality ice is one of them and here, unbelievably, it comes in 4 different types. Crystal clear and running through reverse osmosis filters, the result is almost translucent. The bar is decked out in brass from end to end, the bar tools could go toe to toe with those from any other establishment the world over and the prep area is more like a chemistry lab. All this of course would count for nothing if the bar didn't produce exactly what it should: perfect, unique, world class drinks.
Which brings us nicely to the stars of the show, the cocktails.
Lost & Found provides you with two options when it's time to order up: if this is your first time at the rodeo, then you're handed a highly detailed cocktail list that leads you around your choices based on categories that revolve around flavor characteristics (sour, sweet sour, sweet, dry sweet, dry and low cal).
Each of these categories, provides you with a name for each concoction, lists the ingredients used, highlights the serving glass and notes its alcoholic content. My personal favorite for example, the Marco Dionysos, comes under the sweet & sour category, is made up with green Charteuse, pineapple and lime juice and is finished off with sharp spices that combine perfectly with the muscular alcoholic presence the drink has, adding up to a drinking experience that is pretty hard to resist.
The second drinks card, is reserved for Lost & Found's more seasoned and regular patrons, a chart that horizontally notes each drinks alcoholic character and vertically runs through each cocktail's flavor characteristics. From this card, I went with the Gin's Corner No.2, a tantalizing G&T with fragrant cardamom and finished with an ingenious fresh lemongrass stick, that seemed ideal as an after office or early drink selection.
I found the One Piece, an equally enthralling and unique selection. This particular cocktail is the brain child of Andreas Sanidiotis who has been working the Lost & Found bar since day one, alongside light-fingered bar whiz Diamantis Argyros. It consists of white rum, homemade Aigina peanut syrup, vanilla and cherry essence and just a touch of star anise, making up an intriguing cocktail choice that isn't an easy one to forget.  
It's important to note that there is no service staff to be found here, since bar policy dictates that the customer comes into direct communication with the bartender and places his order. And by the way, if at any point in the night you feel a tad peckish, keep in mind that you can always get a hot dog on the fly, a sly feather in the cap for a bar that seemingly does no wrong.
Wrapping up and looking beyond that fact that this is your go-to place if you want a top quality bar experience in Cyprus, you only need to remember two more things: that Lost & Found is a bar that can cater for precious few patrons (at least that's the case on the inside)and is also only there for a small part of your week, since it usually only works from Wednesday to Saturday and closes up shop at two in the morning!
User Comments
Login or register to join the conversation