Suppose someone visits Paris for the first time and wants to experience what he thinks the French capital is about, then he must visit the Michelin starred Le Jules Verne on the second floor of the Eiffel Tower. 
The smart chef takes advantage of the location, its special meaning and the emotional reaction it produces, and creates a restaurant where dreams are made due to his tireless attention to detail.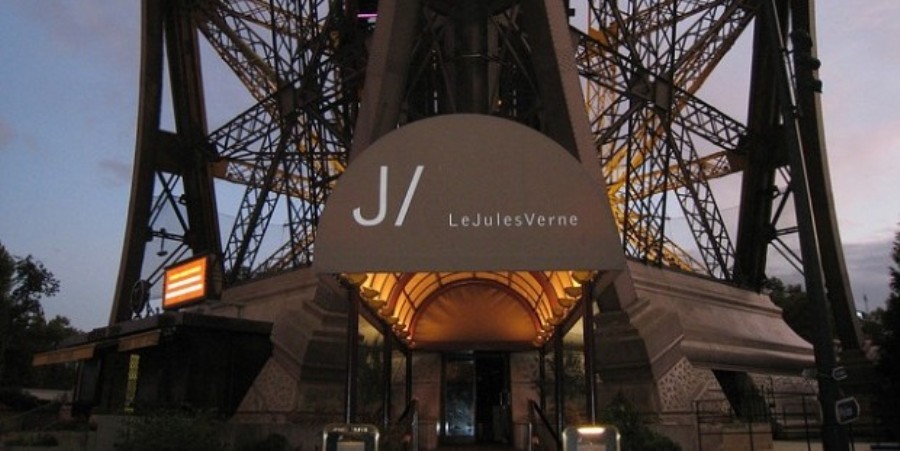 The entrance is from the south tower column, where you use the private lift to take you 123 metres up to restaurant level. The space is simple and beige and even though it could probably do with a touch up, the amazing view is what everyone focuses on. You have beautiful Paris at your feet with all its famous landmarks. Defence and its skyscrapers, the edge of the Bois du Boulogne and the impressive Frank Gehry designed Louis Vuitton building.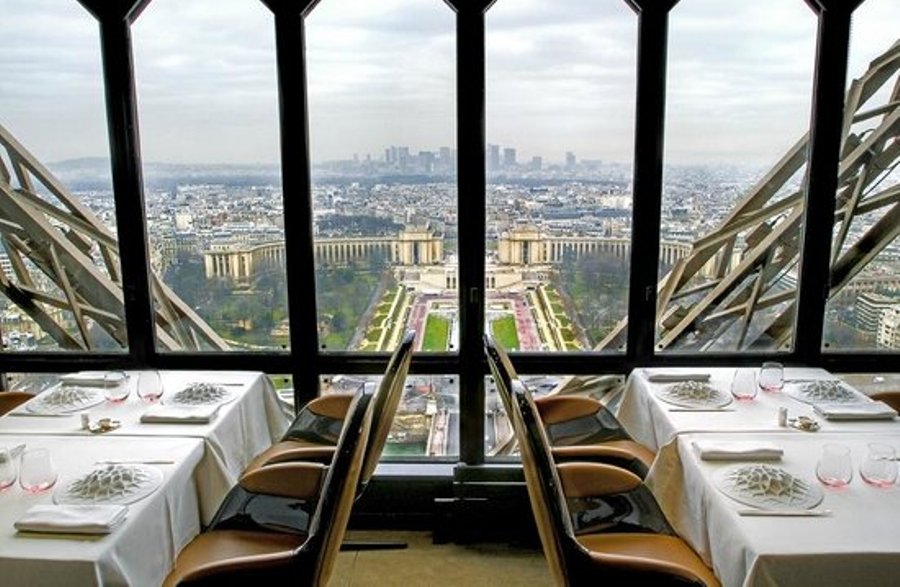 Everything in the restaurant reminds you of Paris; from the classic French songs to the Christofle cutlery.  Whether you're a fan of Godard, Alain Resnais or Hollywood films, it will be almost impossible to not feel like you're part of a movie set here. Even the usually stern French waiters treat their clientele, mainly made up of American tourists and people on a special celebration, impeccably. 
Jules Verne is above all a restaurant though.  In harmony with the overall concept, Ducasse presents classic French cuisine with a modern twist, layered with his personal taste and with an emphasis on the sea, amazing bread, non-sweet desserts and dark chocolate. There is nothing too experimental so as to not alienate the customers who come here for many reasons other than food.  The precision in the execution and the tiny special details undoubtedly make this a good restaurant though. 
The amuse bouche, an airy shrimp carpaccio on a bed of vegetables and citrus fruit is a great introduction to our meal. The chicken and foie gras paté that followed was good but boring as you can easily find something similar in Lafayette Gourmet or Bon Marche. The scallop was amazing though: big and juicy, served with caramelised pumpkin and chestnut puree.  The sea bass with mushroom cooked in its own jus was breathtaking but the pièce de resistance was the Aristide Couteau version of royal hare, one of the iconic French cuisine dishes and a testament to technique and intense flavours.
When it comes to desserts there are two choices, both great: chocolate and unsweetened desserts based on fruit.  The wine list is good with a few Greek labels and the prices are at three star level at about 200 euros per person.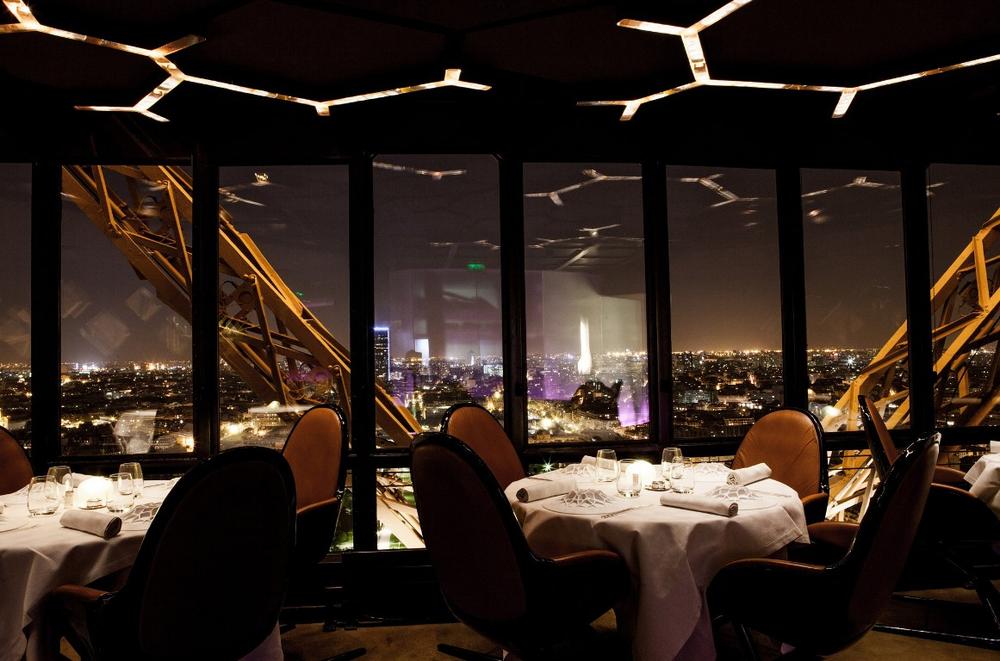 Jules Verne is a restaurant where memories are made.  The price you pay for them is down to you.  Looking out of the restaurant window I could see the people who had paid the simple entry fee to the tower smiling and taking photos. 
Rating: 8/10
Scoreboard Key
0 - 3

Poor

3.5 - 4

Average

4.5

Acceptable

5 - 5.5

Satisfactory

6 - 6.5

Good

7 - 8

Very Good

8.5 - 9

Outstanding

9.5 - 10

Excellent
| | | | | | | | |
| --- | --- | --- | --- | --- | --- | --- | --- |
| 0 - 3 | 3.5 - 4 | 4.5 | 5 - 5.5 | 6 - 6.5 | 7 - 8 | 8.5 - 9 | 9.5 - 10 |
| Poor | Average | Acceptable | Satisfactory | Good | Very Good | Outstanding | Excellent |
User Comments
Login or register to join the conversation