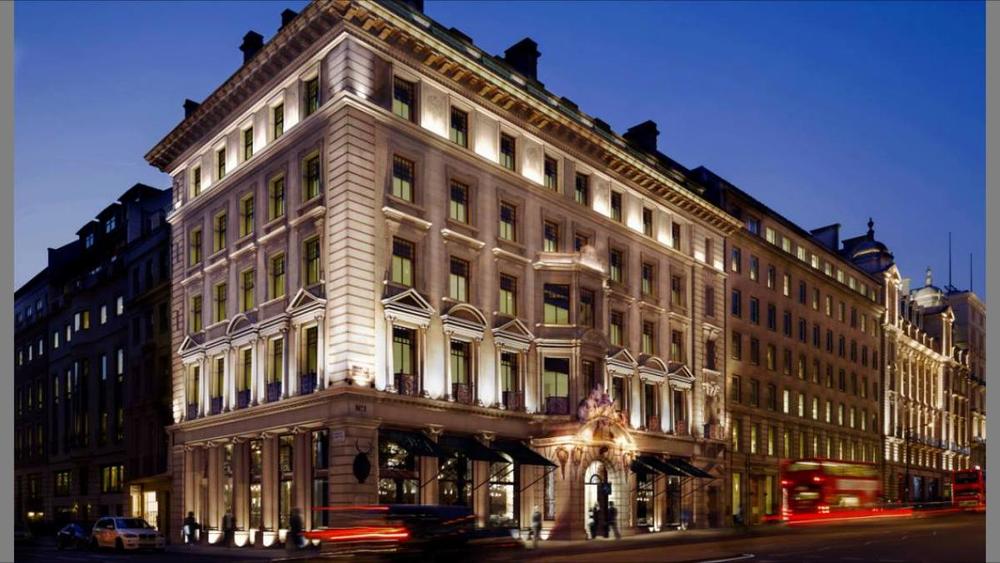 Located at the beginning of Regent street in a beautiful building, it looks like every other Milos restaurant around the world.  All white, comfortable, with faux marble details and an open kitchen so you can choose the fresh fish and seafood served by the kilo but oh the prices!  It's clear that every fish has had to pay for its own airfare from Greece.  What is also worrying is that the tomatoes have had to do the same as a Greek salad costs £18.
There is a lot of staff and, from what I can tell, mainly of Greek decent, which is good considering how many Greeks come to London looking for work. Their training has obviously been in the style of American restaurants, which place the emphasis on the client, as opposed to the London style of accentuating the server's personality. Their willingness to assist and their smiling faces do help when problems arise; in our case the waiter brought over the wrong dessert wine so the sommelier dealt with it in no time whatsoever and told us it was on the house.
Even though they do serve meat and some dishes like lobster pasta and giant shrimps served with a sherry glass for the heads, what stands out is the fresh grilled fish with oil and lemon. Perfectly cooked and cleaned, it's the freshest taste of Greece you can get anywhere in London.  Served with an array of boiled greens (chorta), it's what I would eat every day given the choice. There is a great selection of fish including red mullet, red snapper and grouper among others.  I tried a wonderful grilled octopus with fava, as well as cuttlefish with lemon and an expertly made black risotto. I should also mention the amuse bouches with bottarga and warm bread at the start of our meal.
The desserts do need some work though.  The galaktoboureko was a little dry and the loukoumades smelled of burnt oil but the baklava ice cream was pretty good.
The wine list includes a good range of Greek and American labels, reasonably priced by London standards.
Milos (www.milos.ca/restaurants/london) is not the type of gourmet restaurant where the chef shows off by taking simple ingredients and transforming them into something completely new.  The aim is not to move Greek cuisine further but simply offer fans of fish and Greece itself top ingredients in a chic setting.
Kostas Spiliadis was there on the night we visited, making it very clear that this level of success is no accident.  He was overseeing every detail and had absolute faith in the quality of every ingredient used by his kitchen staff.
Rating: 7/10
Scoreboard Key
0 - 3

Poor

3.5 - 4

Average

4.5

Acceptable

5 - 5.5

Satisfactory

6 - 6.5

Good

7 - 8

Very Good

8.5 - 9

Outstanding

9.5 - 10

Excellent
| | | | | | | | |
| --- | --- | --- | --- | --- | --- | --- | --- |
| 0 - 3 | 3.5 - 4 | 4.5 | 5 - 5.5 | 6 - 6.5 | 7 - 8 | 8.5 - 9 | 9.5 - 10 |
| Poor | Average | Acceptable | Satisfactory | Good | Very Good | Outstanding | Excellent |
User Comments
Login or register to join the conversation