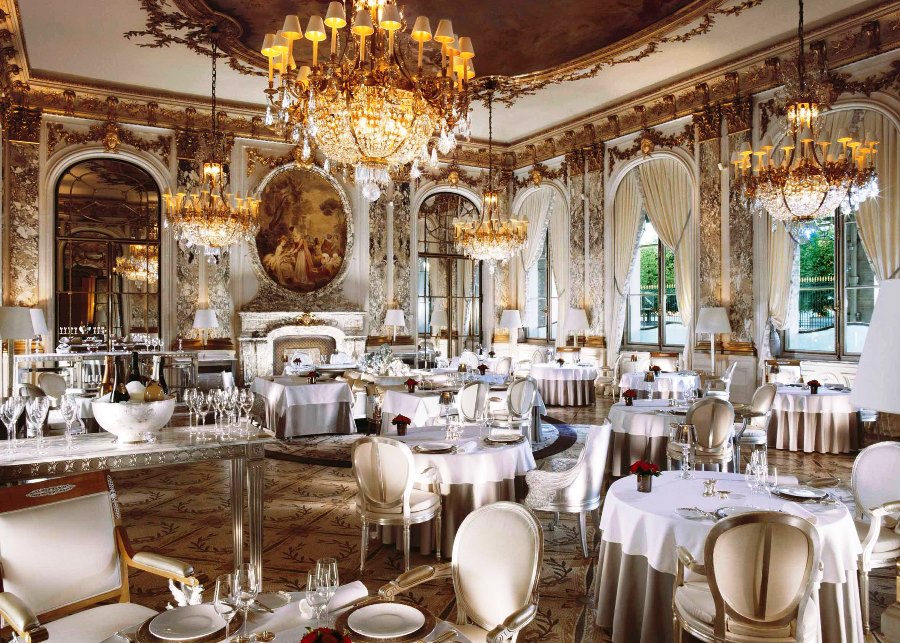 ...restaurant in the space of just a few months.
And he succeeded in typically smooth fashion while also demonstrating that he understands not only the codes of the new era but also the true meaning of contemporary Gallic gastronomic luxury.
It is a real balancing act combining a grand restaurant such as Le Meurice with the demands of the uber-rich and the critical gaze of food connoisseurs without falling into the trap of the Russian school, which often verges on vulgarity, and without becoming "stuck" in the past. In my opinion, the fact that Ducasse has managed to reinvent himself means that reaching the top presupposes not only talent and hard work but also professional acuteness and expertise when it comes to building a team.
What is interesting is that despite the rococo splendour of the dining room, strongly influenced by Versailles, Philippe Starck's "tinkering" with the décor and the light streaming in from the large windows serve to brighten the atmosphere, making it ideal for a relaxed meal.
The kitchen has been taken over by Christophe Saintagne, a move that has breathed new life into the restaurant. I liked what Alléno did but I often found the menu to be uneven and too heavy. Saintagne's new menu is almost spartan in comparison with Alléno's, but while at the Plaza Athénée there were whispers of "the emperor's new clothes", at Le Meurice he has found the right balance between the ingredients and the technique necessary to "elevate" a dish to three-star level. For example, the first dish arrived in a cast iron pot. Removing the lid revealed hot vegetables "au naturel" resting on a bed of coarse salt, accompanied by sorrel mayonnaise. Without a trace of butter and incredibly light, it was the best vegetable dish I have ever eaten. The pâtéchaud de pintade au chou was a masterful preparation, a crispy pie filled with chicken, vegetables and liver mousse, an outstanding comfort dish, almost oxymoronic for a three-star restaurant. The John Dory, accompanied by fine slices of fig and turnips, was a French take on Scandinavian cuisine; it was exceptional. The main courses were virtually monastic in their simplicity, which surprised me pleasantly, since they were appropriately light for lunchtime. 
The desserts by chef pâtissier Cédric Grolet are exceptional, but at Ducasse's restaurants I always stick with his signature rum baba.
And I must say, having visited Le Meurice's kitchen when Alléno was presiding, the achievement of such high standards has clearly been helped by the striking fact that the ratio of chefs to diners is nearly one-to-one!
The sommelier is a key figure in the restaurant and her recommendations extremely interesting, bearing in mind that she has at her disposal one of the largest wine cellars in Paris.
Service was flawless and flexible, which is necessary on account of the international clientele, and as for the ladies, I would advise them to check out the extravagant outfits, if only to get an inkling of why they beheaded Marie Antoinette. For there's nothing wrong with good living, but sometimes a reality check is in order.  
In conclusion, I would say that Ducasse may have made a reputation for his precise and quality take on the baroque version of Gallic Mediterranean cuisine, but now – in Monte Carlo and Paris – he presents contemporary French cuisine at the level befitting three-star restaurants: simple, luxurious and delicious. And it may not be the most adventurous or exciting food in Paris, but it is certainly impeccable.
RATING: 9.5 / 10
Scoreboard Key
0 - 3

Poor

3.5 - 4

Average

4.5

Acceptable

5 - 5.5

Satisfactory

6 - 6.5

Good

7 - 8

Very Good

8.5 - 9

Outstanding

9.5 - 10

Excellent
| | | | | | | | |
| --- | --- | --- | --- | --- | --- | --- | --- |
| 0 - 3 | 3.5 - 4 | 4.5 | 5 - 5.5 | 6 - 6.5 | 7 - 8 | 8.5 - 9 | 9.5 - 10 |
| Poor | Average | Acceptable | Satisfactory | Good | Very Good | Outstanding | Excellent |
User Comments
Login or register to join the conversation