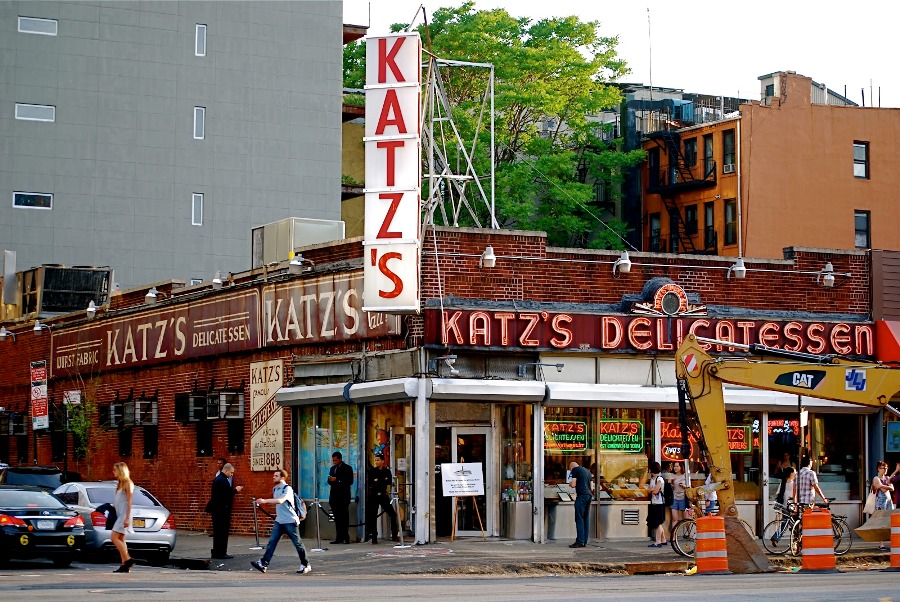 Before I get to the actual food let me just explain why a column like Globe Eater, which usually covers new openings and gourmet restaurants, is about to cover a deli.
Let's say you find yourself in New York and as a result of the capital controls and bank closures in Greece, you have very little money. A good way to discover the authentic New York is to visit Katz's (www.katzsdelicatessen.com), the oldest and most famous of all the delis. 
It's intense, loud, full of food smells, interesting faces and a lot of attitude.  There is a lot to try: pastrami on rye, the reuben, brisket or a hot dog.  On your way in you pick up a ticket upon which the orders are noted and you pay on the way out.  Be sure not to lose it because otherwise you'll get a fine and a good New York style telling off.
There is table service but if you want the full experience, you can go to each counter and order what you want.  The most famous is the pastrami on rye sandwich: juicy, aromatic meat, a true taste explosion with a rich and intense flavour with mustard and pickles to boot.  Simple, yet amazing.
My personal favourite is the Reuben, made with corned beef, melted Swiss cheese and Russian sauerkraut; a true calorie bomb as the serving is huge.  The perfect accompaniment is an egg cream, a kind of milkshake with soda water. There are other well known dishes like the matzo ball soup, the turkey, hot dogs and the infamous Katz's omelette which is basically a circle made out of fried eggs with some cold cuts in the middle.
$20 will have you eating like a king and above all provide you with a true New York experience.
Rating: 6.5/10
Scoreboard Key
0 - 3

Poor

3.5 - 4

Average

4.5

Acceptable

5 - 5.5

Satisfactory

6 - 6.5

Good

7 - 8

Very Good

8.5 - 9

Outstanding

9.5 - 10

Excellent
| | | | | | | | |
| --- | --- | --- | --- | --- | --- | --- | --- |
| 0 - 3 | 3.5 - 4 | 4.5 | 5 - 5.5 | 6 - 6.5 | 7 - 8 | 8.5 - 9 | 9.5 - 10 |
| Poor | Average | Acceptable | Satisfactory | Good | Very Good | Outstanding | Excellent |
User Comments
Login or register to join the conversation