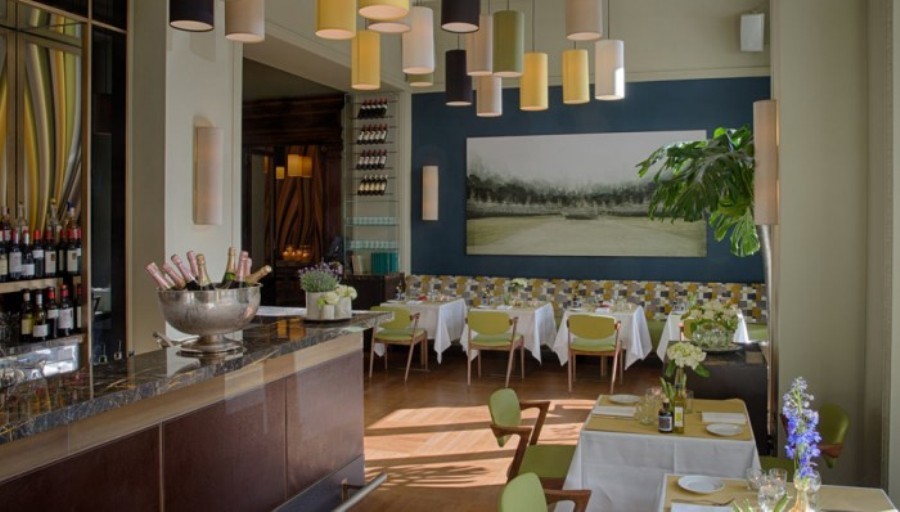 Six years later and he's back as the executive chef for Rocco Forte Hotels and his first undertaking is Irene, Florence's Savoy hotel restaurant.
Named after Sir Rocco Forte's mother who was an amazing cook and dedicated to all Italian mamas, it serves breakfast through to dinner on Piazza del la Republica, across from the historic Carousel.
It is the perfect place to relax in Florence. Immaculately decorated with a 50s vibe, with great lighting and crockery from Richard Ginori, otherwise known as the Ferrari of porcelain, it has some tongue in cheek touches like paper tablecloths over fine linen.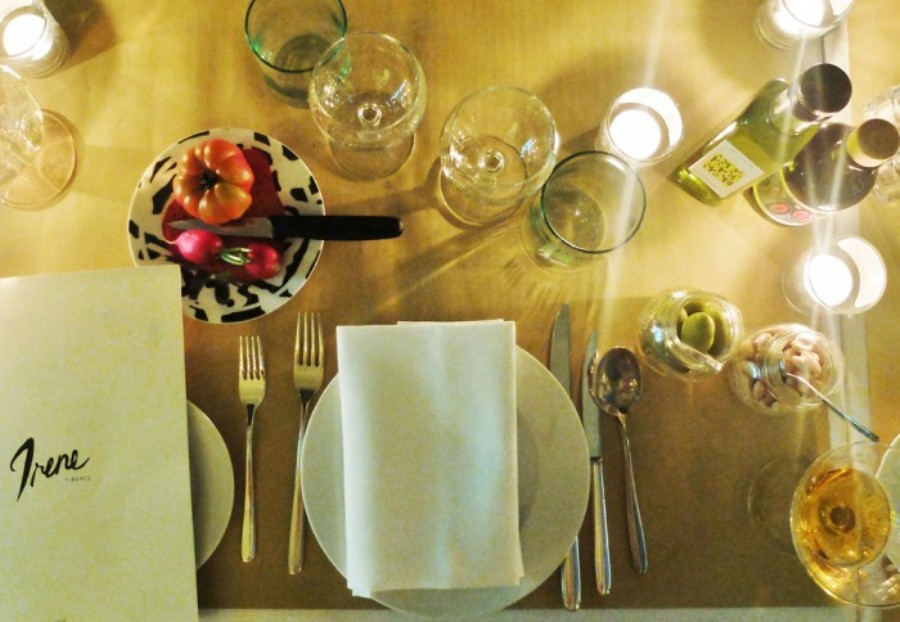 The food is a lighter version of Tuscan cuisine which is quite simple anyway.  Every Sunday lunchtime you can eat like a king with the del la nonna menu priced at 35 per head.  Lasagne as a starter, a whole chicken for the main course and zabaglione for dessert.  I went there for dinner and was blown away by the food, the service and the staff's efficiency as I had emailed in advance asking them to prepare a technically difficult birthday cake (a hot chocolate cake with a runny centre).  Naturally Tuscan cooking can't be elevated gastronomically without some drastic interventions but that's not what this place is about.  The classic panzanella, the traditional bread salad with tomato and onion, was transformed into croutons with tomato, celery and burrata.  The octopus, beetroot and radicchio salad was great, and so was the spicy linguini with lobster and unripened olive oil. The saffron, olive oil and ginger risotto and the caramelised piglet with mash were outstanding and a real showcase for the kitchen staff.  I also tried a very tasty veal fillet cooked on a rock and some grilled fish, which were a little dry though.
The desserts were all amazing with the tiramisu and zabaglione stealing the show.  Our waiter, Alberto, told us stories from his home in Sicily and comped us some sweet passito di pantelleria wine.
If you're ever in Florence, come by the Savoy and take a seat overlooking the square.  If you order a negroni or two, it's bound to put you in the mood for Irene.
Overall rating: 7.5/10
Scoreboard Key
0 - 3

Poor

3.5 - 4

Average

4.5

Acceptable

5 - 5.5

Satisfactory

6 - 6.5

Good

7 - 8

Very Good

8.5 - 9

Outstanding

9.5 - 10

Excellent
| | | | | | | | |
| --- | --- | --- | --- | --- | --- | --- | --- |
| 0 - 3 | 3.5 - 4 | 4.5 | 5 - 5.5 | 6 - 6.5 | 7 - 8 | 8.5 - 9 | 9.5 - 10 |
| Poor | Average | Acceptable | Satisfactory | Good | Very Good | Outstanding | Excellent |
User Comments
Login or register to join the conversation