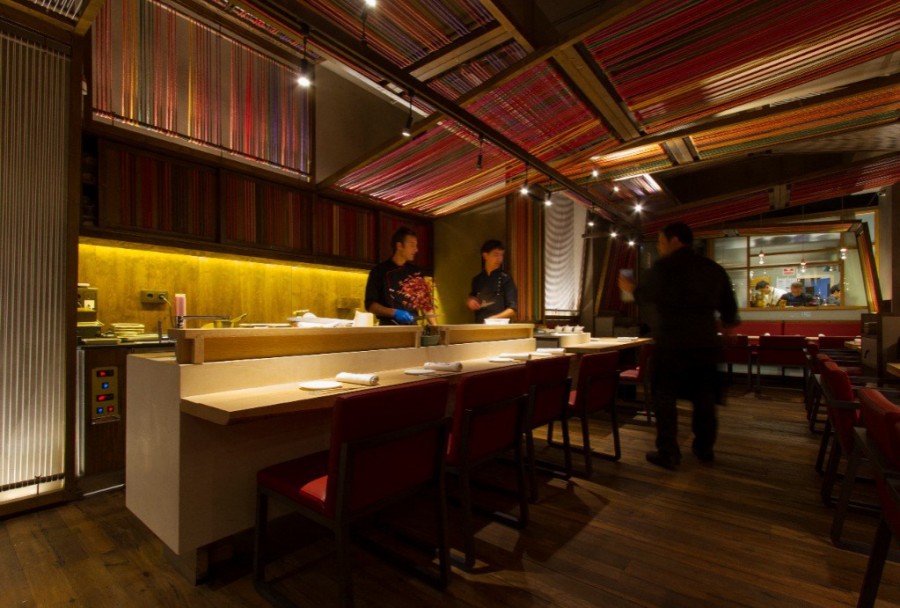 For example, the latest restaurant they opened in Barcelona, Pakta focuses on Peruvian cuisine with Japanese influences, at a time when this cuisine had already made a splash in London in 2012 following the opening of Lima and Ceviche. Nevertheless, Pakta is still a great restaurant, right down to the last detail.
Located opposite the highly successful Tickets and 
41o Experience
it is very small with simple décor and exceptional design. You feel as though you are in a massive loom with brightly coloured yarn all around. And because Pakta means 'union' in the Quechua language of Peru, the chairs, counters and kitchen are all wooden and plain in accord with classic Japanese aesthetics, while the walls and ceiling are alive with the colours and energy so evocative of Peruvian culture. 
The food is a fusion of Japanese and Peruvian cuisine, with the balance perhaps tipped in favour of the latter. There is a set menu with over 20 dishes which is frequently changed. The extremely polite staff and even the chef are willing to explain everything and the entire experience is exceptionally pleasant. It must be very difficult to come up with a menu that uses mainly Peruvian ingredients but still has familiar elements for the average Spanish or European diner, but Jorge Muñoz and Kyoko Li have managed just that.
The menu begins sedately with Mediterranean sand smelt lightly fried and sprinkled with a seaweed powder, followed by tomato jelly and yucca chips. The Pakta version of spicy tuna roll features puffed quinoa and is marinated in "tiger's milk", the popular marinade containing lime juice, spring onion and peppers. The sea bass ceviche with kumquats and sweet potato was marvellous, as too were the assorted sushi, especially the one with browned Iberico ham. Perhaps the only disappointment was the raw scallop in parmesan soup, but you are immediately compensated by the pork anticucho with grilled pineapple, and of course the desserts, which may be the most exciting I have tasted in the past year. The sweet potato picarones with cinnamon honey are incredible, as too are the Mochi buns filled with strawberries and Chantilly cream.  
My meal was semi-professional and this detracted somewhat from the pleasure. Nevertheless, Pakta is another example of the two brothers' ability not only to set up amazing restaurants but also to continue the gastronomic dialogue in a period characterised by new challenges and social changes. 
Scoreboard Key
0 - 3

Poor

3.5 - 4

Average

4.5

Acceptable

5 - 5.5

Satisfactory

6 - 6.5

Good

7 - 8

Very Good

8.5 - 9

Outstanding

9.5 - 10

Excellent
| | | | | | | | |
| --- | --- | --- | --- | --- | --- | --- | --- |
| 0 - 3 | 3.5 - 4 | 4.5 | 5 - 5.5 | 6 - 6.5 | 7 - 8 | 8.5 - 9 | 9.5 - 10 |
| Poor | Average | Acceptable | Satisfactory | Good | Very Good | Outstanding | Excellent |
User Comments
Login or register to join the conversation