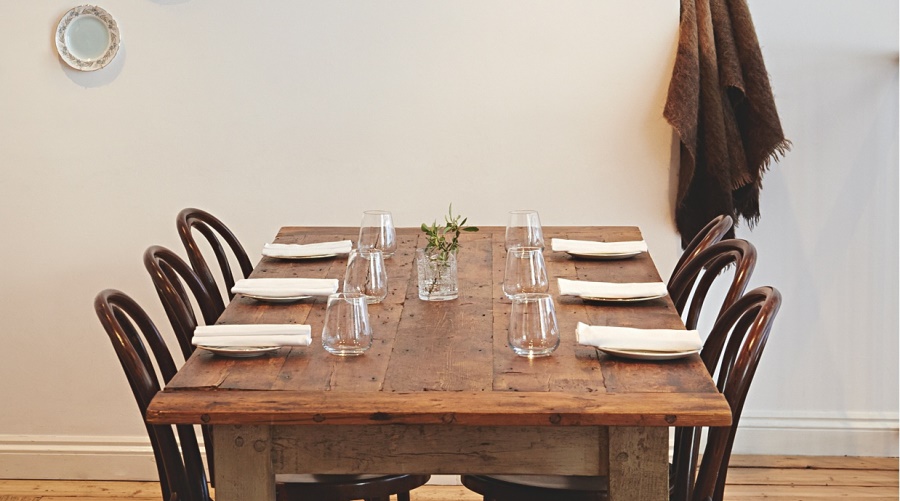 It opened last year and wasn't going too well but the team was reorganized and the result is now a real gem serving cuisine of the American South with some refined twists.
The new chef is
Bradford McDonald
who, after stints at Per Se and Noma, opened his own successful restaurant in Brooklyn. Unfortunately, it was destroyed by Hurricane Sandy and so – for our good fortune – he came to London. Tall and slender with a long beard, a cross between hipster and folk singer, McDonald presents a cool version of cuisine from the Deep South but with a fair degree of sophistication which has made The 
Lockhart
the new hot spot. The dining room is dominated by the presence of the renowned Bunmi, previously maitre d' at Dinner by Heston and at Lima, London, who thus completes a strong team.
The menu is small but each dish is faultless and quite filling, though portion sizes are not American XXL. The chicken oysters were juicy and the BBQ mustard sauce gave the necessary kick, while the fish goujons were crisp and aromatic. The "shrimps and grits" are a must order, no relation whatsoever to the version you find at US diners. What you get here is a cheesy soft polenta with shrimps, mushrooms and small pieces of crispy bacon and a strong lemon aroma, right now perhaps London's finest comfort dish. And finally quail, superbly glazed and stuffed with dirty rice, which really catapulted the meal to another level. The rice stuffing, made from Carolina Gold and pieces of liver, was not just dirty but to die for.
I am not partial to deconstructed desserts; I feel there is no reason to destroy something as precise as confectionery – but Brad's destructured lemon pie was exquisite, a lemony Eton Mess with meringue made as if from marshmallows.
The Lockhart also serves Sunday brunch with delectable fried chicken and waffle with maple syrup which I wholeheartedly recommend. The wine list features almost exclusively American labels but there are also beers and bourbon. Service is efficient and prices are around ₤50 per person if you're ravenous and order the entire menu.
Because I have become a little tired of restaurant-version street food that has been all the rage in London these past two years, the refined presence of American cuisine is a perfect choice for quality and comfort, and the Lockhart is the right destination.
RATING: 7.5 / 10
Scoreboard Key
0 - 3

Poor

3.5 - 4

Average

4.5

Acceptable

5 - 5.5

Satisfactory

6 - 6.5

Good

7 - 8

Very Good

8.5 - 9

Outstanding

9.5 - 10

Excellent
| | | | | | | | |
| --- | --- | --- | --- | --- | --- | --- | --- |
| 0 - 3 | 3.5 - 4 | 4.5 | 5 - 5.5 | 6 - 6.5 | 7 - 8 | 8.5 - 9 | 9.5 - 10 |
| Poor | Average | Acceptable | Satisfactory | Good | Very Good | Outstanding | Excellent |
User Comments
Login or register to join the conversation