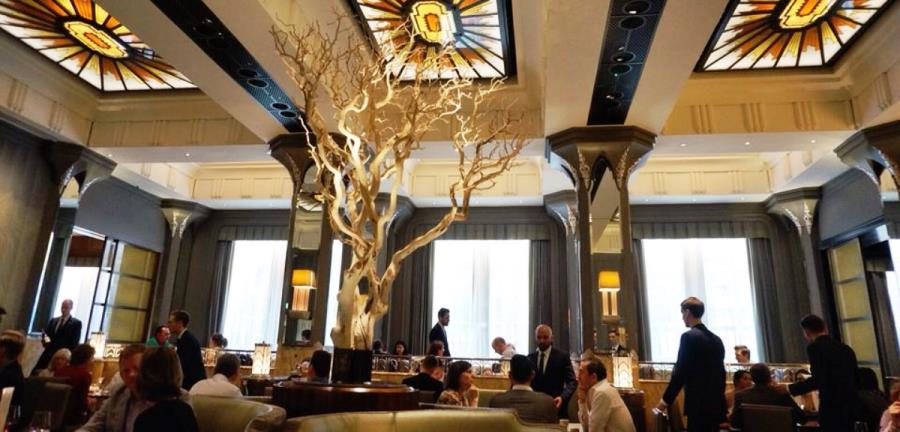 In any case, Simon Rogan gained fame and two Michelin stars at his other restaurant, L'Enclume in Cumbria, precisely for the use of flowers, plants and herbs growing in the surrounding area. Having gained fanatic admirers, he opened the Roganic pop-up and The French in Manchester before throwing himself into battle among the top restaurants in London with Fera. When Gordon Ramsay's restaurant at Claridge's hotel closed, there were many suitors to replace him, including Noma's René Redzepi. The eventual winner was Simon Rogan and he has promised himself he will gain a third star. Will he succeed? After my experience, I have certain doubts.
But before I speak about the food, I would like to say a few words about the restaurant, which is strikingly beautiful, exceptionally stylish with a casual atmosphere and a tranquillity interrupted only by the team of waiters who take care of everything with efficiency and a smile. The wine list too is excellent, with very interesting labels at reasonable prices and the most comprehensive vertical tasting of Jacques Selosse champagne.
Although it opened less than one week ago, everything appears to be going perfectly from reception to kitchen. One interesting touch is that some dishes are brought to the table by the chefs who prepared them; my final dish was brought by Rogan himself, which gave me an opportunity for a brief chat. When I asked him how he felt about creating such personal cuisine, so closely connected with his farm and the land, in such a luxurious hotel, he replied: "at present I feel fine but in a few days I may want to leave and return to the Lake District to feel even better. I hope you enjoy the food and the restaurant and I hope it is better than my previous undertakings."
Anyway, moving on to the food, which is the most important thing… I opted for the ₤95 menu featuring about 10 dishes. The basic idea behind each dish is a piece of protein accompanied by flowers, herbs, vegetables and a sauce, usually green. They were all extremely attractive but none of them as a whole thrilled me or created an unprecedented feeling. There were some moments of genius, such as an outstanding cheddar purée or a piece of country-style bread with bone marrow-flavoured butter and a mushroom broth. Or the steak tartare with an aromatic and tart sauce that conjured up images of a citrus orchard. And succulent prawns with violet flowers. But while the chef's skills are manifest, I have the feeling that in London he is cut off from his source of inspiration. And with his skills he may be able to highlight the humble ingredients, but a restaurant in one of the world's plushest hotels with its sights set on three Michelin stars must offer exceptional ingredients, not just pork. The desserts too need more work, because though tasty they don't look "deconstructed" but amateurish. Perhaps this is why Noma, a restaurant with a similar philosophy, has not yet won its third star. I don't know what the future holds, but either Fera's menu will have to become more exciting or the ingredients more luxurious. Or both. And if this review seems a little harsh, it is because at this level demands are very exacting.  
Nevertheless, Simon Rogan is a great chef who offers a very personal cuisine and an extremely interesting gastronomic experience.
RATING: 8 / 10
Scoreboard Key
0 - 3

Poor

3.5 - 4

Average

4.5

Acceptable

5 - 5.5

Satisfactory

6 - 6.5

Good

7 - 8

Very Good

8.5 - 9

Outstanding

9.5 - 10

Excellent
| | | | | | | | |
| --- | --- | --- | --- | --- | --- | --- | --- |
| 0 - 3 | 3.5 - 4 | 4.5 | 5 - 5.5 | 6 - 6.5 | 7 - 8 | 8.5 - 9 | 9.5 - 10 |
| Poor | Average | Acceptable | Satisfactory | Good | Very Good | Outstanding | Excellent |
User Comments
Login or register to join the conversation