They both offer a final product that is luxurious, desirable and unforgettable. Alain Ducasse au Plaza Athenée restaurant is no exception to this rule.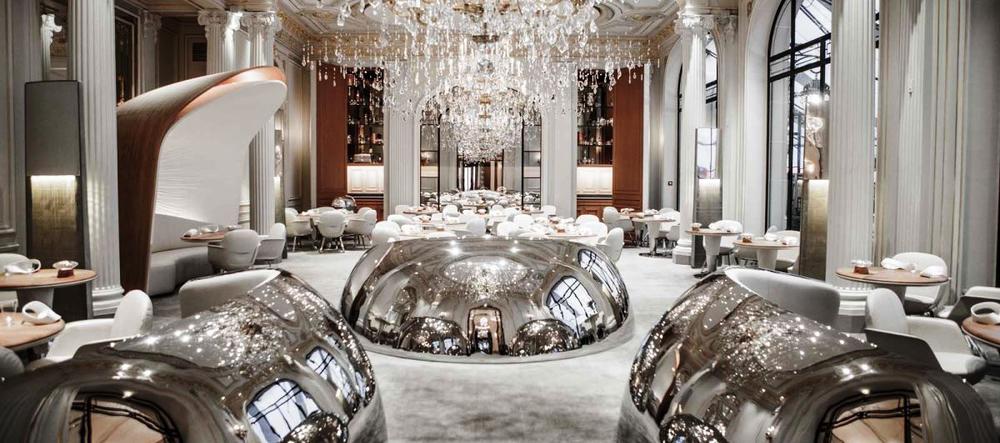 Following a 10-month renovation, Plaza Athenée returns with Ducasse excluding meat from his menus and moving into strictly natural ways of manipulating ingredients to the point of including sugar free desserts.  Having raised some eyebrows with his statement, the reactions were rather extreme, focusing on what they described as Ducasse's attempts to 'mimic' the Scandinavian school.  Whether this was part of an overall marketing ploy is of no real importance.  With three stars to retain and dishes ranging between 95 to 175 euros, what's on offer has to be exquisite.
The space screams of luxury, with chandeliers and crystals adorning the ceiling and reflecting the light in every way imaginable.  The tables are stripped back plastic, metal and wooden compositions without tablecloths.  The cutlery are difficult to use and at a fragile balance on the edge of the plates but thankfully the leather chairs make you want to stay forever.  The final result is a very French mix of the Versailles aesthetic and mid-20th century modernism.
Service is impeccable and in fact a little friendlier than expected from restaurants at this level and despite a few teething problems, which were remedied quickly by the staff, everything moved along smoothly.  The receptionist for example, called me to confirm my booking while I was having my starter and the table manager got my dessert order wrong.  On the other hand, we received a complementary cheese platter and the sommelier provided us with a taste of a blanc de blancs champagne after a disagreement we'd had over our wine choice.  It's worth pointing out that the wine list is helpfully arranged in vintage categories, of 10, 15 or 50 years.
Before I move into the heart of the matter, I must say that Ducasse has excelled where others have failed, because he understands the essence of luxury.  At this level, being talented and choosing great ingredients isn't quite enough, you have to offer unique and memorable creations.  As a French friend of mine would say: 'turnips are fine but we feed them to our pigs'.
Dinner started with a red mullet sashimi tart and a carrot gazpacho served in a whiskey glass, with an ice cube and two finely toasted seed biscuits.  In all honesty, the gazpacho could probably have done without the additional elements, but a masterful stroke was to follow. The most exciting amuse bouche, comprised of sardine fillets with a whole sardine skeleton ethereally fried.  To top that, one of the most expensive dishes on the menu swiftly followed: scallops served with Alba white truffle on a bed of fruit sauce and accompanied by a cheese and cauliflower brioche.  There is really no point in critiquing this extraordinary creation, but suffice it to say that I really wanted the whole brioche, rather than just the single slice that was part of the plate!  A gorgeous seabass followed, cooked with leeks and olives.  I did wonder if the explanation that the fish was killed using the Ikejime method in order for it to retain its full flavour, was absolutely necessary though. The meal continued at the same high level with a grouper served with a vegetable fricassée and a red mullet with a sauce made from its own liver.  
Ducasse is known for the quality of the chocolate used in his desserts but I was mesmerized by a dessert of fresh figs cooked in wine with smoked fig flower ice cream. It may sound strange when you say it out loud but it was simply beautiful.  At the end we got some extra gifts in the form of baba au rum with Chantilly cream- a real Ducasse classic originally served in his Monaco restaurant-and a goody bag with chocolates to take home.
This restaurant offers a very special experience, even for those accustomed to the finer things in life.  You're left admiring the fact that there are culinary establishments that really aim high and achieve something really unique at this level.  There might be nothing as ephemeral as food but it might as well be as good as this.
RATING: 9/10
Scoreboard Key
0 - 3

Poor

3.5 - 4

Average

4.5

Acceptable

5 - 5.5

Satisfactory

6 - 6.5

Good

7 - 8

Very Good

8.5 - 9

Outstanding

9.5 - 10

Excellent
| | | | | | | | |
| --- | --- | --- | --- | --- | --- | --- | --- |
| 0 - 3 | 3.5 - 4 | 4.5 | 5 - 5.5 | 6 - 6.5 | 7 - 8 | 8.5 - 9 | 9.5 - 10 |
| Poor | Average | Acceptable | Satisfactory | Good | Very Good | Outstanding | Excellent |
User Comments
Login or register to join the conversation