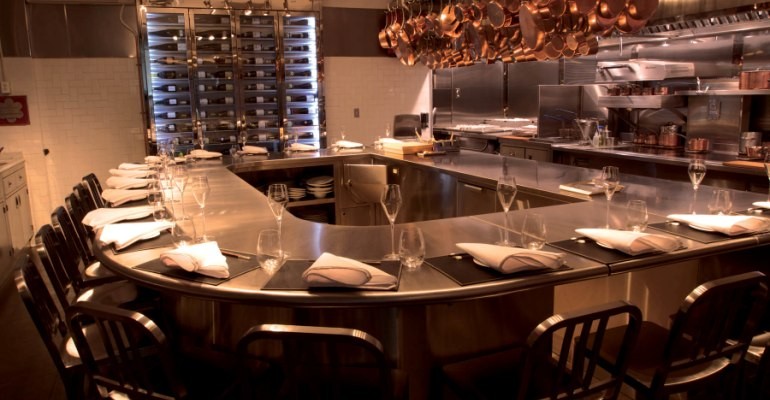 There is no menu (the offerings change daily), it is not permitted to take photograph or notes, and it is almost impossible to remember details of over 20 dishes. But there can be only one conclusion: it's a life-changing experience!
Let's take it from the beginning. To reserve a place, you must phone six weeks in advance at 10.30 am NYC time and if you're lucky enough to get through, you will receive an email with instructions that smack of military precision, pay a $300 per head deposit, and then you're all set to enter the world of Chef Cesar Ramirez.
The restaurant is a storefront kitchen in Brooklyn, which is attached (two doors down) to a grocery store of the same name, and although Chef Ramirez is Mexican, the concept underlying the restaurant and the precision preparation of the ingredients is Japanese. In reality, we are talking about a semi-circular stainless steel sushi bar around an ultra-modern open kitchen featuring pots and pans that look like objets d'art, in the centre of which the entire team works in silence. There are just two waiters and one sommelier; even so, the pace is so fast that you have finished in 2½ hours. It's not a place where you sit back, take a sip of wine and chat with friends, but a totally different experience. And thankfully the lights are a mellow yellow, otherwise you might think you are in an operating theatre. If all this sounds a little off-putting, don't despair, the truth is that you have such a good time and the gustatory experience is so pleasant that you leave with a broad smile.
As for the food, I will say one thing: I have never in all my life seen so many luxurious ingredients in one place, and I don't just mean caviar and truffles but also the best fish in the USA. Even the cheeses were special, the finest being a goat's cheese from the celebrated Andante's Dairy in California.
Given that the offerings constantly change, which means the recipes cannot be tweaked to perfection, it really is remarkable how each dish is prepared to such an exceptionally high standard. And in terms of taste, we are talking real gems. A fillet of red snapper served with tangy ponzu sauce and chips made from the fish scales was absolutely perfect. A sea urchin mousse served on a warm brioche was topped with a shaving of truffle and a trout appeared on the plate with its own roe and mayo with ginger. In each dish, the originality and attention to detail was mind-blowing. A classic French bouillabaisse had a slight aroma of curry capable of sweeping you away. A dish of veal ravioli was garnished with lobster, foie gras and abalone, which in normal circumstances might be dismissed as an attempt to bring together in one dish the most expensive ingredients, but you soon realise that such a union of luxury and talent, no matter how rare these days, is utterly transfixing. The desserts too were outstanding, including the best soufflé I have tasted outside France and a chocolate sweet probably best described as a deconstructed version of the classic Napoleon.
A few days later, now the impact of the stomach orgasm had subsided, I am thinking that three stars here mean something quite different from their European but equally important equivalents, and also how odd it is that Chef's Table at Brooklyn Fare is not listed among the world's top 50 restaurants. Perhaps the 'world' is not yet ready.
RATING: 9.5/10
Scoreboard Key
0 - 3

Poor

3.5 - 4

Average

4.5

Acceptable

5 - 5.5

Satisfactory

6 - 6.5

Good

7 - 8

Very Good

8.5 - 9

Outstanding

9.5 - 10

Excellent
| | | | | | | | |
| --- | --- | --- | --- | --- | --- | --- | --- |
| 0 - 3 | 3.5 - 4 | 4.5 | 5 - 5.5 | 6 - 6.5 | 7 - 8 | 8.5 - 9 | 9.5 - 10 |
| Poor | Average | Acceptable | Satisfactory | Good | Very Good | Outstanding | Excellent |
User Comments
Login or register to join the conversation