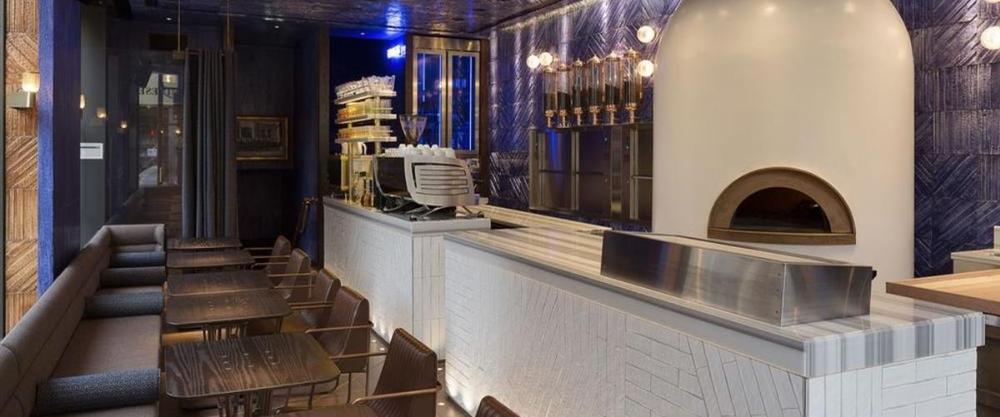 Yau has opened 2 types of restaurant, fast / casual and high end. Babaji, which launched kind of secretly last December, fits the first category.
As expected, the space is glamorous with attention to detail and has a wood burning oven as the main focal point.  The staff are well dressed and eager to serve, but there are some issues at peak times. What about the food though?  Can Yau, who has become an expert in Asian cooking, successfully take on Turkish cuisine?  The short answer is no.  He hasn't managed to get that perfect mix of the right ambiance and flavours that would make you want to visit again.  On the other hand if you're going to one of the nearby theatres and want something easy to eat, this could be a good option for you. 
I tried the food with a British friend who jokingly says 'of course there is gourmet Greek food, it's called Turkish'.  I'm now certain he won't be using that line anymore.  The pizza served here, called pide, is an oval pie, fluffy in the middle and crispy around the sides, with various toppings.  Given the fact that warm bread with stuff on it is always tasty, the end result is not that exciting here.  The mincemeat pizza was not aromatic, the tomato sauce was weak and the one with shrimps was swimming in cheese.  The feta and spinach version was better.  The Tsoban salad is a Greek salad without the feta, and the steamed mandi with yoghurt and chilli were very nice.  My personal preferences were the beef and lamb meatballs and the Topkapi chicken stuffed with rice and herbs with a crispy exterior.
Moving on to desserts, the rice pudding with cherries and cinnamon was good, if a little runny, and the almond sprinkled figs with chestnut mousse were excellent.  The baklava with kaimaki ice cream was good but far inferior to the authentic Turkish version.
I will mention that the wine list and music were strictly Turkish and leave it at that.
The prices were pretty high for this kind of restaurant and definitely double to what you might find in similar restaurants in North London.  For anyone looking for a taste of the real Anatolia, Babaji is not the place for you as you will only find the light version of it here.
Overall rating: 6/10
Scoreboard Key
0 - 3

Poor

3.5 - 4

Average

4.5

Acceptable

5 - 5.5

Satisfactory

6 - 6.5

Good

7 - 8

Very Good

8.5 - 9

Outstanding

9.5 - 10

Excellent
| | | | | | | | |
| --- | --- | --- | --- | --- | --- | --- | --- |
| 0 - 3 | 3.5 - 4 | 4.5 | 5 - 5.5 | 6 - 6.5 | 7 - 8 | 8.5 - 9 | 9.5 - 10 |
| Poor | Average | Acceptable | Satisfactory | Good | Very Good | Outstanding | Excellent |
User Comments
Login or register to join the conversation