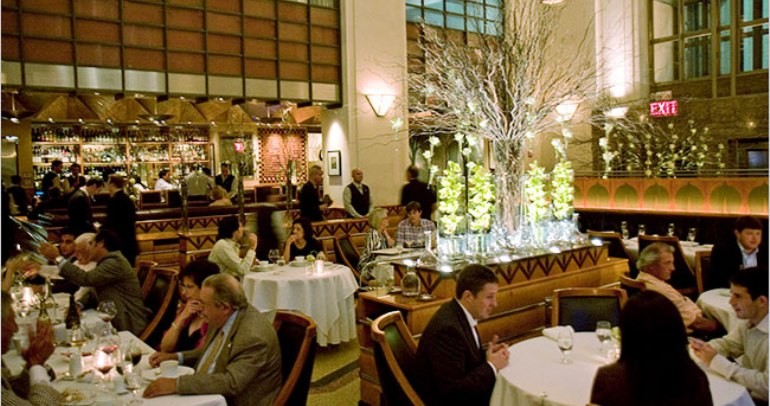 But Eleven Madison Park is a truly great restaurant worth changing your habits for. Almost anything that could be written or said about this restaurant has been. All that I can add is that it is the finest restaurant in New York. Yes, even better than Per Se!
The interior is fabulous, with marble floors and large windows allowing the light in playfully, especially in the evening. It is a luxury restaurant, with an allure of old New York but nothing provocative or showy. The demeanour of the staff is impeccable and the attention to detail surpasses all European standards. At the next table, for example, a couple is celebrating their sixth anniversary – symbolised by sugar – and they had made them a bouquet of sugar flowers. What is most striking is how something based on the French tradition manages to be as New York as Breakfast at Tiffany's. The manager Will Guidara and Chef Daniel Humm have formed one of the strongest teams in the city and, as I will explain shortly, they have big plans for the future.
But let me get to the essence of the restaurant, which is none other than the food. The last time I went, a couple of months ago, the menu concept was as follows: they gave you a list of 12 ingredients, each of which was to be the basis of a dish. You let them know of any distastes or allergy, and the kitchen presented a tasting menu tailored to your individual preferences. You can accompany the meal with wine by the glass, choosing from one of the most comprehensive and varied lists I have ever seen -so you are certain to find exactly what you like. Toward the end of the meal the cart rolls up with the restaurant's signature egg cream. It contains neither egg nor cream; it is a beverage made with cacao infused milk, orange essence and seltzer -absolutely perfect! I won't describe the dishes I had because they have as of September. The restaurant also has a menu dedicated to the flavours, history and people of New York. It is a menu not just served but also narrated and, at the end, you are given a book that explains the entire experience. The fish, smoked in a glass bowl, the cheese, brought in a picnic basket, and the dessert, which hinges on a magic trick, have taken on mythical dimensions. And true to its policy of constant renewal, for one week now in October, Eleven Madison Park will play host to Alinea of Chicago with an innovative menu that even includes edible balloons. I don't know whether these are the "ingredients" of a success story -or if there is a point to them-, but the fact that a restaurant team is willing to take such risks is not only admirable but also a source of inspiration against the background of a global economic situation that is certainly not conducive to dreams.
RATING: 9/10
Scoreboard Key
0 - 3

Poor

3.5 - 4

Average

4.5

Acceptable

5 - 5.5

Satisfactory

6 - 6.5

Good

7 - 8

Very Good

8.5 - 9

Outstanding

9.5 - 10

Excellent
| | | | | | | | |
| --- | --- | --- | --- | --- | --- | --- | --- |
| 0 - 3 | 3.5 - 4 | 4.5 | 5 - 5.5 | 6 - 6.5 | 7 - 8 | 8.5 - 9 | 9.5 - 10 |
| Poor | Average | Acceptable | Satisfactory | Good | Very Good | Outstanding | Excellent |
User Comments
Login or register to join the conversation