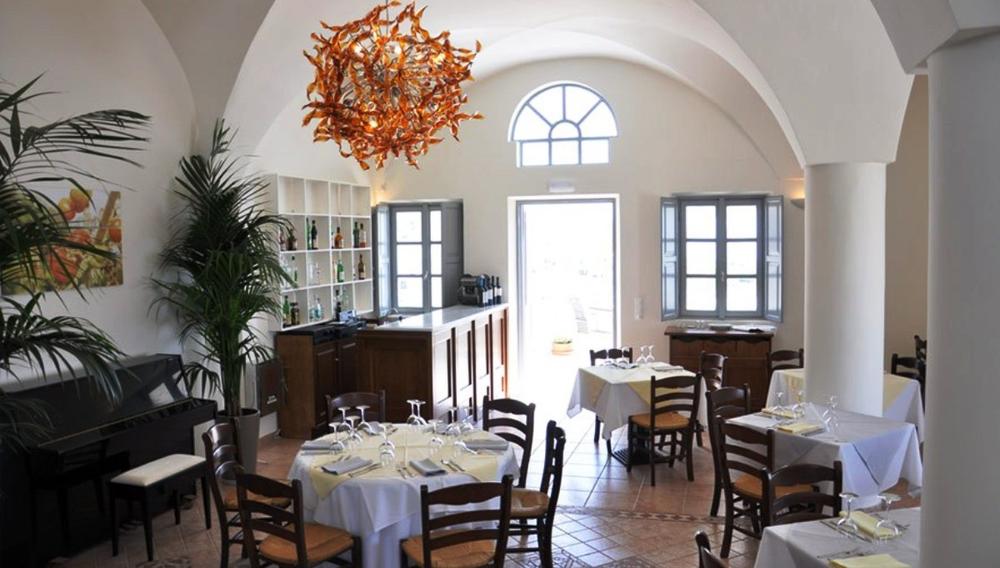 As I travel around the Cycladic islands, it's obvious that the emphasis is more and more on local produce and local recipes, which have become part of restaurant menus in creative ways so as to put across those traditional flavours without necessarily following traditional recipes down to the letter. All this might have never become the norm if it weren't for visionary chefs and restaurant owners who first decided to focus on Cycladic and Aegean gastronomy.
'In our own little world!' commented Selene's chef Thodoris Papanikolaou on a Facebook update just before July's referendum, under a photo of his dreamy risotto. Anyone who hasn't visited Santorini or Selene might not understand why we should pay any attention to the ramblings of a chef cooking in the village of Pyrgos, away from the island's famous Caldera. You might even think it an exaggeration to call a risotto with spinach (spanakorizo), kale and leek, dreamy. If you actually saw the real thing though: yoghurt filled leek 'tubes' set up to look like mushroom barks with red caps made with dried raspberries, placed on a risotto which looks like green lawn.  Very Alice in Wonderland, right? Apart from this amazing image, I also find it encouraging that despite the hardly dreamy situation in Greece, there are still people who continue to do their job with enthusiasm and the will to soldier through.
Thodoris Papanikolaou's world is that of innovation so it's difficult to escape anyway. He stays there, full of creativity and the need to serve the concept imagined 30 years ago by Selene's owners, Yorgos and Evelyn Chatziyiannakis.
When Selene first opened in 1986, the island looked nothing like Santorini does these days. Local gastronomy wasn't even a term in Greece.  Santorini still bore the scars of the 1956 earthquake and its produce, apart from maybe the tomato, had not gained the respect it now basks in. Local chefs back then, in the very ungraceful 1980s, had to fight against things like spaghetti with salmon, vodka and cream, prawn cocktail and commercial cheeses like Gouda, which covered every traditional Greek flavour.
No one had even dreamt of promoting the distinct traditional dishes every island had to offer. Who would even dare offer an American or German tourist anything other than moussaka and tzatziki, which went hand in hand with the 'Greek summer' being promoted by the Greek tourist board. That's why I remember being so impressed by the enthusiasm and warm welcome Selene's owners gave us back in 1990.  Myself and Dinos Stergidis, both young journalists at the time, were shown around the island and introduced to its culinary and wine treasures. We started our visit at Venetsianos winery, where we were shown around by Mr Venetsianos himself and ended up at the old Paris Sigalas winery in Santorini's Baxedes. In between we went through fields planted with fava (or lathouri), tomatoes which didn't need water and bizarre vineyards with vines that grew in the ground.  We also tried fresh cheese and apochti (a type of smoked pork fillet like the Cypriot lountza), katsounia (local cucumbers), kaparokouba yiachni (dried capers cooked with tomatoes and onions), atherinopites (smelt pies), fried kollistanous (sea anemones), white aubergines, fresh fava dressed with fried onions and of course a lot of tomatokeftedes (tomato fritters). All the aforementioned ingredients would end up on the very creative Selene menu.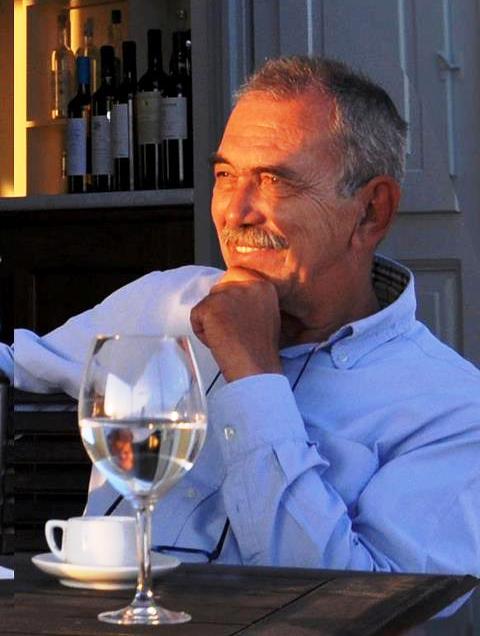 We spent days trying local wine and eating food made by famous local cooks: quail with rice, rabbit tyravgoulo (the Santorini version of avgolemono), xelouristos cod (tiny strips of raw cod added to a tomato salad) and kopania (smashed Santorini rusk bread made with raisins and sesame seeds). We were never allowed to leave a table without a koufeto or melitini or before Mr Chatziyiannakis was sure we had really been introduced to the 'taste of Santorini'.
We also started to realise that the Hatziyiannakis vision was to establish a unique, locally inspired menu at Selene; one which would harp back to traditional recipes and use great local ingredients but which would also modernise them in order to make them relevant to visitors.
As years went by, Yorgos Chatziyiannakis allowed his cooks and chefs to develop their talent and creativity.  All he did was set the boundaries of his concept, which was all about local produce and flavours. Take the traditional fava for example which was the base for stunning recipes like: Konstantina Faklari's fava velouté with masticha and lemon, Niko Bouki's 'fava gnocchi' with a smoked herring broth or this year's Aegean poached cod- skordalia made with garlicky Santorini fava, oysters, lime sorbet, capers, pickled onions and pearls of batter.
Selene's footprint was so strong that it even survived the move from Fira and that Caldera view in 2010. Selene's fans came to the village of Pyrgos which is now a gourmet destination, paving the way for the 2013 opening of Selene-Meze and Wine; an all day restaurant which first introduced the idea of Santorini street food. Yorgos Chatziyiannakis thought he needed one more thing to complete his culinary vision so he opened a small deli with products from all over Greece under the brand name Selene Selection.
It's also worth pointing out that there is another element to why Selene has flourished for 30 years in a country where gourmet restaurants, or any restaurant for that matter, hardly ever stay the course. You need a vision of course but you also need people who share that same vision. Yorgos Chatziyiannakis has got a stellar team at his side, run by maitre d'- sommelier Georgia Tsara, who also gives cooking lessons (Selene cooking lessons).
Selene – Pyrgos – Santorini.  Tel: 22860 22249, email: [email protected]
User Comments
Login or register to join the conversation