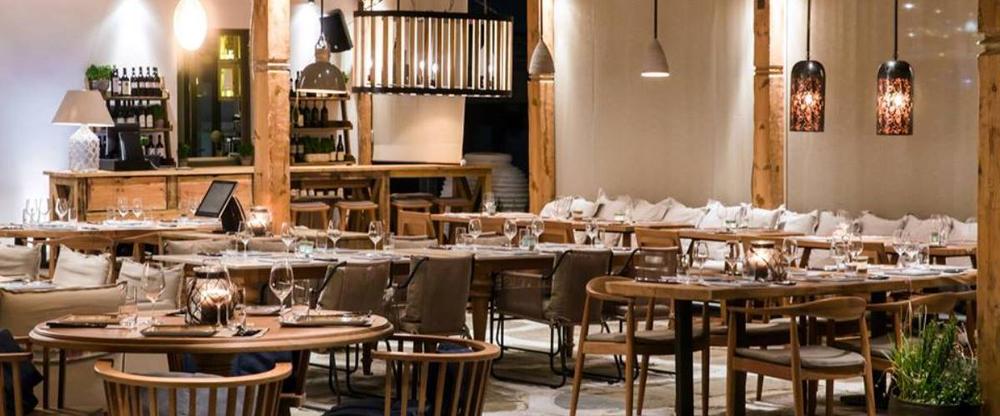 I assume you too have a lot of questions about the new Mykonos opening, Inyama.  What does surf and turf mean for example? Why is Ettore Botrini getting involved in a readymade concept? Why is a group from UAE with a history in premium steak houses, opening such a restaurant in Mykonos and in the middle of the season at that?
We found the perfect excuse to travel to Mykonos so we could find out more about Inyama.
Behind the scenes
Food Fund International is a worldwide premium dining group with restaurants in South Africa, the middle East and London.  President Costa Tomazos, began his career back in the 70s with one of the first steak house chains in South Africa.
These days FFI has 6 different restaurant brands including: the flagship Meat Co, a luxury steak house chain with outposts in South Africa, UAE and London, Tribes in Dubai and Bentley Bistro & Bar, an impressive French fusion restaurant. Last, but not least, there is Eat Greek, a very successful Greek restaurant in Dubai which was the beginning of the Tomazos / Botrini partnership.
It all started when the chain's owner had dinner with his son Johnny at Ettore Botrini's incredible Etrusco restaurant. It was all that was needed for them to suggest that Ettore take over the running of the some of their restaurants. 
The concept
Surf and turf is the combination of beef and seafood either on a plate or as part of a restaurant menu. In gorgeous Inyama, on Agias Monis square behind Paraportiani, it's the case of a surf and turf menu although the chef is planning some dishes which will directly embody the concept. It might sound like an odd combination but when it's done with precision, technique, balance and great ingredients, it really isn't.  May I remind you of the langoustine and sweet meats combination that we tried at the inaugural FnL Vintage Cigar Dinner at the Grande Bretagne hotel? What a gorgeous surf and turf dish that was made by chef Sotiris Evangelou.
Inyama's menu is made up of a series of starters, three salads, a few burgers, the turf part (aged meat from Australia and New Zealand) and the surf, which includes 4 options from the Aegean sea. The wine list is limited and very expensive.  There are some well priced beers though, wines by the glass, various spirits and a number of interesting cocktails which in themselves make coming here worthwhile. The staff are jovial, fast and very knowledgeable. The value for money ratio is good by Mykonos standards as you can enjoy a full meal plus wine or a cocktail for about 50 euros.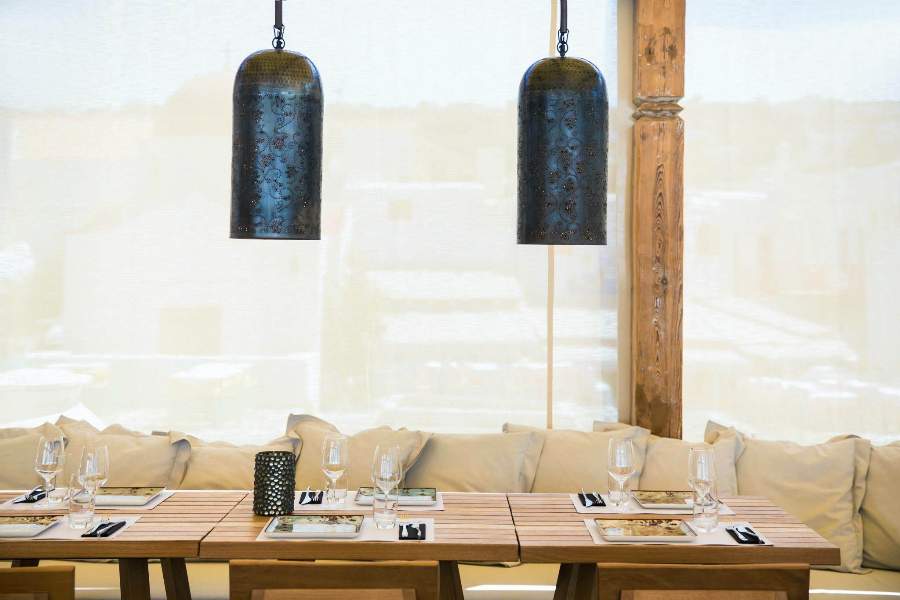 The food: the Ettore Botrini touch
I am going to be completely honest.  Inyama is a beautiful restaurant but if it weren't for Botrini's involvement there would be no real need to visit.  The island might not have a steak house and the only possible competitor might be Uno Con Carne but that doesn't constitute enough of a reason either. Botrini is the quality guarantor here and his involvement in certain parts of the menu is substantial and in others discreet but you can work out the average overall. Anyone who's tried the outstanding dishes at Etrusco or Botrini's in Athens is aware of the chef's talent and the level of his technique so is able to notice it on Inyama's menu too.  The amuse bouche were amazing; incredible octopus bites on a herb crust and watermelon tapas with cheese crème and coffee dust. The Greek salad in a clay pot was very filling and fun while the grilled octopus on a bed of multicoloured beans melts in the mouth. I didn't love the calamari Panzanella but I did enjoy the very tasty shrimp kataifi with strawberry and herb vinaigrette.
The otherwise tasty meat dishes do need a little work although the slow cooked pork spare ribs were exemplary. It's obvious that the raw ingredients are good but the grilling and slicing leaves a lot to be desired.
Re: the surf part of the menu, the swordfish fillet with couscous and traditional ratatouille was delicious but could have been even better if it had been cooked less.  At 22.5 euros though it deserves a standing ovation for its value for money ratio.
You notice Ettore's touch when you get to the amazing desserts though.  One of Etrusco's signature sweets, goat's cheese ice cream with tomato jam and lemon mousse is heartbreakingly good.  The Corfian Mocca a la Palea with coffee and vanilla ice cream and Italian meringue is an absolute gem and proof of how much he's meticulously studied his island's traditional recipes.
If any of you are in Mykonos and Inyama in particular, you have to try the magical tiramisu with aubergine mousse and drink a glass of grappa in the memory of the yiayia (grandmother) who came up with it.
Botrini's very capable right hand man, sous chef Thodoris Rouvas, will be based in Mykonos throughout the summer so you can feel safe in his hands.  Inyama is only a few days old so given time, it could become one of the best restaurants on the island.  It's most definitely on our to-watch list and we hope it gets to the position it deserves. Only time will tell.
Info: Agias Monis square, Mykonos town, Mykonos, tel: 22890 25851
Price per head: €45-€55 with wine or a cocktail
Opening times: Lunch until late at night
User Comments
Login or register to join the conversation