The best thing about the wine bar explosion in recent years is that it offers opportunities for wine producers to showcase their wares and it provides the best introduction to the drinking public of the huge variety of Greek wine.
Fabrica De Vino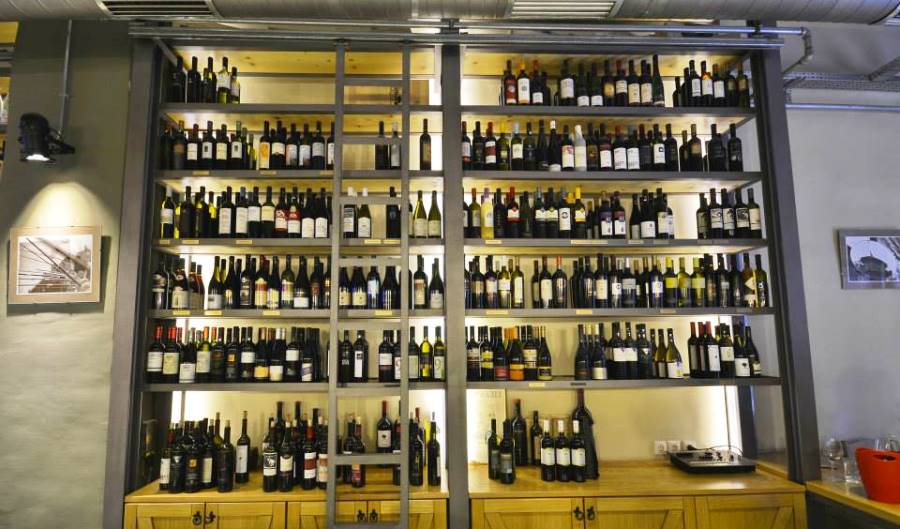 Back in 2011, Fabrica De Vino started the modern wine bar trend in Athens.  A stone's throw away from Omonoia in a building dating back to the 1880s, it has a warehouse feel carried that carries through to its industrial design wine cellar.  Its focus point is the big bar area and long array of shelves hosting a variety of labels with an old school bookcase ladder to access every corner. Food options range from finger food to cheese and cold meat platters. It instantly became the talk of the town and as the dust is settling from the numerous similar bar openings, Fabrica's crowd is still young and vibrant.  The wine list, renewed on an annual basis, includes 650 labels, 110 of which are served in 75ml and 150ml glasses.  One of its main innovations was the ability to buy certain bottles at retail, not bar prices.  While its wine list is primarily Greek, there are some handpicked choices from further afield.  Don't be surprised if your red wine is ready to party as Fabrica De Vino regularly hosts live music events in its cellar.
Fabrica De Vino, Emm.Benaki 3, 210 3214148
Wine Point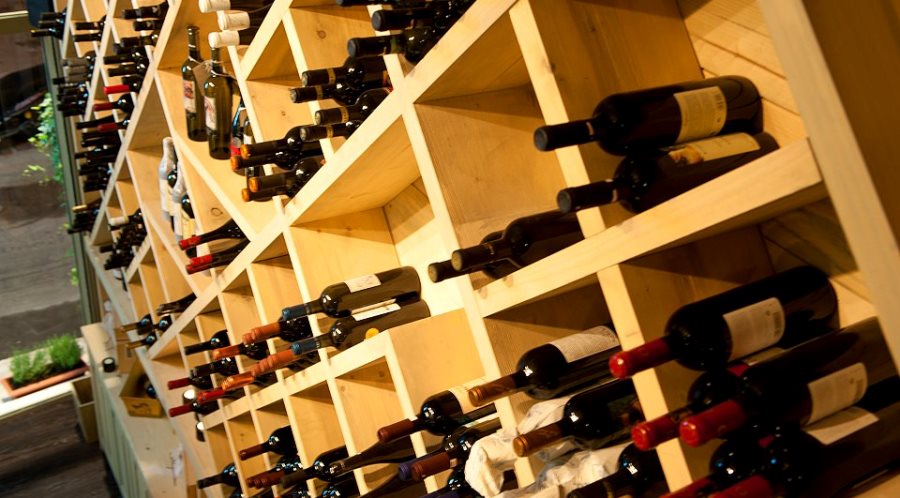 The Wine Point came into being more or less at the same time as Fabrica De Vino.  This place does what it says on the tin.  Strictly Greek wine without complicated food selections.  Here you can enjoy carefully curated Greek cheese and cold meat platters in a minimal setting.  Wine Point offers value for money and a constantly renewed wine list.  The 30 by the glass options change every two weeks and the main list of 250 labels changes every six months. The heart of this place and the main selling point is owner Xenophon Stavropoulos, who is a true connoisseur.  It is also worth pointing out that the staff is made up of oenologists and weekends are made extra special by a number of themed evenings. The labels on offer can also be purchased "to-go" at special prices. 
Wine Point, A.Diakou and Porinou 2, Makriyianni, Acropolis Metro, 210 9227050
Kiki De Grece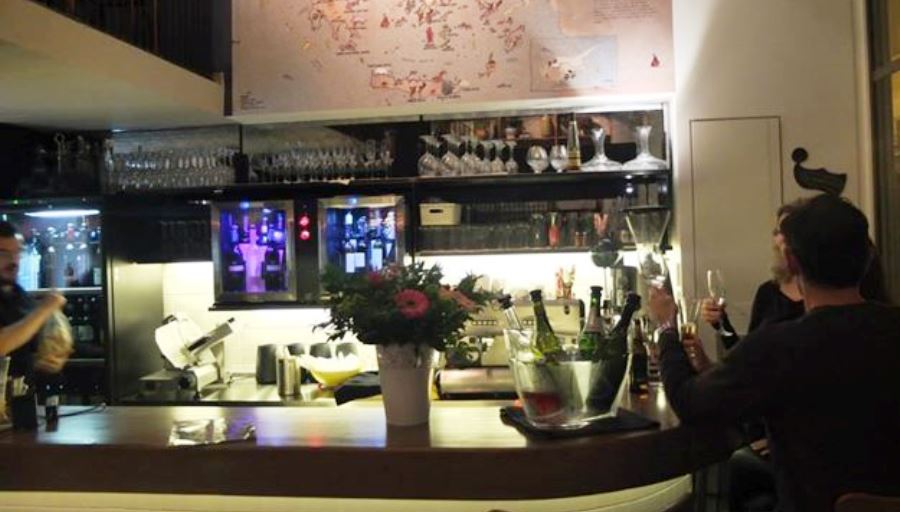 Kiki is youthful and modern, in the hip Ipitou area and though it might not be serving the 20s Paris art world like its muse, it still caters for true wine and food lovers.  Kiki remains true to its wine bar moniker but pays special attention to its food menu, with cleverly made plates and Greek delicacies from around the country. Its wine list was initially pretty mainstream but it is finding its feet and promoting boutique wineries and sometimes brand new labels, most of them served by the glass.  Wednesdays are particularly fun with Kiki's popular aperitivo evenings between 7 and 9pm.
Kiki De Grece, Ipitou and Voulis 38, 6938878856
Oinoscent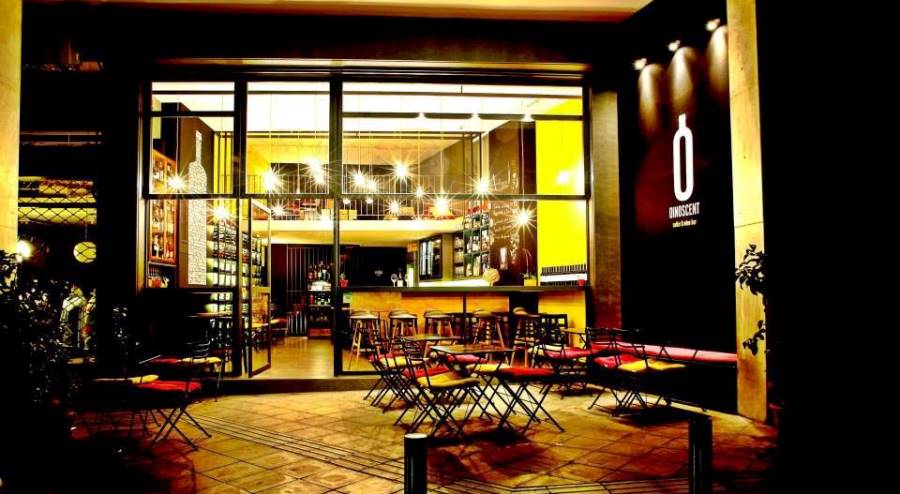 A very popular bar with the younger crowd, who happily enjoy their Naoussa wine, Hermitage or Magnum even if it means standing shoulder to shoulder.  The Oinoscent team is constantly on the lookout for new things, doesn't restrict itself to Greek wine and therefore is more au fait with the connoisseurs who are able to get some really hard to find labels in its 700 strong wine list.  There are many by the glass options and great take away prices. Our tip to really enjoy this place is to try one of the less popular weekdays.
Oinoscent, Voulis 45-47, Syntagma, 210 3229374
By The Glass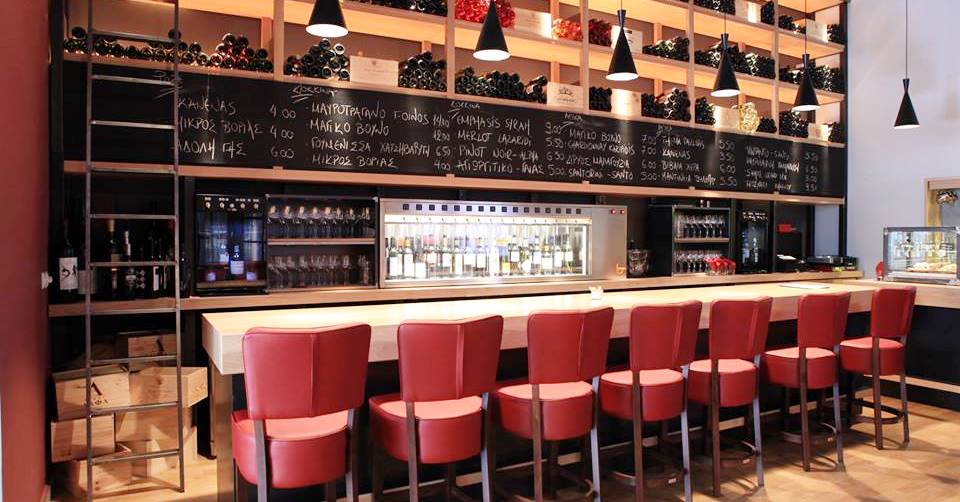 Across the road from Zappeio, By the Glass is housed in a neoclassical building with a beautiful atrium in the adjacent Ralli courtyard. It has a more luxurious, regal air than many of its competitors although this never becomes overbearing.  The crowd here are older and more demanding, which is mirrored by the prices.  Glasses here come in 25, 75 and 150ml sizes, there are 60 by the glass options and over 20 labels in magnum bottles.  There are a number of decent food options, which accompany a wine list with well over 120 international labels, excluding the daily menus.
By The Glass, Stoa (courtyard) Ralli, Syntagma, 210 3232560
Heteroclito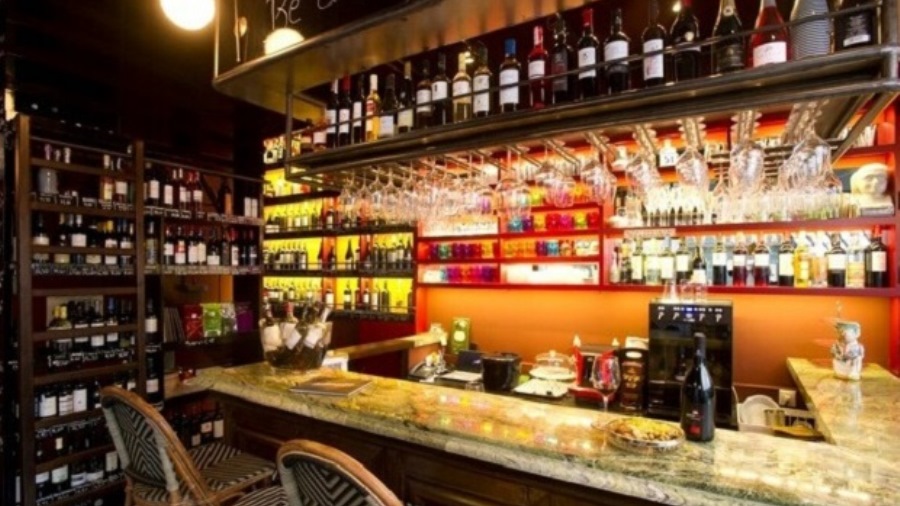 Casual and chilled out but not rough around the edges, Hereroclito lives up to its name by attracting a diverse crowd.  The tiny indoor space has a nostalgic French feel and the wraparound glass blurs the distinction with the outside tables. Your best shot at a good spot is to grab a seat by the marble bar where you can really dig in to some of the best Greek wine about, from lesser and better known wineries.  Heteroclito is constantly renewing its wine list and many of its 120 labels can be enjoyed by the glass.  Small salads, a few finger food options and some great cheeses and cold meats make for perfect accompaniments to the wine on offer, which is very reasonably priced both at the bar and for takeaway.
Heteroclito, Fokionos 2 and Petraki 30, 210 3239406
City Bar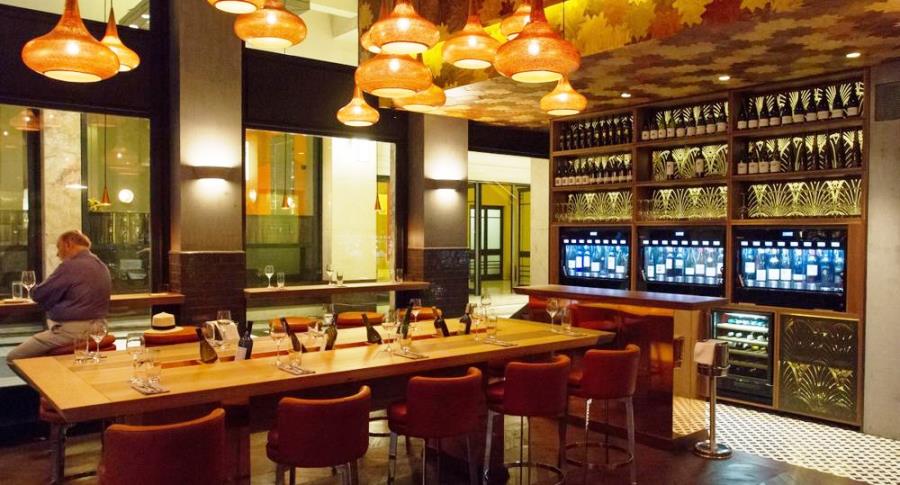 Polished and very European in feel, much like its sister restaurant, City Bistro.  The space features a huge central table, big enough for a few groups of people, which makes it a perfect spot for after work or shopping drinks.  A row of dispensers offer up 24 tried and tested wine choices.  No surprises here but no risk either and that brings the prices up.  These specially selected wines can be accompanied by choosing from a small but interesting food menu.
City Bar, Stoa (courtyard) Spiromiliou, Syntagma, 210 3211315
Warehouse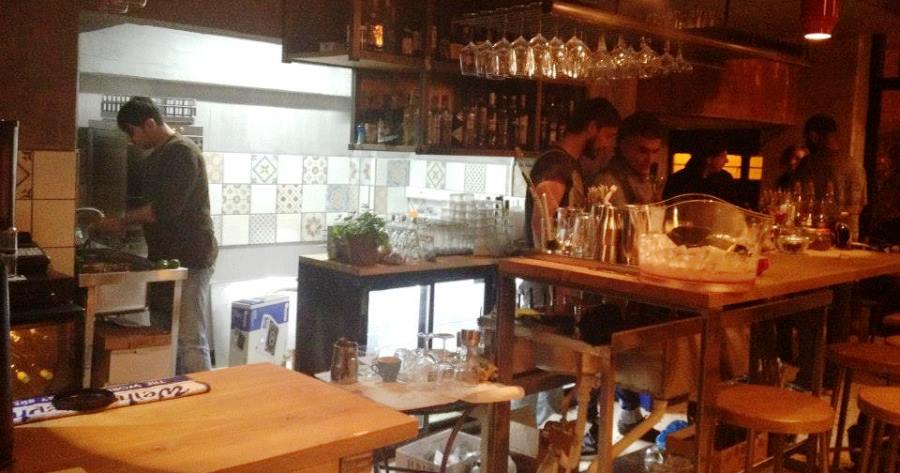 The alternative end of the wine bar scene, faithful to its Exarchia neighbourhood, has a more industrial and laid back feel than most.  A concrete roof, mosaic flooring, reclaimed furniture, wooden crates used as lighting fixtures and a wine cellar made by basic building materials.  Unpretentious, just like its wine choices, with good service and a no smoking policy. Warehouse has been on the scene for a year and a half and its 50 bottles on offer are well priced, if a little mainstream.  It strays a little from the wine bar mentality by offering some good cocktails and a menu which is supposed to accompany the wine but doesn't always succeed, as is the case with the hummus for example. The shrimp ceviche however is on the money.  They're also coffee connoisseurs here so pop by earlier in the day and enjoy one of its blends. 
Warehouse, Mavromichali and Valtetsiou 21, Exarchia, 2155408002
Vintage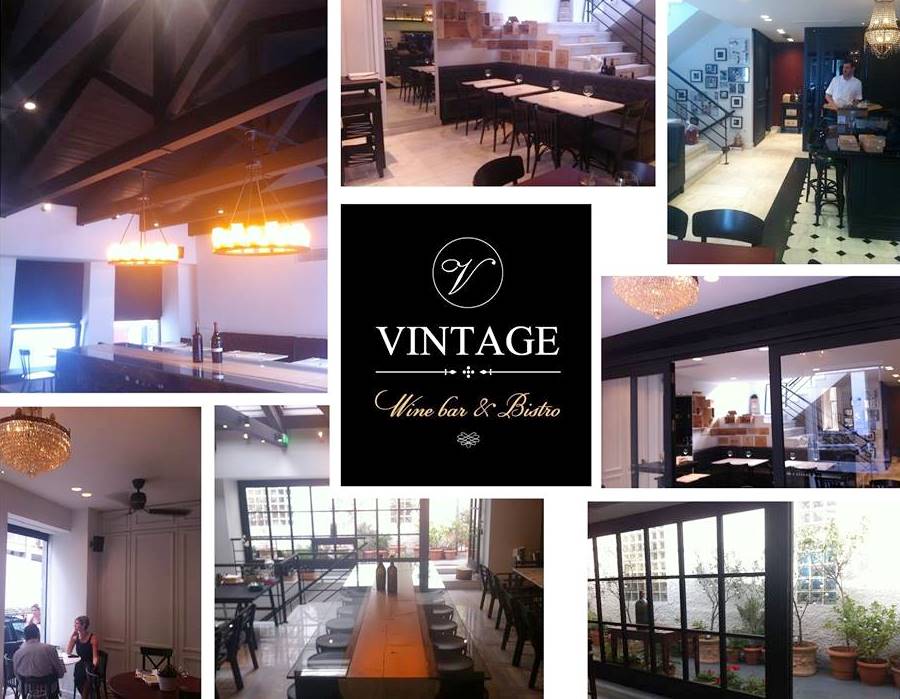 Vintage is brand new but with a bright future ahead of it.  Its name harps back to the building it's in, the famous Chitiroglou store on Mitropoleos street.  It has been very tastefully renovated with an air of old well-to do-Athens. This bar came on the market not just to follow the crowd but to offer a different viewpoint.  Its unique selling point is the Coravin wine access system, which means they can access the wine via a hollow needle, without removing the cork. Wine comes out and the bottle is resealed with special argon gas capsules so it's like it has never been opened. Apart from the obvious benefits for the consumer, it also allows the lovers of fine wine to sample expensive labels by the glass. Vintage is not the cheapest option on the market but what would be the point of the Coravin system if it were? It does however have some reasonable options and a good, small food menu overseen by Iza Bulkowaska, one of Vintage's three owners.  There is also a special smoking section here.
Vintage, Mitropoleos 66-68, Monastiraki, 2130296570
User Comments
Login or register to join the conversation