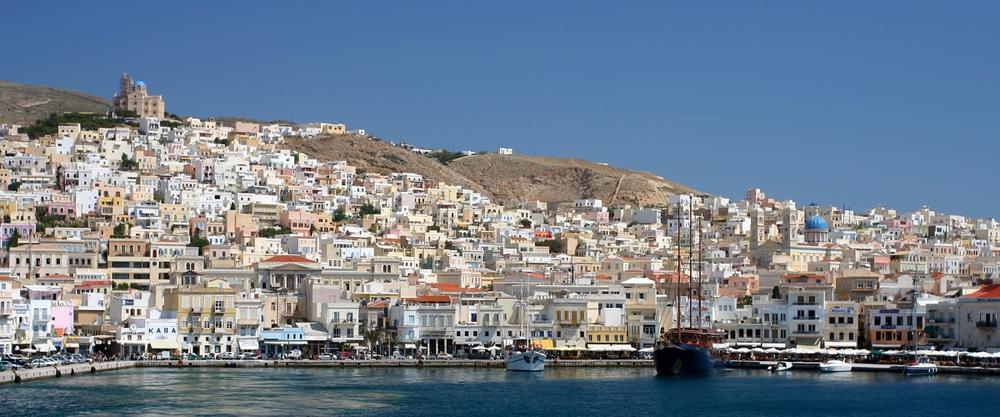 Its wonderful neoclassical buildings, mostly built in the mid 19th century by ship owners, merchants and seamen from Chios, Psara and Smyrni, give Syros an otherworldly air, harping back to the good old days. Times might have changed but Syros still has a population of 25,000 keeping the island alive all year round.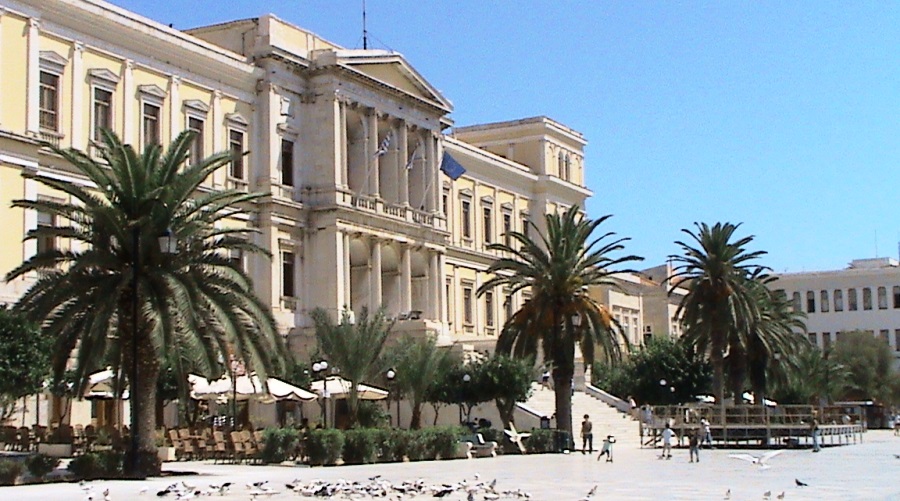 Walking in Ermoupolis' alleys
Ermoupoli is not a small town but it's so full of amazing scenery that you will never tire walking around it. The best place to begin our tour is the Nisaki area (where there is also free parking). From the Port Authority building and the adjacent Cycladic art gallery, you can walk either through the main retail district (which ends up at the Casino and the Orthodox church of the Assumption of the Virgin Mary where the original El Greco painting by the same name is exhibited) or along the waterfront with all the cafes and bars towards Miaouli square and the landmark town hall building designed by Ziller (photo). The road to the right of the square leads to the Apollon theatre (via Tsiropina square), a small scale version of Milan's Scala, and after passing the impressive Saint Nicholas church with the Ionian marble columns, you end up in the Vaporia neighbourhood. 

The shipowners' quarter, with its old mansion houses, is the most expensive and probably the prettiest part of the island. If you walk towards Asteria in particular, you get to see the vaporia (ships) up close: this beautiful neighbourhood is physically connected to the sea.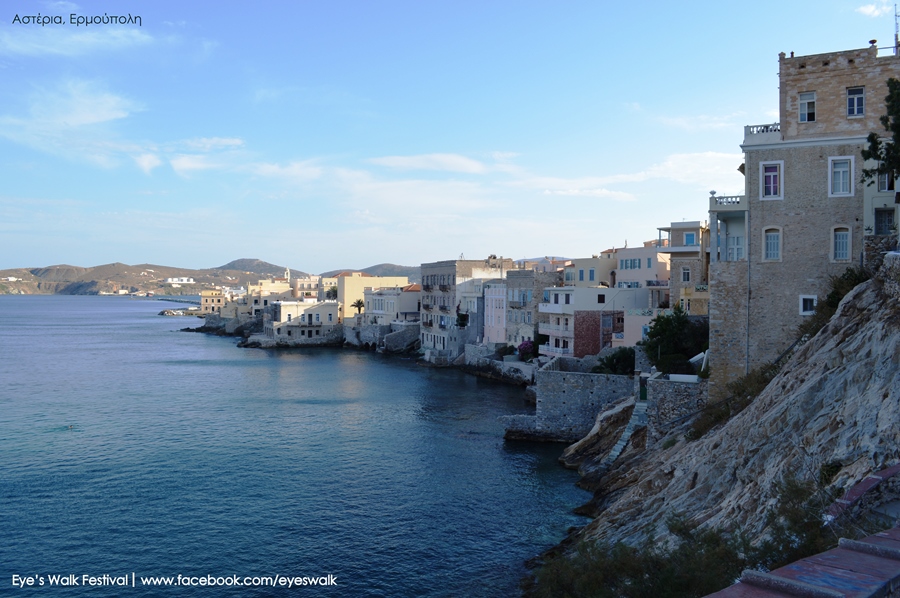 The next spot worth visiting is the hill of Ano Syros.  I would recommend you either drive there or take the bus as it's hard climb. When you walk around this medieval settlement you'll get the feeling of being on an island as it will remind you of the style of other Cycladic main towns usually known as Chora. It's well worth getting to the top and the church of San Giorgio (the hill on the left that you see as you approach Syros on the boat). The view is outstanding and the church is unique as it is a Catholic cathedral.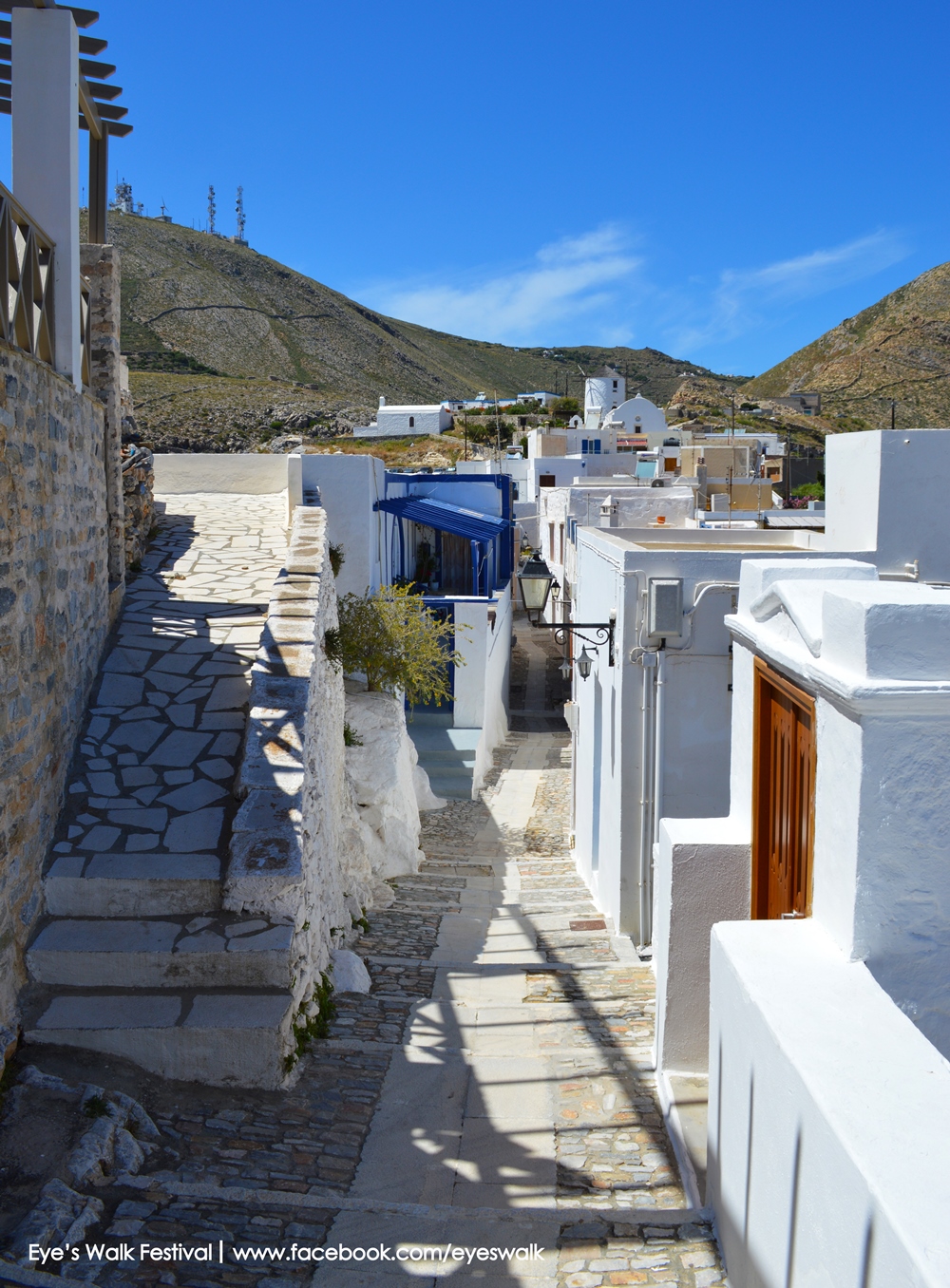 Villages and beaches
The barren landscape and the fishing and inland villages are all very Cycladic, full of fennel and thyme aromas. If you drive all the way to Posidonia (or Delagracia) you won't see the typical whitewashed Cycladic houses but instead you'll find impressive villas and mansion houses. 
The island is not known for its beaches but you can enjoy swimming here nevertheless. The landscape might not be breathtaking but the easy to reach beaches of Agathopes, Galissas, Vari, Kini, Mega Gialos and Lotos are sandy in and out of the water.  If you're in the mood for something different, go for Komitos, Delfini (with its beach bar) or the small Kokkina bay in Finikas. If you're not a fan of sand, go for the Asteria platform in Ermoupoli with its cute bar and unforgettable view towards Vaporia. If you're up for walking, head for the secluded Northern beaches of Lia, Varvarousa or Grammata (photo) or if you'd prefer a short boat trip, Kini is the beach for you.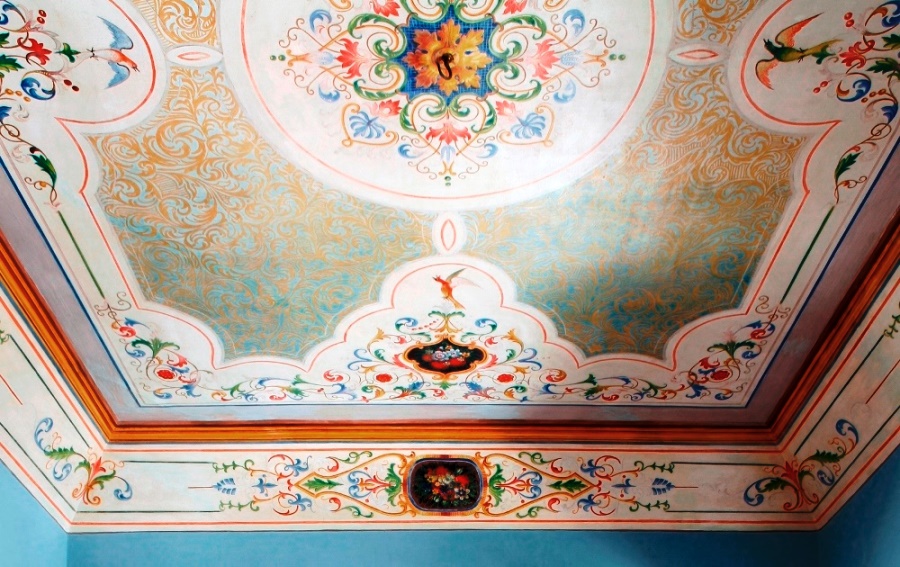 Culture
There are more events added to Syros' cultural calendar every year. Here's which events, museums etc you should look out for:
International Film Festival – SIFF 
Syros – candidate for European City of Culture 2021
Ermoupoli Industrial Museum: G. Papandreou 11, Ermoupoli, 22810 81243, 84762
Maritime Museum, Kini 6945 499634
Loukoumi Festival 23-24 August
Accordion festival 24-29 August 
International Animation festival 2-5 October 
This is one of the most innovative events to take place in Syros for the first time this year and we hope it goes on for many years to come. Four 3D installations and projections on the walls of neoclassical buildings in Ermoupoli really made for an invigorating experience. A true one of a kind event bringing the worlds of video art, painting, movies, architecture and design to the Cycladic islands.  
There are also a number of other events, mostly taking place at the wonderful Apollon theatre.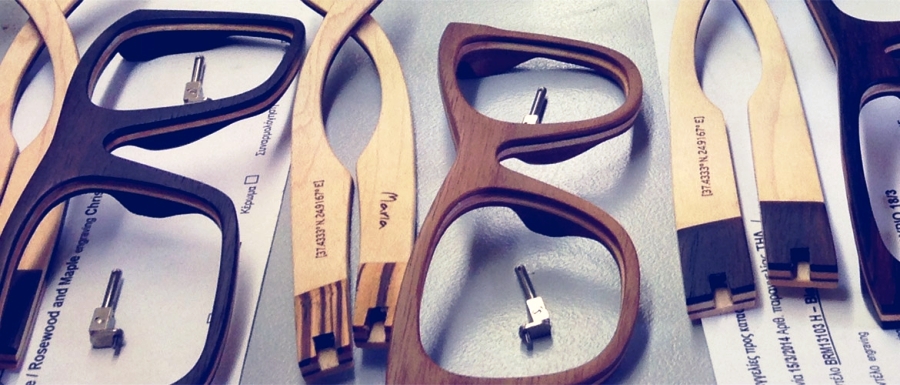 The best souvenirs
Made to measure, wooden glasses by Eleni Vakondiou and Periklis Therriou at 10 P.Kountouri street, handmade jewellery by Katerina Axaopoulou on 6 Protopapadaki street, ceramic work by Argyro Kosta on 7 Vokotopoulou street and tailor made period hats and corsets by Daniela Lacuri on 2 Souri street. 
Food
After all the sightseeing you might want to try an ice cream at one of the two good gelaterias on the island: Daidadi or Django. You can pick up a sweet treat from Athimaritis patisserie. ask for the rodinia in particular. Go to Elliniko Kafeneio, a beautifully old school place catering for everything from coffee, wine, breakfast, high end snacks and desserts. Directly across the street is Korres of the halva pie fame, while Leivadaras on the port is the place to pick up your Turkish delight. At Prekas and Topon Gefsis you'll be able to buy local delicacies and Kritsinis wine shop has great wine from all over Greece, including the two whites produced by the local Syros winery.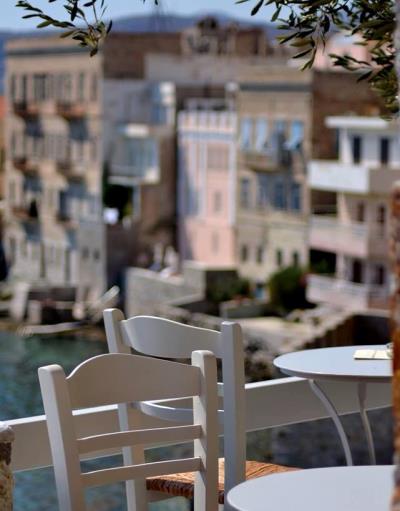 Great food choices in Ermoupoli are Vaporia with a magical view and lovely cocktails, Peri Tinos on the waterfront, Kouzina for perfect arancini and rib eye steak with truffle sauce and Amvyx for Italian style pizza and pasta. On the way out of Ermoupoli you'll find Tarsanas which feels like you're on an old movie set and serves lovely meze with some live bouzouki music in the background. Another must-try is Allou Gyalou in Kini: amazing lobster pasta, a potato tower served with local sausage and beef with lemon sauce, feta and pasta. At Abela beach you can enjoy your swim followed by a meal in the namesake restaurant where you can enjoy cold watermelon soup with feta, calf's liver with caramelised shallots and pastelaria (a local fig sweet). If you find yourselves in Azolimnos, try Filomila and their caramelised pork joint.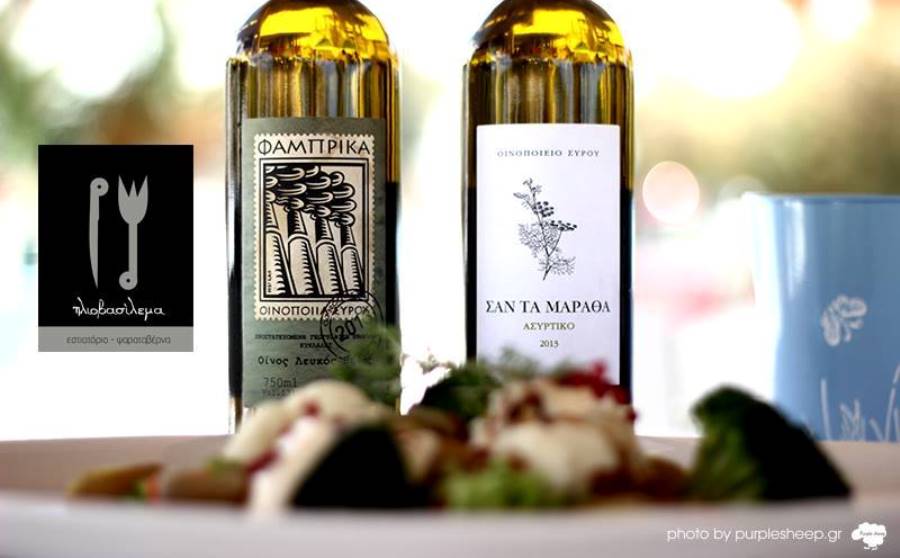 At Galissas head for Iliovasilema and ask for them to fry some smelt and onions for you. If you see any fig trees on the way, definitely pick some as in August they're sweeter than any dessert.  No one will think badly of you, the island is awash with fig trees.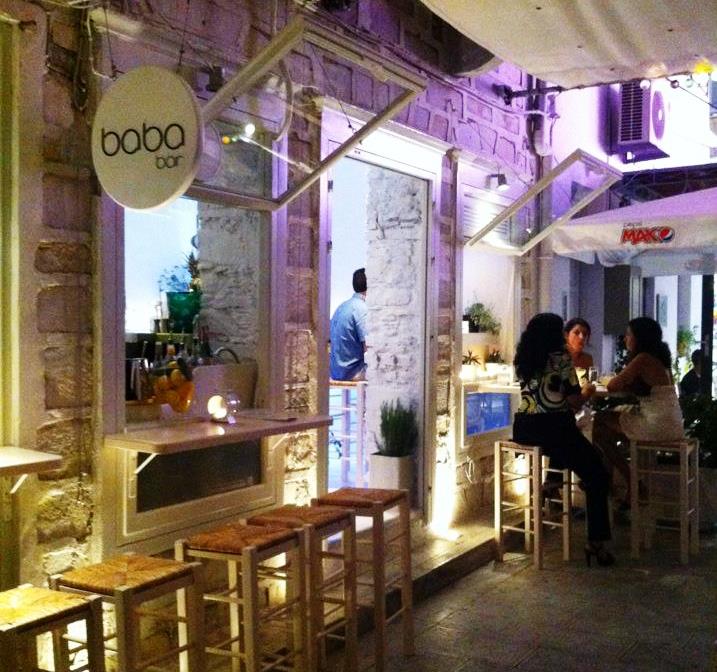 At night time try some cocktails at BaBa which is very popular despite it being small, and then move on to Boheme and Elia for its lovely wine list and cocktails as well as a good bar food menu. 
Where to stay
Just 3 beautiful rooms, two of which are literally hanging off the side of the rocks. Immaculately designed.  
Apollonos 8, Tsiropina square, Ermoupoli, 22810 81387 or 6932 566562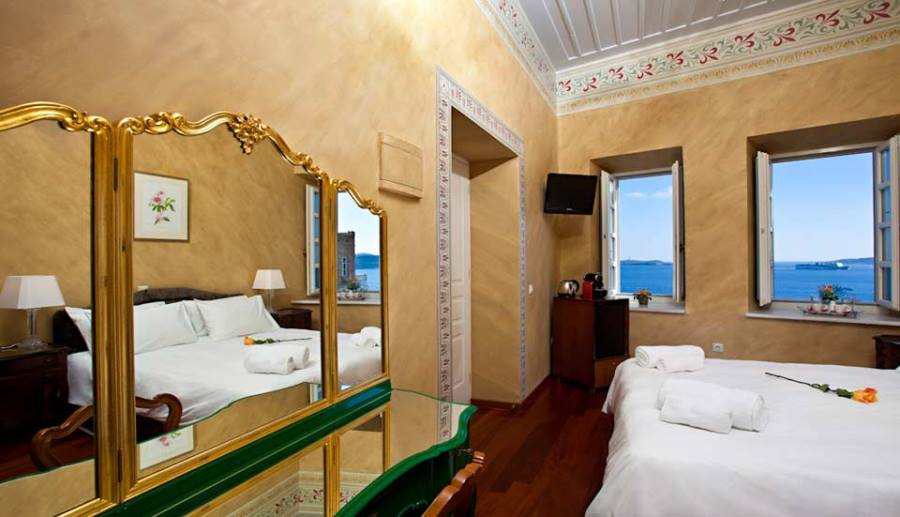 A boutique hotel with a view towards Tinos and Mykonos and a very central location.
Babagiotou 1, Ermoupoli, 22810 86007
This 1888 stately home has 7 rooms, all renovated with discreet touches of luxury and great sea views.  You'll feel like you've stepped back in time.
A.Mavrogordatou 5, Vaporia, Ermoupoli, 22810 88440 and 81682-4
Beautifully located with direct sea views and very close to the central square, this is a luxurious mansion house of the mid 19th century.
Babagiotou 5, Vaporia, Ermoupoli, 22810 86495, 22810 85963
One of the oldest hotels in Syros, with great sea views from all parts of the building and right in the middle of town.
Kanari square, Ermoupoli, 22810 83011, 88011, 83012
A real gem of a boutique hotel whose foundations are actually in the sea. This is a luxury option for the discerning traveller.  
Apollonos 2, Ermoupoli, 22810 79360
A listed 19th century beautifully restored neoclassical building which truly is a work of art.  There are three suites and an apartment.
Vafiadaki 15, Ermoupoli, 22810 87711
User Comments
Login or register to join the conversation