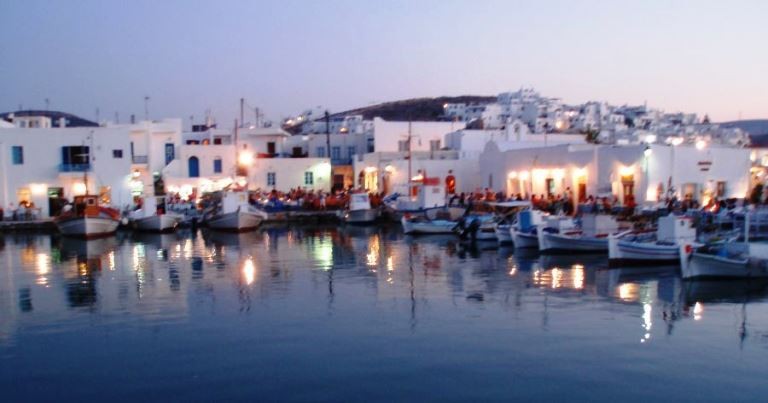 Paros has many aces up its sleeve – such as the value-for-money character is manages to maintain while still, paradoxically, a mainstream destination, food that is by and large very good, picture-perfect dollhouse villages, and attractive beaches – which automatically make it an all-time classic and anyone who visits it a collector of experiences.
Naoussa vs Parikia
Just to play devil's advocate, a poll of the locals would clearly reveal that there is a good deal of playful rivalry between the island's two main holiday towns, which can be quite amusing though means little at the end of the day for visitors who have much to gain from the myriad attractions both offer.
Even thought I tremendously enjoyed strolling around the pretty cobbled streets of Parikia – flanked by bougainvillea and boasting grand stately homes, past the emblematic Church of Ekatondapyliani that stands like a jewel in the island's crown and on to the age-old castle, which left me in awe – it was Naoussa that stole my heart.
It may have evolved in the past few years into a busy tourist resort, yet the pretty town of Naoussa still maintains its chic Cycladic identity, its calm, friendly and cosmopolitan air. The old fishermen's warehouses that run the length of the diminutive port have been transformed into bars and ouzeri, drawing the crowds after sundown. Naoussa has succeeded in keeping it real and has steered clear of the hyperbole, emerging as a clear favourite for a Paros holiday. This is not to say that there is not a whole lot more to see; some of it may be passé or tucked away, but it is certain win you over. Take Lefkes, which many regard as Paros' loveliest art village with its traditional homes and fascinating textile workshops, or Prodromos, which is well worth a visit, even if only for that wonderful Taverna tou Tsitsani and its beautiful courtyard. Sophisticated Antiparos, far away from the dissonance of the tourist trade, with a reputation that far exceeds its small size, has become something of a highlight, and not without good reason. Give the islet some time and you will be rewarded, as long as you're in the mood for some off-Broadway exploration.
Paros for… everyone
If you were to ask me what impressed me most about Paros I would simply answer: its diversity. This is not a place to rush through because such diversity is not very common on the islands of the main ferry routes. In short: Paros offers accommodation, food and drink for every style and any budget, in complete harmony with the quality of services offered and without focusing just on turning a profit. What about the swimming, you may ask. I don't have much to add to what you already know or have heard. The beach at Santa Maria, a vast sandy expanse, let's say, gathers the tattooed beach-tennis-playing crowds, loud music and a fair share of paparazzi for midday TV. The bathing waters are very good but overall it looks a bit dishevelled with tatty sun loungers and umbrellas that are commandeered in the blink of an eye. Punda Beach and Monastiri have a tidier appearance but cater to the same type. Apologies, but I'm getting a bit too old for that sort of thing.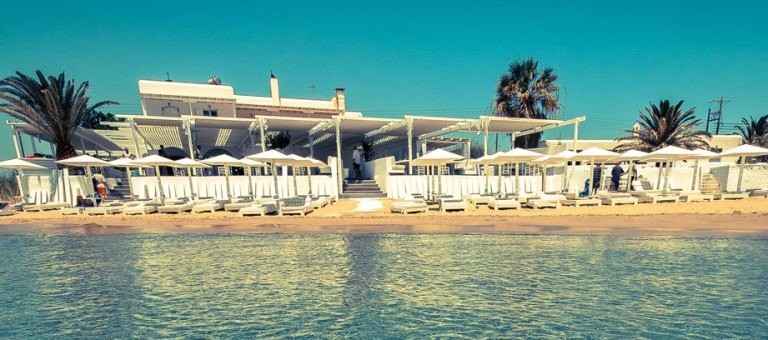 But I will make an exception for the Lilliputian beach of Ampelas and the luxurious set-up created this summer by the high-brow Aspro Galazio Damianos, a collaboration between the popular party restaurant Aspro Piato in the northern Athenian suburb of Halandri and the historic fish taverna Damianos. Clearly influenced by Nammos on Myconos, it has put on its all-white party dress, has a vast and well-stocked bar, plays summer tunes that synch with the surroundings and transforms once-serene Ampelas into the island's ultimate place to be. The setting on the beach, with the most attractive and comfortable sun loungers I have ever encountered, combined with high-quality service, will make you fall in love at first sight. At the restaurant, Chef Giannis Liakou cooks up simple but delicious dishes – two fishing boats providing him with the day's catch – while keeping on the menu classic Damianos specialities such as its signature cured fish. The man bringing it all together is Nikos Maltezos, who has successfully and with precision coordinated the kind of upper-class business that Paros lacked.
Among these choices, I will counter with two simple beaches I fell in love with, away from the "it" crowd: Kalogeros and Voutakos. Both are sheltered from the strong island winds, are sandy with blue crystal-clear waters and quiet as Eden.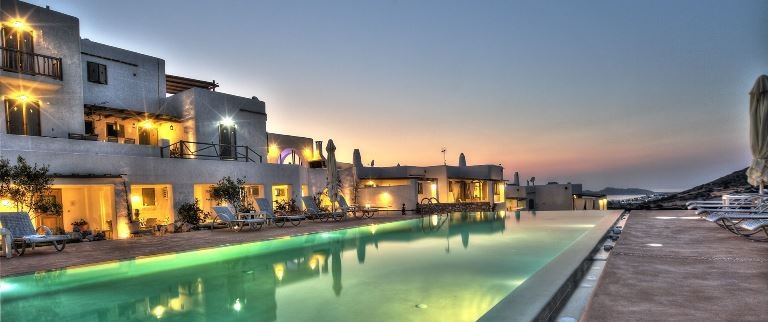 This is the most recent hotel arrival on the island and as its name suggests it is built on a hill, a kilometre-and-a-half out of Naoussa. Nestoras Zekas, the enthusiastic and well-mannered owner, has built an authentic boutique resort that meets the highest aesthetic standards, is luxurious and offers all the amenities of a four-star hotel catering to even the most demanding of visitors. The view stretches all the way to Naxos and Icaria, and the stay promises to be memorable. Strong northerly winds can be a bit annoying in its relentlessness and you must make sure to have a car as Naoussa is something of a chore reach on foot and taxis are few and hard to come by.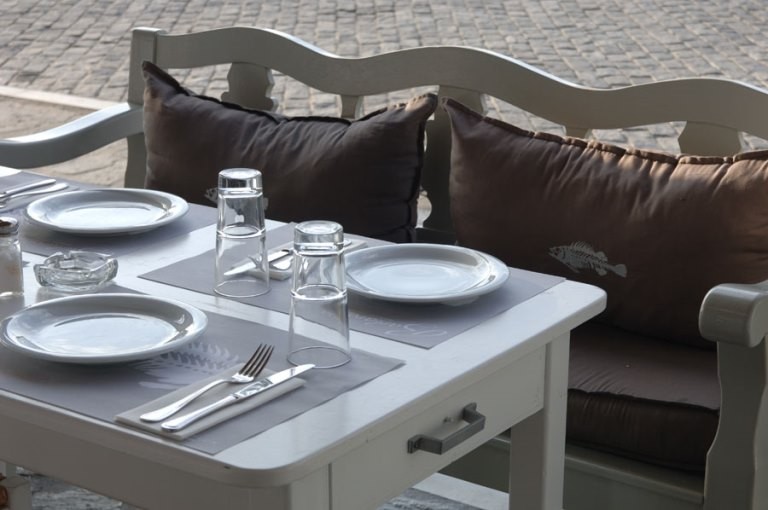 Let's eat
The first thing I heard when I stepped foot on the island was: "There is no fresh fish on Paros. Forget about it." But the last thing I said before leaving was that you can eat very well on the island. There are plenty of restaurants, tavernas and ouzo places, and most have the character, quality and prices to leave you contended. Top among them is the legendary 
Barbarossa
on the Venetian port of Naoussa, a creation by Nikos and Evgenios Hamilothoris brothers that serves deftly executed seafood meze in a beautiful location. I tried, among others, delicious and crispy courgette chips, fried baby calamari that was to die for and refreshing salad of cherry tomatoes that made me realise that there is some solid technique and character in the kitchen. The only note of dissonance was the pasta, which was a tad overdone and did an injustice to the well-cooked lobster and a sumptuous salad of fried langoustine tails and basil pesto.
Right beside Barbarossa is 
"
Rigani"
 , a small restaurant owned by the same proprietors that focuses on meat. The cook on the meat served is worthy of applause; the tomatoes are peeled, the fried potatoes make you wonder how that got them to taste so good, and the picanha (Brazilian-style sirloin) is nothing short of surprise in such a touristy place. I unreservedly suggest the melt-in-your-mouth chicken souvlaki.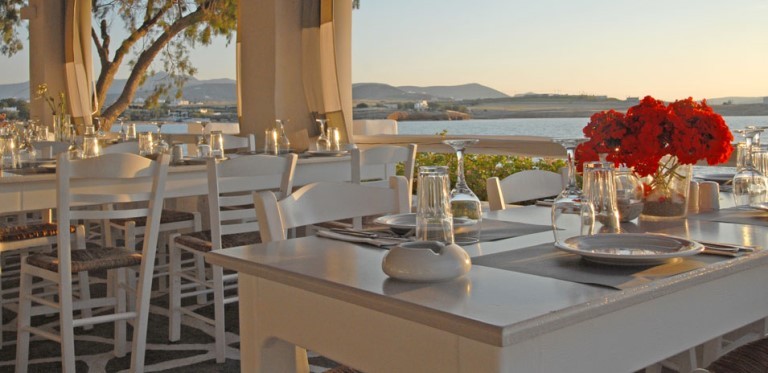 As you drive toward Santa Maria past the area known as Xifara Siparos  is strategically located in the middle of nowhere. Here it is all about loving the sea and putting it on a plate. Do not miss the incredible scrambled-egg strapatsada in a potato nest or the banoffee, which gets top marks as a meal-ender.
Trendy and worldly, Mario in Naoussa is also keeping it simpler on its menu this year, though there is no lack of imagination in certain dishes and all the primary ingredients come from the owner's garden, guaranteeing good quality and by extension, flavour.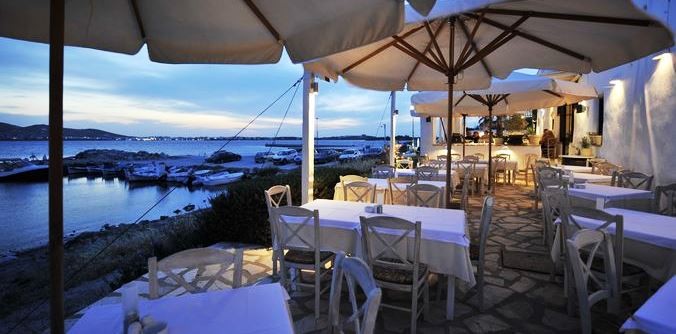 A few kilometres off the beaten track, at the port of Punda, is Thea, with a view of Antiparos, considered by some the best restaurant on the island. The roots of the cuisine lie in Asia Minor and less so in Greece, but its strongest card is a fantastic wine list. This is wine-lover's heaven as its 460 labels, all perfectly stored, will cater to the whimsies of even the most demanding oenophile to visit the island… Chapeau.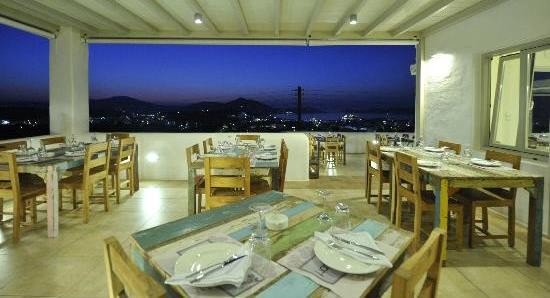 Tweaked dishes with creative flavours, such as souvlaki salad wrapped in pancetta and tzatziki vinaigrette can be enjoyed at Mantzourana, on the outskirts of Naoussa. This is a restaurant full of atmosphere, ideal for dinner and love stories.
Most popular for its frying techniques are Katsounas in Santa Maria and Thalami at Ampelas that has a thing for small fish and delivers them in delicious platters.Also,Tamarisco in Parikia is a blend of Greek and Italian, has a tranquil courtyard and excellent service.
Last but not least,
Haroumenes Prasines Agelades (
Happy Green Cows) in Parikia, with awesome corn croquettes served with a yoghurt-and-lemon sauce as well as plenty of vegetarian selections, and 
Magaya
in Parasporo, serving creations inspired by the cuisines of the world. Great crepes named after the Greek islands can be found at Symposio in Parikia, while fans of Thai can also enjoy a wonderful sunset at Tao's in Ampelas.
If we were to compare the Cycladic Islands to women and more particularly sisters, Paros would be as cosmopolitan as Myconos, attractive as Syros, as good cook a as Sifnos, golden as Milos and Amorgos, pious as Tinos, special as Santorini and occasionally as introverted as Andros and Astypalaia.
So like a woman who is well aware of both her strengths and weaknesses, it makes you want to get to know it and spend at least one long date with it.
User Comments
Login or register to join the conversation