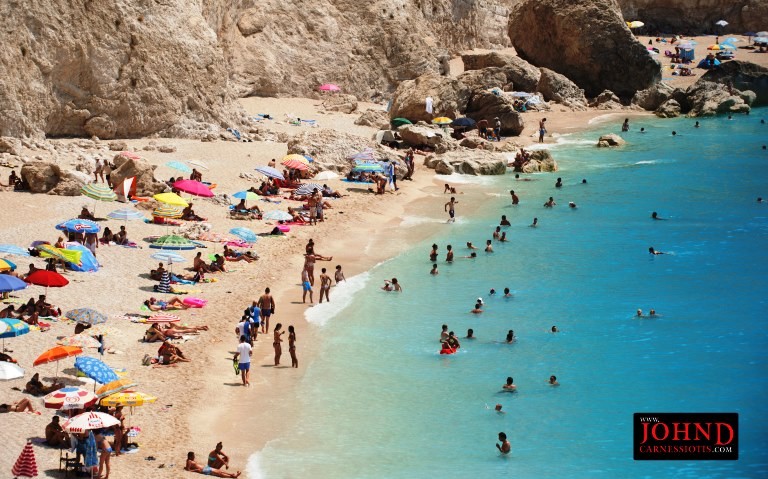 Lefkada may not enjoy the prestige of its nearby cousin, Corfu, or of other Greek islands for that matter, but its beaches have attained legendary status among those in the know, washed by clear waters in shades of blue worthy of the most exotic destinations in the world.
Ease of access (the 380 km. from Athens being easily covered by a leisurely 4-5 hour drive) and the fact that ferryboat fares remain high, make the Ionian island even more attractive in these difficult times. There are plenty of accommodation options, either in Lefkada town or at any of the settlements scattered all along the east coast, which faces Aitoloakarnania just across the water and offers a wide range of tourist facilities and services. Nikiana and Nydri have the added advantage of being just 10-20 km. from the main town, but there are many other small resorts and villages to choose from, such as Perigiali, Vlycho, Vasiliki and Syvota (no connection with Syvota in Epirus, but equally picturesque and tourism-oriented), and these are just the seaside options. It's true that the beaches along the east coast aren't particularly interesting. Of course there are many and they are clean as well as easily accessible, but those on the west coast are the real stars with their white sand, fine, light-coloured shingle and the vastness of the Ionian Sea.
Apart from the beaches, amenities on the east side of the island include plenty of accommodation for all pockets, restaurants for all tastes and nightclubs and bars, especially in bustling Nydri, a somewhat calmer version of Faliraki, which has clearly become a pole of attraction for visitors from the Balkans, especially Serbia.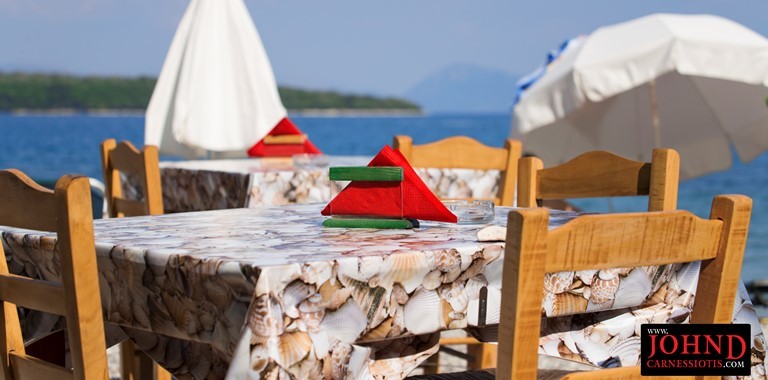 There are many restaurants in the area, with prices ranging from low to reasonable and service that is remarkably willing and courteous. I shall single out  Da Zio Fede (photo above), pleasant and authentically Italian, right at the water's edge, on the "border" between Perigiali and Nydri. Another interesting choice is British-owned JD's Bistro ,in Nydri, almost opposite Alpha Bank. Small, with blue and white décor, they have no problem serving you macaroni with a burger for breakfast, if that's what you want!
If you're looking for something more exotic, you'll find exceptionally good Chinese food at very reasonable prices at 
Jasmine Garden, at the end of the harbour in Nydri, opposite the quay where the Nydri-Meganisi ferry boat docks.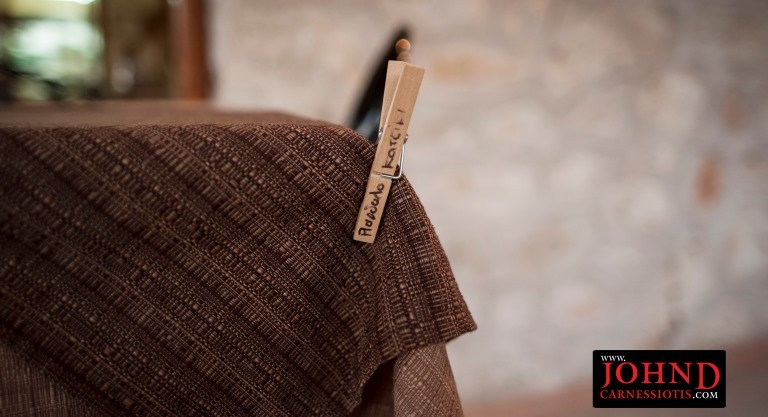 As might be expected, there are numerous choices for Greek cuisine and seafood on Lefkada. But one of the stand-outs is Pardalo Katsiki  in the traditional, bustling village of Karya, in the centre of the island, about 15 km. from both the main town and Nydri. Authentic Greek cuisine and charcoal-grilled delights in their finest version, delicious traditional greens pie, perfectly cooked courgettes and aubergines, all to the sound of Greek music at just the right volume. The restaurant's reputation is certainly justified, so it's definitely worth the drive up the mountain, which in any case should be on your checklist.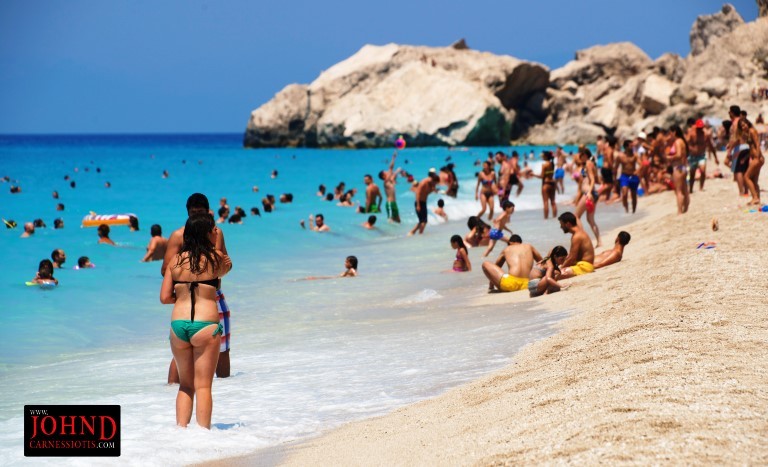 Lefkada has a fairly extensive road network, most of which is in reasonably good condition. This is important; given that the topographical features of the celebrated west side do not allow the development of sizeable tourism infrastructures along the coast south of Agios Nikitas. Unless you are staying in the wider area of Agios Nikitas or in Lefkada town, you should bear in mind that the nearest beach on the west coast will be about 50 km. away, in other words a 30-45 minute drive. However, the sea and landscapes will compensate you handsomely at enchanting Egremni, at popular Porto Katsiki (first photo), at cosmopolitan, Mykonos-like Kathisma (photo above), at striking Kalamitsi or at magical Gialos. The western beaches are numerous and generally quite long. Porto Katsiki involves a descent and climb up almost 100 steps; Egremni about 300. But you can drive right up to the water's edge on the others. On some beaches, parking nearby will cost between two and four euros, but rather than leave your car high up on the road, it's worth paying. Umbrellas and sun beds, where there is a charge, cost 5 euros per set on average.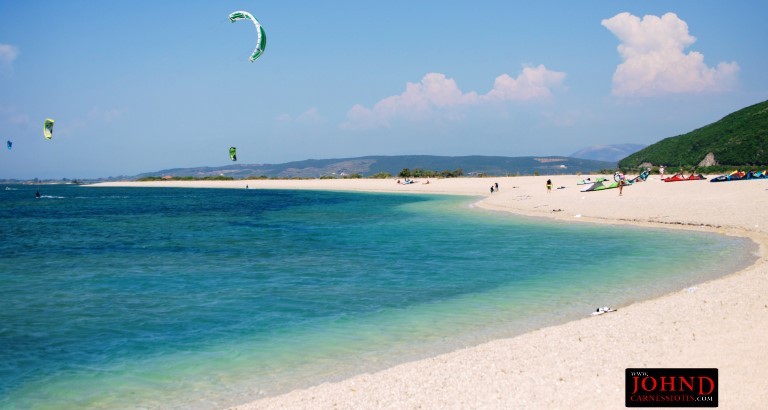 Water sports facilities are available all over Lefkada. The closed sea on the east side of the island and the generally calm Ionian in the summer are ideal for water-skiing. Lovers of windsurfing and kitesurfing should head, depending on the day, to either Myloi, not far from Lefkada town, or Ammoglossa (photo above), an area to your right, just before the small bridge connecting the island with the mainland.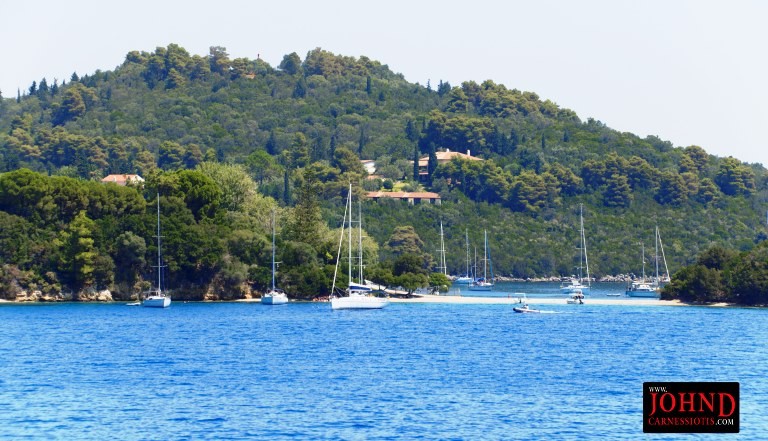 If you have plenty of days and are in the mood for excursions, day-trip boats leave Nydri between 9:30 and 10 in the morning and return around 18:00, giving you the chance – for 15-30 euros – to visit Fiskardo on Cephalonia, Frikes on Ithaki, Meganisi island and Skorpios (photo above), the enchanting islet made famous by Onassis, Callas and Jackie, for a late afternoon swim in crystal-clear waters, and all in a single day! The island's new Russian owner and his well-dowried daughter confine themselves to the interior and are not likely to bother you!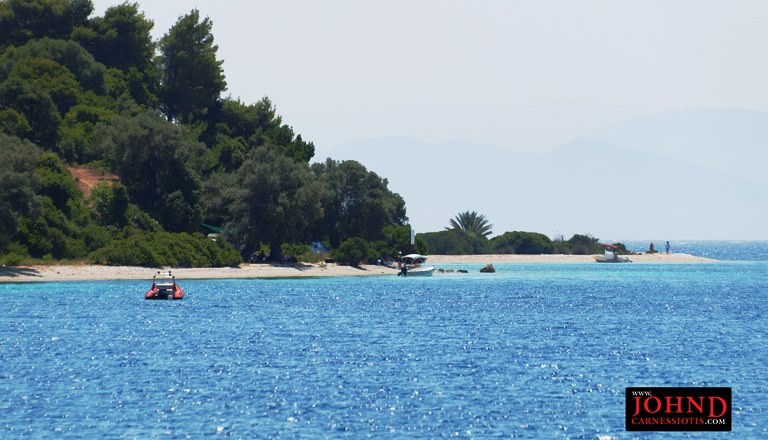 The small, verdant island of Meganisi is also ideal for a day trip according to your own schedule, provided you have a car. The island is just 30 minutes by ferry boat, and there is a regular service connecting it with Nydri. You don't need any particular directions for Meganisi. Stop for a while at Vathy, where the 12:15 ferry boat from Nydri will drop you off; take a walk around Spartochori, in the centre of Meganisi, and then just… drive around until you find a beach or some other spot you like. At one turn, just before Agios Ioannis, on a thin strip of land, I came upon a small beach with fine shingle, washed by crystal-clear water, which I had all to myself. It was right next to the road, but there is so little traffic on the island that all the beaches are generally deserted most of the day – with all that this entails for some of us! Until last year, connoisseurs of good food made a point of going to Meganisi to dine at the highly acclaimed Vezene, but the restaurant will remain closed for two years and re-open in 2014 in a new location with even more and better offerings for its many friends who, for the time being, can enjoy its cuisine only in Athens.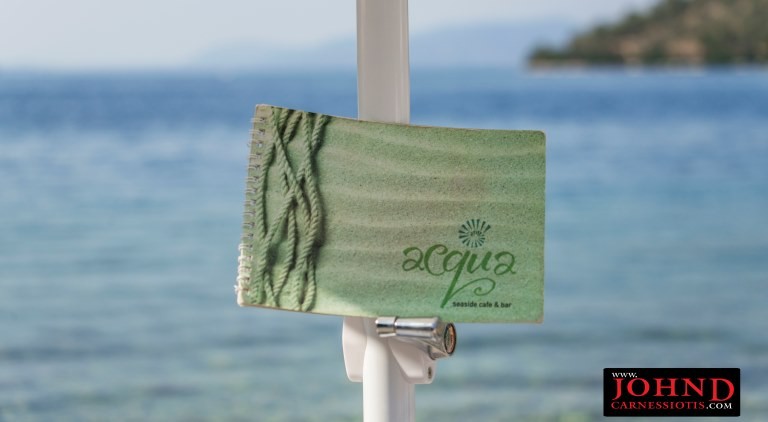 The late afternoon (19:00) ferry back to Nydri doesn't leave from Vathy but from Spilia, yes… little Meganisi has two harbours! Spilia (photo below), a really beautiful bay with clear, green water, is not ideal for swimming, but offers a tranquil setting and an incredibly relaxing view. At the far end of the beach you will find the unpretentious and tasteful Acqua. Impressive politeness from three sweet Lefkada ladies, great service, perfect sandwiches, excellent burgers and… old-style Chicago ice-cream that is to die for! My only criticism: it deserves better, thicker, Chantilly cream, rather than that familiar foamy goo…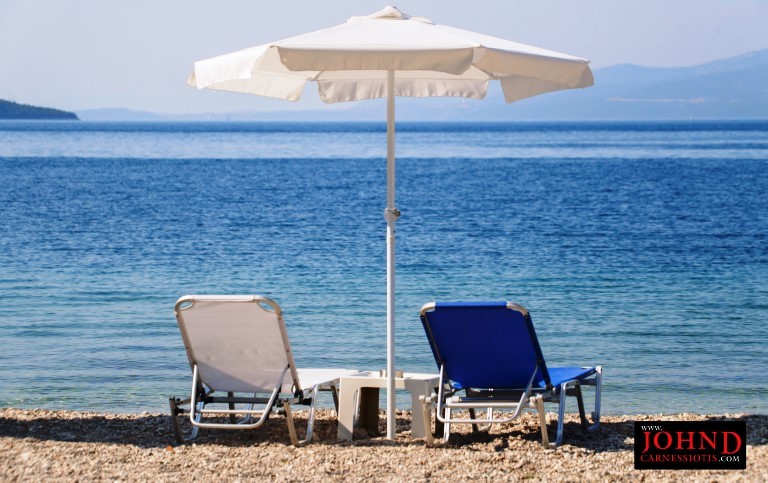 Wishing you a wonderful Greek summer!
User Comments
Login or register to join the conversation