I am counting it in hours so that it seems longer. For I know that any trip to Santorini always feels too short. Don't believe those who say that time stands still here. On the contrary, it passes so quickly that if I were to paraphrase Einstein's explanation of relativity, I would replace the hour spent sitting with a pretty girl, which seems like a minute, with the time spent in Santorini's warm embrace.
Setting off…
First of all, there are two ways to get to Santorini: by sea and by air, with daily flights from Athens which become more frequent in the summer. The high-speed Sea Jet takes about five hours, whereas the flight from Athens to the airport near Kamari, one of the island's attractive coastal villages, is just 45 minutes. A more affordable solution is provided by the regular ferries, but what you save in money you lose in time, as you will be at sea for nearly nine hours. Once on the island, getting around presents no problems, since the distances from one settlement to another are no longer than 15 kilometres. There is no shortage of taxis for those not wanting to make use of the local bus service, and you can ascend/descend between the main town, Fira, and the old port by cable car (adults, €4 one-way). You will probably want to use the cable car in both directions, given that the daunting alternative comes in the form of 588 steps! But one of the most popular ways of visiting certain locations on the island is still on the back of a donkey.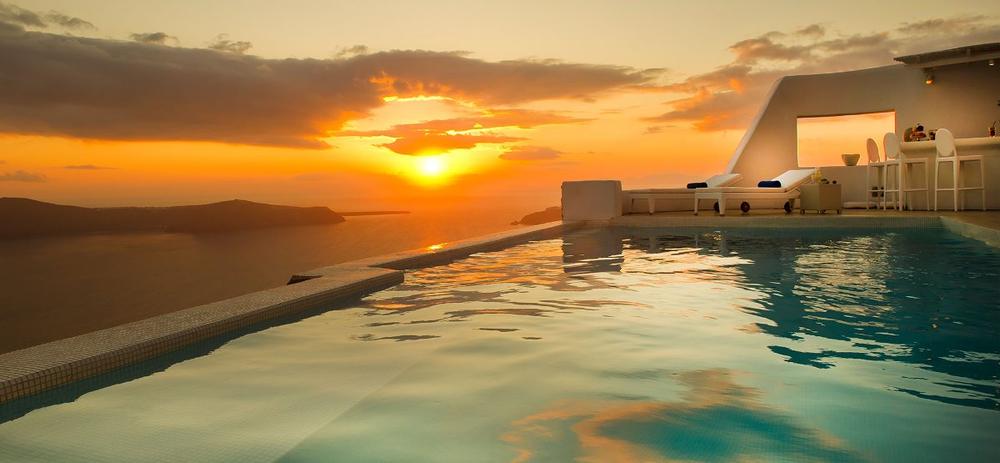 Volcanic origins
There's little doubt that Santorini owes its global fame to the spectacular caldera. The mostly submerged caldera, surrounded on three sides by steep, 300 m. high cliffs of red and black rock, was created by an enormous volcanic eruption some 3,600 years ago. Three picturesque settlements cling to the top of the cliffs, attracting visitors from all over the world on account of their unique architecture and the awesome view. Fira is the island's main town, romantic Imerovigli is perched at its highest point, while scenic Oia extends for almost 2 km. along the northern edge of the caldera, providing incredible views especially at sunset. But to be honest, speaking "off the record", the sunset views are not the biggest attention grabber on Santorini. Not that they aren't quite spectacular, but I do feel that to most visitors they are more of an "obligation" due to their great renown.   
Put the blame on…
If you're visiting for the first time, staying on the edge of the caldera is a must, albeit an expensive one. An overnight stay at one of the luxury boutique hotels overlooking the sea will set you back a fair bit, but it's worth every penny. It's also worth keeping in mind that accommodation rates drop considerably in low season, when things are more relaxed and you can enjoy the island at a more leisurely pace.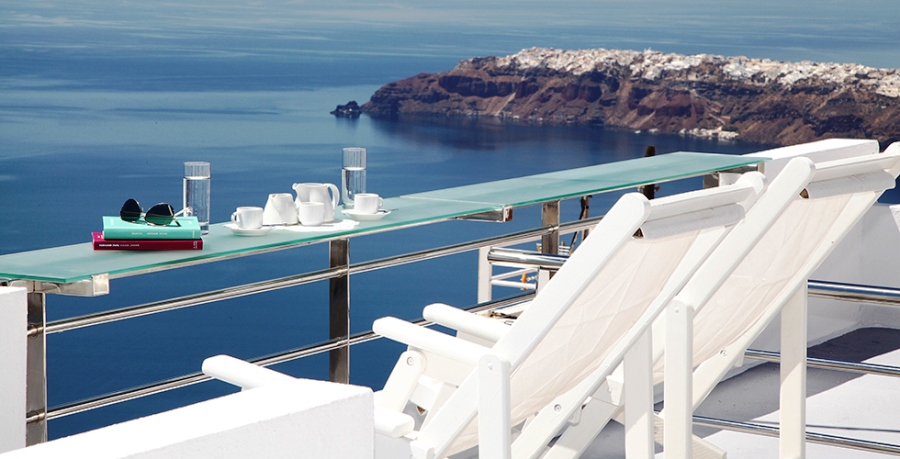 We chose Whitedeck, a small hotel literally caressed by the clouds, in Imerovigli. With the exception of the somewhat disappointing breakfast, which however you can enjoy on your balcony at the time you want, I have nothing bad to say. Wonderful rooms with awesome views of the caldera, the sparkling blue sea and Oia. Service too was very good. Courteous Fanis is willing to do anything possible to make your stay truly memorable.
But there are many other options, depending on the size of your wallet. Another well concealed but charming small hotel with high standards which I discovered in Imerovigli is ARCHouses. The artistically decorated rooms are beautifully furnished and you won't have to pay a small fortune for a good night's sleep. Needless to say, the view is simply priceless.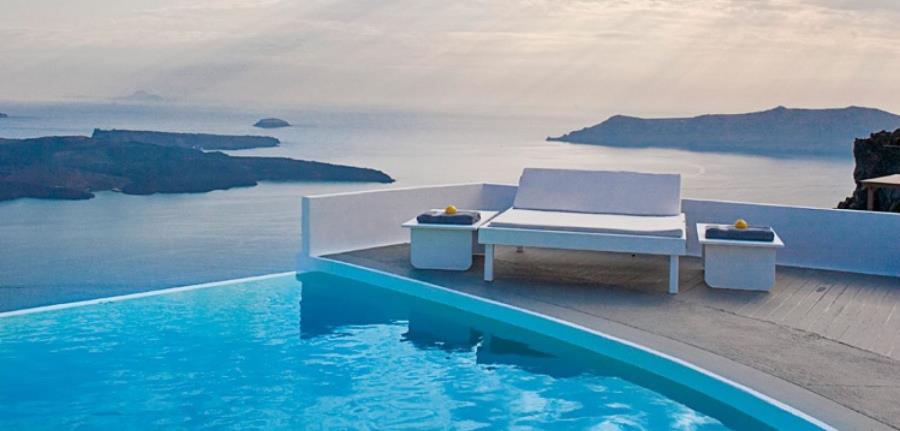 At the marvellous Chromata Hotel you can enjoy sunset cocktails and alfresco dining, while having arrived at Astra Suites (first photo above & featured article) you won't want to leave even for a minute. It's no surprise that it is listed among the 25 best hotels in the world according to TripAdvisor user reviews. In addition to other positives, the splendid Rocabella Santorini has an ace up its sleeve in the shape of signature treatments at its Izumi Spa. Place yourself in the capable hands of its trained therapists and you will leave with wings.
Personally speaking, I believe Imerovigli is a wise choice also on account of its convenient location. Distances from there to the other settlements are more or less equal, so coming-and-going does not present a problem.
In beautiful Oia the cost per night rises significantly. This is the real gem of the island and it is certain you too will fall under its spell. But the enchantment comes at a price. In other words you will have to dig deep into your pocket if you want to spend your nights on Santorini there. I shall single out the 5-star Kirini Suites and Spa, not least for its tastings of mainly local wines in the gorgeous cellar. Santorini Secret (photo above) has perhaps the most attractive rooms I have ever seen in a Cycladic hotel, while Sun Anemos Resort right in front of the sea in the area of Baxedes is excellent value for money. The delightful Stefani Suites at Firostefani belongs to the same affordable category, which explains its immense popularity.
Obviously you can also find less expensive accommodation to suit all pockets. Just make sure you search in good time and don't overlook the island's many "off Broadway" options.
From Earth to… Selene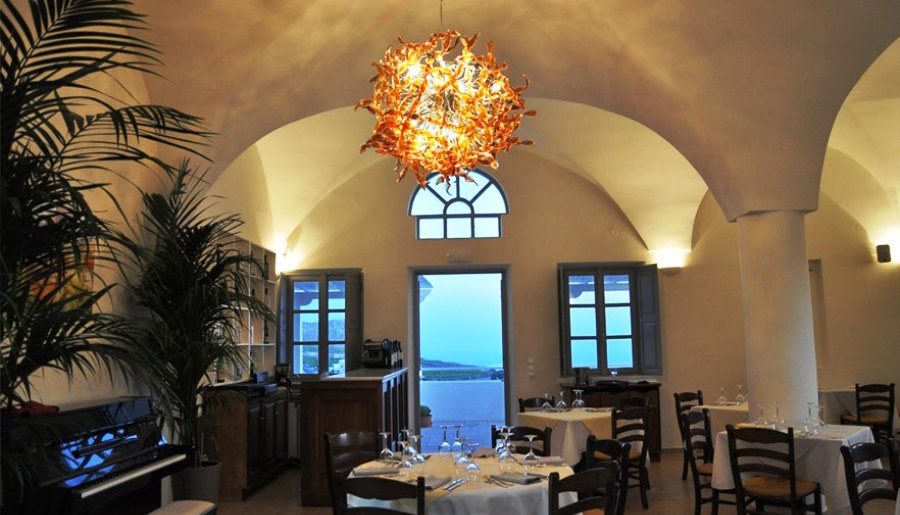 During a chat with a local professional, when I mentioned that I intended to dine at Selene ("moon" in Greek), he said with obvious emotion that Yiorgos Hatziyannakis was the first person to put Santorini on the gastronomic map of Greece. A meal at what is perhaps the finest restaurant on the island, which Yiorgos runs with his wife, Evelyn, in picturesque Pyrgos, is clearly a gastronomic experience. I had the opportunity to savour two dishes at the restaurant which will remain forever etched in my memory. An incredibly tender rooster with chunky hand-rolled cannelloni filled with a creamy Tinos cheese that melted in the mouth. It could be described as a variation of pastitsada, but in a more creative version. And an amazing funky dessert: the lemon. The plate arrives with a chilled closed lemon, cut in half. When you open it, one half is a sorbet made from its flesh and the other half is occupied by a chilled mojito mousse. So delicious you will forget what day it is! The menu is overseen by the excellent chef Nikos Boukis, but from noon when the restaurant offers a simpler, more accessible menu, until early evening, the kitchen team is headed by Thodoris Papanikolaou, a talented young chef who in the winter will be working as sous chef at the Michelin-starred Ora d'Aria in Florence. Selene's day-to-day management is supervised by the outstanding Georgia Tsara and everything runs like clockwork.
Come hungry… leave happy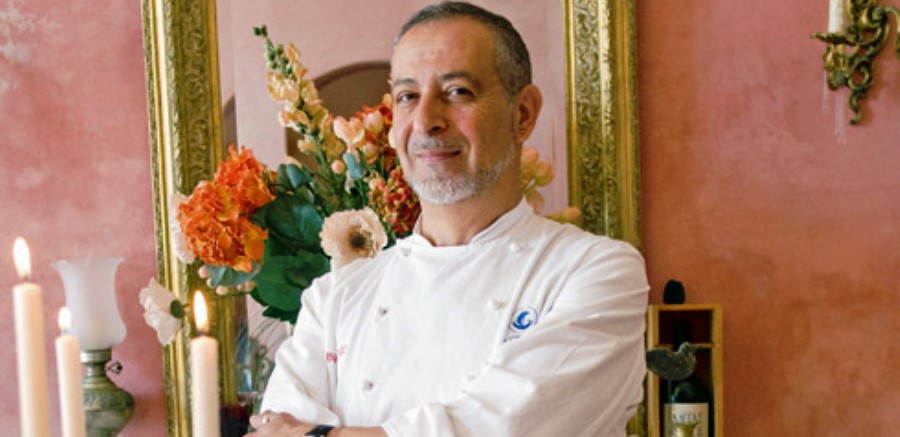 Unfortunately, I didn't have time to visit the renowned Koukoumavlos of chef-proprietor Nikos Pouliasis, but I did have the chance to enjoy the cuisine at Assyrtico, the restaurant he opened in Fira together with Vasilis Zaharakis. Late into the night my friends and I raved about the pappardelle with "fruits of the sea" lightly tossed in a limoncello sauce that provided the perfect complement. Among the strong points of the restaurant are its well-rounded wine list and reasonable prices.


In Oia, the Red Bicycle is famous for its risottos and pasta dishes, but whatever we tasted there was full of flavour and finesse.
Skala (22860-71362) is clearly a more affordable venue and this is reflected in its pleasing but unremarkable cuisine. The greens pie however is absolutely delicious and the view is spectacular. I was taken aback when I saw King Crab on the menu of a taverna. But it is to die for! And wait or it… the menu at Ammoudi, a new taverna in the charming harbour of Oia, is crafted by a grandmother from the island. The place is packed every night. A few steps away, Dimitris (22860-71606) is a must. Dimitris has a "doctorate" in fish, his speciality being the delectable scorpion fish in greaseproof paper. If only the other dishes were up to the same standard.
You'll find good pizza at Spiti (22860-81724) in Megalochori, while fans of Cretan cuisine will not be disappointed at Metaxi Mas in Exo Gonia. Unprecedented hospitality, tasty honest cuisine and an amazing view over Anafi.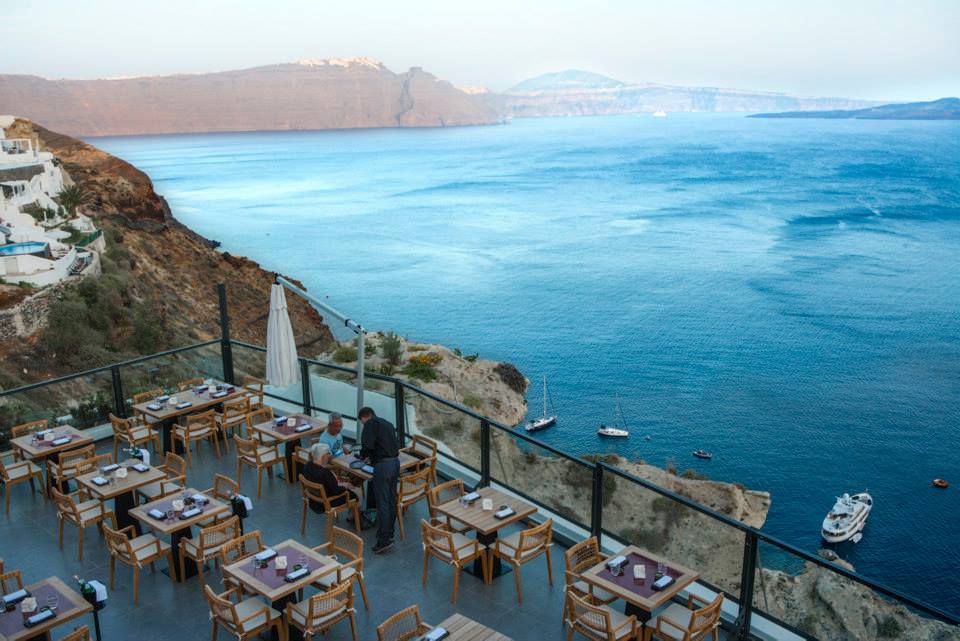 The Ginger Sushi Lounge in Fira is a small, attractive Japanese restaurant where I was really impressed by the carefully made and delicious inside-out rolls but also by the variety of main courses at reasonable prices, while Dimitris Katrivesis and his Oozora team, apart from keeping diners happy in the garden of Cash in the northern Athens suburb of Kefalari, are also preparing their exciting Japanese-Peruvian fusion dishes (Nikkei) at the Santorini Secret (photo) boutique hotel (photo) in Oia. 
I left Vasilis Zaharakis' Nichteri in Kamari feeling disappointed. With the exception of the very tasty grilled squid, perfectly accompanied by delicious kinoa salad, something was missing from the other five or six dishes we tried… one was too bland, another lacked the necessary technique and distinctness of flavours. The service was awkward, the wine served by the glass had lost its verve and we departed with frowns on our faces. But if you are as fortunate as we were, you will have much better luck at Vassilikos 100 metres further along. Yannis Boukouvalas has worked at leading restaurants in Athens and gives his all here.
For a coffee or beer, head to Mezzo Bar in Oia and send photos of the awesome view to your friends. They will hate you. After, toast the health of loved ones with a Negroni at the delightful Tango in Fira.   
They say that Santorini is the stuff of fairytales. Let them say what they like. The truth is, happily for us, it's very real.
User Comments
Login or register to join the conversation