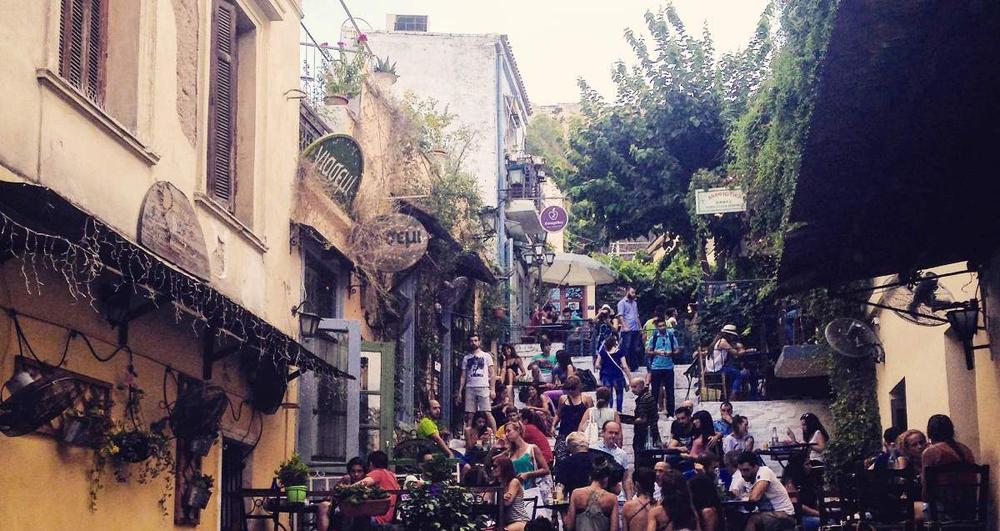 When I was handed this assignment by my editor, I was a little dubious to say the least. Having heard, like all of you too I assume, the infamous stories of ridiculously expensive Greek salads and inedible moussakas dished out to tourists, I armed myself with patience along with a good dose of humour and hit the streets. 
The basic questions I needed answers for were: can someone eat well in Plaka? Are terrible tavernas and inflated prices still the norm or are there at least some decent options fighting against the grain? What is the overall level of dining out in Athens' most historic district? Should a tourist or an ordinary Athenian prefer Plaka's restaurants? These are a lot of questions of course but Plaka is not an easy nut to crack. After a 2-week culinary safari I still can't say whether it's a nightmare or an oasis. The truth is somewhere in the middle but I did try my best to gather as much information as I could.
The tavernas: urban myths and some exceptions
I have to admit that I felt like Tom Hanks in the Terminal during my urban safari. My mission was to find good restaurants even though I knew I would be getting some terrible food along the way, which happened at times of course. If you walk around Plaka's alleyways from Nikis street up to the mini Cyclades or Anafiotika at the foot of the Acropolis, it's easy to see why this area is perfectly suited to quaint tavernas. A lot of them in fact, whether through choice or lack of funds, are beautiful in their ramshackle state. 
One of the most beloved koutoukia (old school taverna with wine barrels) is the legendary 'Bakaliarakia tou Damigou' (Kidathineon 41, tel: 210 3225084). A basement taverna and a Plaka staple as well as an exception to the rule. In the same location since 1865, Mrs Damigou told me how they have to fight tooth and nail to keep the quality of their ingredients high.  The fried dishes are their strong point with the biggest hit being the bakaliarakia (red mullet) whose flesh was as light as snow.
I tried some decent 'magirefta' and average fish at the classic 'Taverna tou Psarra' (Erechteos 16, tel: 210 3218733), now part of the Stathokostopoulos group, while at the 'Palia taverna tou Stamatopoulou' (Lysiou 26, tel: 210 3228722) with the impressive murals by folk artist Yiorgos Savvakis, the food was bad and the service was downright rude.  At 'Spilia' (Thrasylou 3, tel: 210 3248593) the aubergine dip was tasty but the shrimp saganaki and the gemista were really disappointing.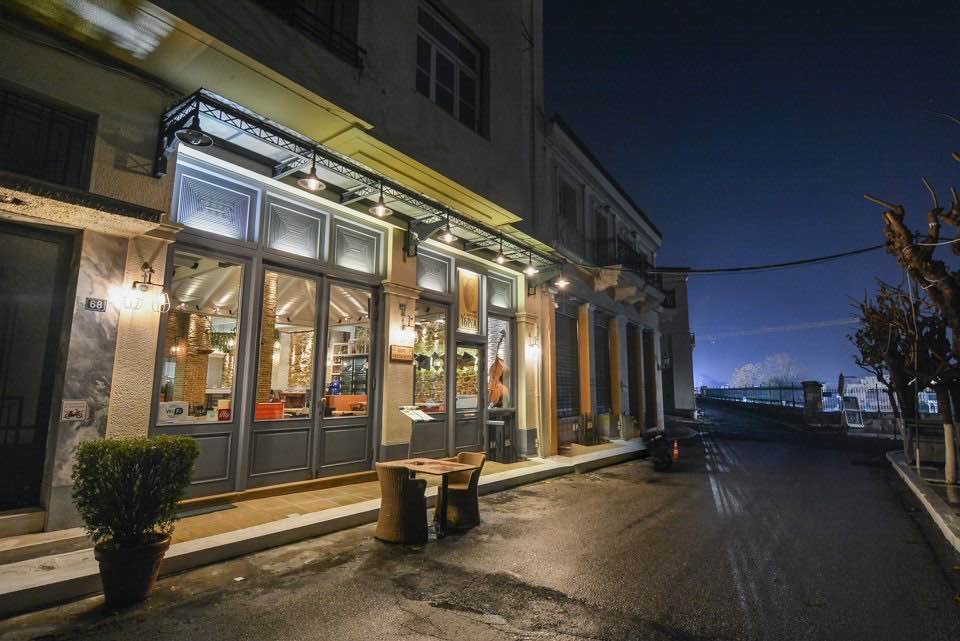 I'll make another exception for Idria (Adrianou 68, tel: 210 3251619).  It might not be the typical Plaka taverna but their food is well prepared. The gigantes beans with syglino (smoked pork) from Mani, sage and pumpkin were delicious and so was the lamb with lemon sauce. Every other taverna we visited was a disaster. Soggy gemista, oily cheese pies, overcooked giouvetsi, Greek salads with embarrassingly poor tomatoes and some of the worst versions of moussaka ever. Cheap olive oil, terrible house wine, sardines cooked within an inch of their lives, biftekia made with low quality mince and rice with carrot of the kind we thought had gone out with wedding catering in the 80s. To put it mildly, an affront to Greek cooking. 
Plaka is not just bad dining experiences though.
The new haunts: light at the end of the tunnel
When the amazing Acropolis Museum opened on Dionysiou Areopagitou street, it rejuvenated the whole area. A lot of local business people attribute the need to better themselves to the museum being there, which was a touchingly honest admission.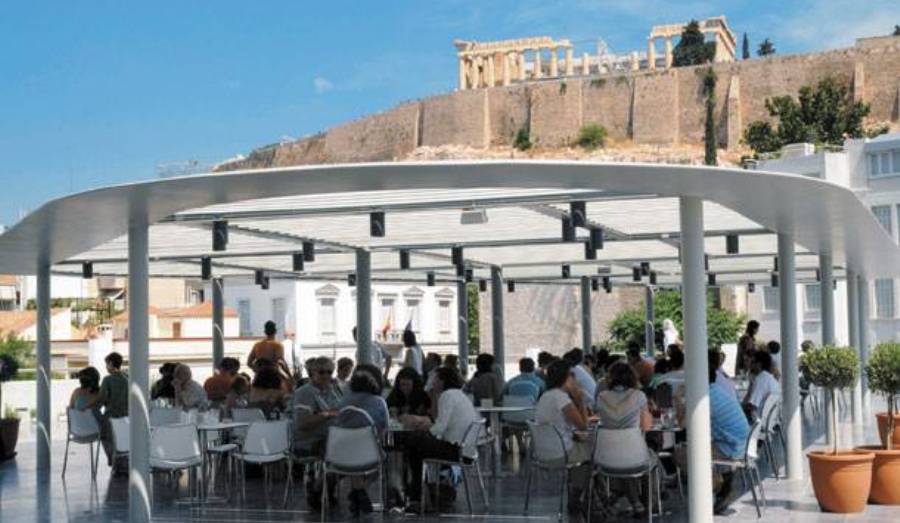 The museum really is a gem and its very good café-restaurant is included in the top 5 museum restaurants anywhere in the world according to the most popular Canadian paper, the Toronto Star. Good espresso, a great Greek breakfast made with local produce and a number of other well priced and tasty Mediterranean dishes are proof of why this place became successful from the get go. 
It's encouraging to see a number of other businesses emerging which are trying to buck the trend. The most recent is 7 Food Sins, a pretty gastropub in the heart of Plaka serving gourmet street food under the watchful eye of Tasos Stefatos. We loved their crunchy moussaka and look forward to seeing 7 Food Sins flourish. 
Heteroclito, on Plaka's border, was one of the first wine bars to make its mark in the city centre. The atmosphere is relaxed, there are a number of by the glass options while the addition of their tapas' menu make for a good night out. 
Oinoscent is another interesting option with a good wine list, regularly updated, as well a wine shop on its premises. The most recent wine bar addition is Sideways on Navarchou Nikodimou.  What you'll find here is a good wine list with a number of bruschettas and cold dishes to accompany your drink.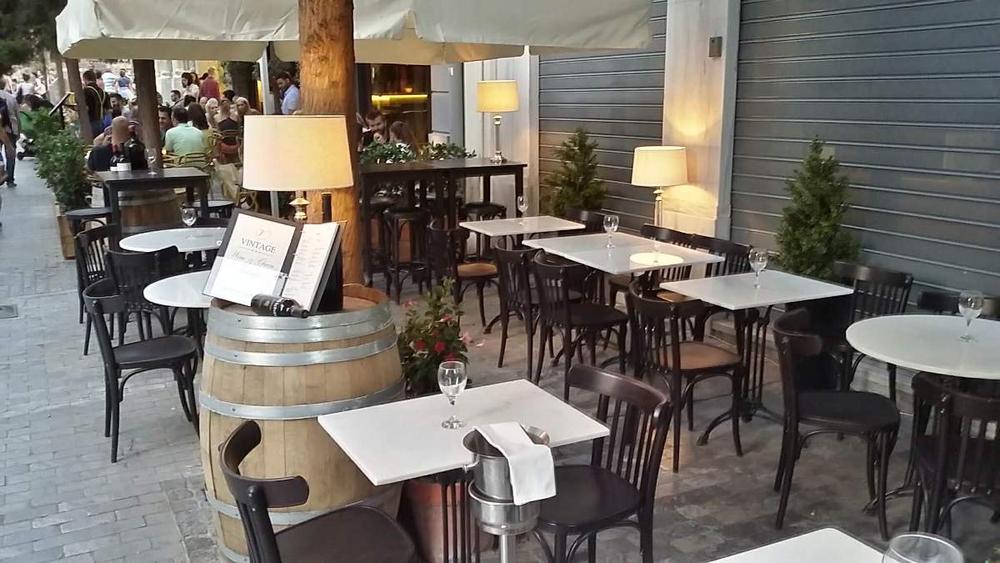 The cutest Plaka wine bistro, Vintage, has a Parisian feel and serves decent Mediterranean dishes on its few tables along the pedestrianised street overlooking the Parthenon. Its unique selling point is its huge wine list with 350 labels by the bottle and 220 by the glass stored with the innovative Coravin method, which they first introduced to the Greek market. The menu changes regularly but our favourites were the raw king prawn with olive oil and parsley gremolata and the perfectly cooked lamb fillet from Vonitsa. 
Another unexpected addition is that of a tropical beach bar: Boom of the Sea on Nikis street.  Something in between a bar and a cantina, it serves 5 euro cocktails and various Greek street food dishes, including Greek sushi: rice with seaweed, cabbage from Pontos and bulgur wheat cooked in fish stock, wrapped in a vine leaf. Not bad at all!
Latifis on Kidathineon 30, might have started in 1970 by serving kaimaki ice cream but it now has a terrace overlooking the Acropolis and serves waffles with over 30 ice cream flavours. I would also recommend a coffee at super cute Yasemi (pictured at the beginning of the article) at the foot of the Acropolis rock with its fans packing it out from morning until night.  I tried to have a coffee at neighbouring 'Melina' but I guess I would need to call ahead in order to get served a glass of water.  I grew tired of the terrible service and left after a 15-min wait. 
The gourmet side of Plaka
There are a number of restaurants, old and new, which have always attempted to rescue Plaka's reputation. Refined menus, talented and creative chefs, well- designed roof gardens with amazing Acropolis views are some of their main characteristics but are they enough to make for a good gastronomic experience? Not necessarily.  Two prime examples are Athens Was Hotel's Modern Restaurant and Herodion's Point A. Both on Plaka's most beautiful street, Dionysiou Areopagitou, both situated on their respective hotels' roof gardens with an incredible view of the Parthenon.  Unfortunately they also have something else in common: food lacking in technique, creativity or flavour. The carbonara I tried at Point A, with apaki and skioufikta (Cretan pasta), was drowned in cream even though the otherwise lovely waitress had assured me they made it with egg.  Real pity. They're both a good recommendation for cocktails with a great Acropolis view though.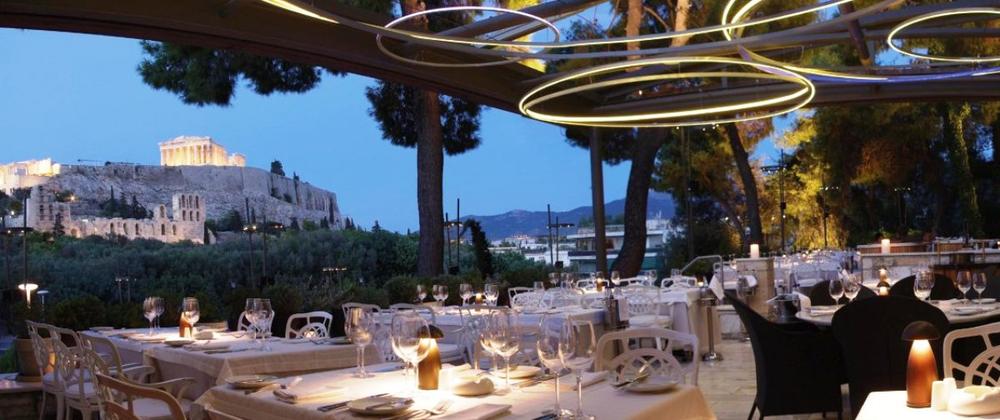 If a visitor asked me about the ultimate Plaka restaurant, I would send them to the Dionysos with its great view towards both the Acropolis and Herodion theatre. I would preface it by saying that this restaurant has had many ups and downs but its current chef, Haris Nikolouzos, is working hard to add modern twists to traditional Greek recipes. 
Yiannis Baxevanis' and Elias Gogos' 2Mazi can brag about one thing: their restaurant was one of the first in the area that tried to break the tourist mould. Both chefs had great CVs and created a beautiful space on Nikis street with a focus on Greek cooking with some creative twists. Some of these are refined and some bland. The steamed mussels are nice even if a little overpowered by the feta cheese, while the tuna tartare on Cretan dakos and the boulliabaisse with ouzo and saffron are exceptional.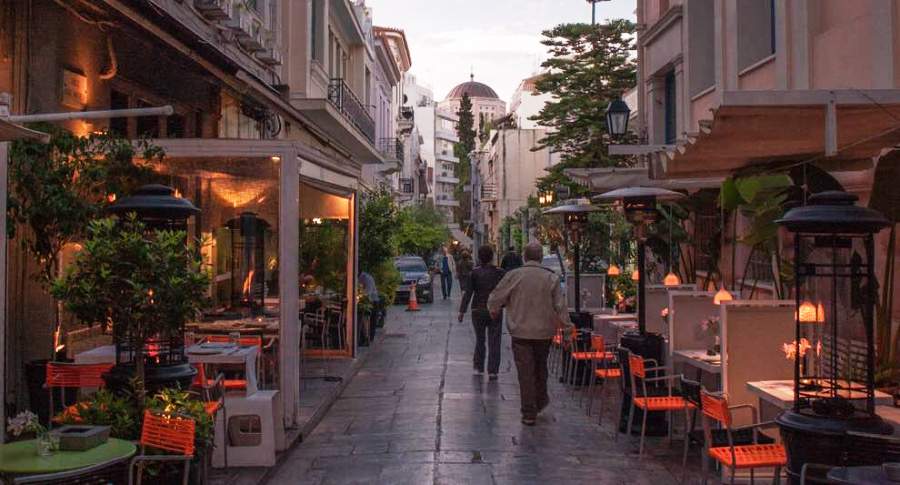 In a well-designed space in the heart of touristy Plaka, you come across Eat at Miltons, which has been part of the gourmet scene here for a number of years. Every time I walk past the usually busy restaurant I feel good that our visitors have escaped some of the terrible tavernas in the surrounding area. How good is this place though?  Alain Parodi, a very good French chef was at the helm for a number of years.  He has since left but the foundations he and the owner set are still in place so it remains a good restaurant. The grilled octopus with fava and caper leaves is a good way to introduce people to Greek cooking for example.  I hear that there are some changes afoot at Eat at Miltons which might include a Michelin starred chef so watch this space.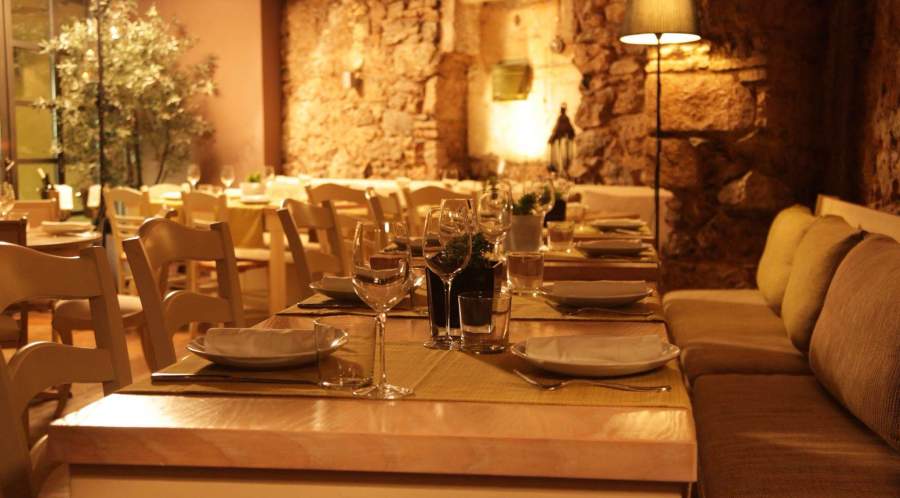 Chef Vasilis Vasiliou's Mono with its unique stained glass windows and large bar area is a classically chic establishment, which serves interesting Mediterranean dishes with some modern additions. You can have a good meal here, especially if you choose some of its simpler dishes, which don't fall foul of some of the unsuccesful flavour combinations. I enjoyed a wonderful risotto with watermelon, pine nuts and feta and found the Like Sushi starter really interesting: rice wrapped in vine leaves with sautéed almyra, tomato, chilli and wasabi yoghurt sauce. Unfortunately the foie gras was completely overtaken by the passion fruit sauce.
On the outskirts of Plaka, right on Filellinon street, the impressive New Taste restaurant in the New Hotel, is a good dining option. Designed by the famous Campana brothers with their wonderfully arty 'tree columns', it serves one of the best brunches in town every Sunday. It also serves good breakfast on every other week day as well as good Mediterranean cooking for lunch and dinner under chef Steven Frost. My favourite dishes are the ethereal Gazpacho Andaluz and the Fish and Chips. 
Last but not least, I should mention one of the best terraces in the area, that of the Acropolis Secret at Divani Acropolis Palace. It gets better every year with exemplary service and consistently good, if a little uninspired, Greek cooking. 
Athens' mini Chinatown
A small section of Plaka near Mitropoleos street, a stone's throw from Syntagma square, has become the Asian food quarter. This is a favourite area for Chinese visitors anyway so if you walk along Nikis or Apollonos streets you will see a number of Asian tourists eating there, even though most of the restaurants are not that great.  An exception is the all time classic Furin Kazan, which serves the best sushi in the area hence why it's always so busy.  Neighbouring East Pearl with its multi-Asian menu has lovely staff but is nothing to get excited about. Attic Moon, a few streets away, is a little better but again not really representative of authentic Chinese cuisine. Dosirak on Voulis street has some exciting Korean dishes, which are really tasty and extra spicy if that's what you're after, as well as some good sushi offerings. The talk of the town is Koi Sushi Bar, which is good value for money, while Indian Kitchen is the place to be if you're after food from that part of the Asian continent. 
User Comments
Login or register to join the conversation