When we speak of coffee houses in Athens, I don't think anyone would deny that Tailor Made and TAF would be among the first to crop up. Wonderful assortments of snacks and nibbles, fine ingredients, a high degree of specialization and series of awards on account of their consistently high standards.
Taking all this into consideration, it is not difficult to understand why, from its very first day of operation, Tailor Made managed to earn its reputation as a must stop-off in the heart of the city and as a business that effectively established Agias Eirinis Square as the "new hotspot". So, one would expect that when the entrepreneur decided to become involved also in the bar business, he would display the same passion and perfectionism. And while this is true in some respects, the scales could be even better balanced.
But the question is: can one aspiring bartender a summer make?
Teo Spyropoulos has been the man behind the bar at Tailor Made for about one year. He has adopted a bar philosophy that is inextricably linked with flair bartending; he is young and – as such – has that passion for learning all the skills of the trade which an unseasoned barman should quickly start showing in Athens in the year 2013. He immediately stands out because behind the bar he is something of an actor. A dancer even. It's something you immediately notice. From the way he opens a bottle and his masterful shaking, from the movements of his fingers when stirring and to the moment he leaves the bar to sit you down, you realize he is no ordinary host. In his body movements you sense something almost Japanese that is reassuring. You discern precision in the way he moves, detail in his technique, gestures of hospitality which are so important in the East. And this is precisely what makes him different. For he is clearly an avid learner who has completely absorbed and now builds on the techniques of Japanese bartending about which so much has been written (though not in Greece…).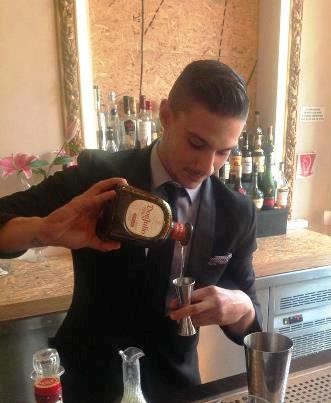 So in Athens, and specifically at his place of work, Tailor Made, this is what he offers: Hospitality and theatricality, professionalism and fun, all on the basis of lessons learned from the Japanese and with lightning fast movements that reflect his skills in flair bartending.
As for the selection of drinks on offer, there is a strong emphasis on gin, with labels that include Gin Mare and Hendrick's, Tanqueray Ten and Fifty Pounds, whilst it is interesting to note that both the gin and the tonic used in the classic highball cocktail come straight out of the fridge to ensure maximum flavour.
There is also a weakness for rum, which is represented by 15 labels, among which the Santa Teresa 1976, Appleton 12-year and Sailor Jerry stand out. Japan again comes to the forefront in the case of the whiskies, either in the form of outstanding Nikka from the barrel or the Yamazaki 12-year Single Malt.Crème de mûre is certainly in favour, a fruit liqueurthat is very popular in the summer, sometimes mixed with vanilla, gin and passion fruit or with Bourbon and house-made caramel syrup.
The menu also features cocktails with mastic, honey, thyme and lemon, as well as concoctions with reposado tequila, the finest quality chocolate, spices, Tabasco and lime; all this before you inevitably spot therather pointless... Sex on the Peach and Porn Star Martini which I cannot, despite their promising sounding names, understand why they are offered in so many of the city's bars, and this one in particular, which in its other area of expertise – coffee –has shown such zeal.
Just as I am sure I would never drink iced coffee here, I am quite sure there is no place behind the bar for strawberry vodka. And if it "must" be present, then a more inventive, less sexual name might be advised.
Tailor Made boasts the best baristas in Athens. It has also an aspiring bartender who always wears a suit and always offers impeccable hospitality. In addition, it is one of the most attractive venues in downtown Athens. So, I can only explain the aforesaid section of the menu in terms of an unfortunate incongruity. Besides, at the end there is an exceptional proposal with Yamazaki 12-year-old, Zacapa 23 Lillet Red, Rooibos Chai, chamomile, rose water, lime and bitter orange. Sophisticated, refined and above all "quality", just like the bar itself overall.
2 Agias Eirinis Square, Monastiraki
User Comments
Login or register to join the conversation