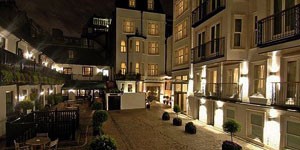 So, given the wet weather, taking a puff outside is not always an option. It is, however, one of the most popular destinations, so I thought I'd come to your rescue!
I have searched all over the city to find the best places to enjoy a cigar. My quest began last year at the cigar shop of James J. Fox on St. James's Street, just a few steps from Davidoff, where you can sample your purchase with a view to buying more. I began chatting with the store manager, who gave me a particularly useful tip. Perhaps he had seen my look of desperation when I purchased some excellent Edición Limitada and asked if he knew any place where I could enjoy them. Well, he pointed to a narrow alley almost opposite that leads to the courtyard of The American Bar at the rear of The Stafford hotel. The wonderful bar was well protected from the elements and the patio heaters were on full blast. That afternoon I enjoyed a marvellous dry martini with a – now difficult to find – and quite superb Partagas Serie D No. 1. And ever since, after lunch and dinner, The American Bar has become a regular haunt!
A few days later I was informed that the outstanding Lanesborough hotel had a cigar bar, the Garden Room, which – by the way – served as a model for our own Alexander's Cigar Lounge at the Hotel Grande Bretagne. In a semi-outdoor space with underfloor heating, enormous leather armchairs, a walk-in humidor and wooden wainscoting, you can savour your cigar in an extremely pleasant environment. The Garden Room also hosts an amazing collection of cigars ranging from the Cuban Davidoff Dom Perignon (the ultimate Habano, as far as I remember) to the extremely rare and sensational Cohiba Behike (from the original run, not the ones released as a regular line)! In fact the Garden Room is the only outlet in the world that sells the Cohiba Behike by the stick… at £1,500 per cigar! Telephone +44 (0)20 7259 5599
---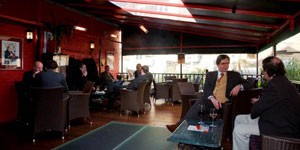 Lastly, take note of another name: Boisdale (13-15 Eccleston St., Belgravia, +44(0)20 7730 6922). This wonderful Scottish restaurant has private dining rooms, whisky bars and... a Cigar Terrace! The restaurant serves traditional – if somewhat expensive – Scottish dishes and the finest whiskies. The attractively laid out Cigar Terrace has outdoor heaters and in winter guests are offered warm cashmere blankets to keep the cold at bay. Enjoy your cigar with a rare malt from an astonishing selection! 
User Comments
Login or register to join the conversation