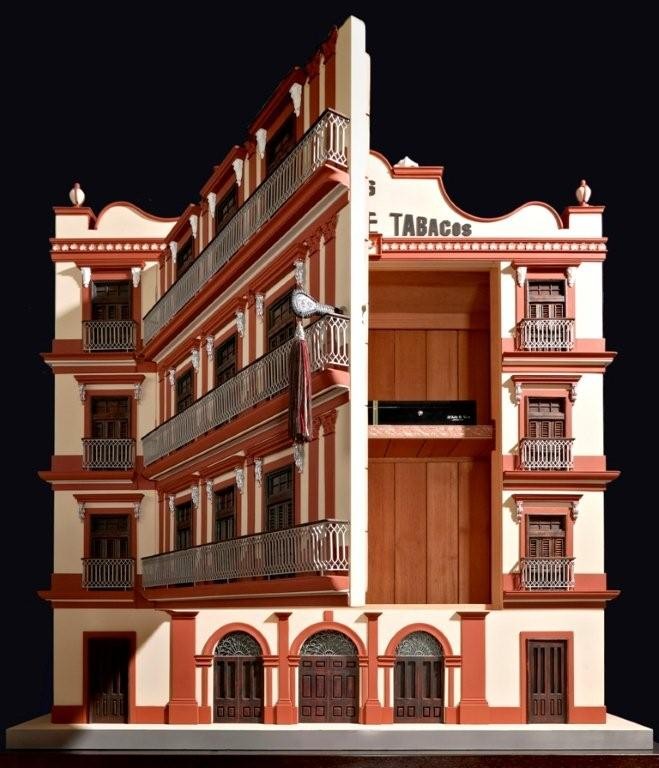 I met Christos Karnabakos and his amazing work about fifteen years ago when he made my first (and, I think, also his fist) large, floor humidor.
  Since then, he has also made me one more for the office, and a small travel humidor.  I have watched how his work has evolved and how he has evolved from an excellent hand-made humidor maker to a perfectionist artist. 
This interview-presentation came on the occasion of his completing the masterpiece you see in the photograph; a large 1.20m x 1.08m humidor which is a very detailed scale model of the undisputed temple of cigars, the Partagas factory in Havana!  I first met him in his workshop in Kalyvia, Attica, and that`s where I once again found him for our interview.  Standing among valuable timber, rare inlaid work and aged Spanish cedars, Christos Karnabakos greeted me with a large smile that`s permanently etched on his face and with the look of the craftsman next door, all radiant and passionate.
 Before we talked about humidors, I asked him about his cigar preferences.  "I like various cigars, but only Cubans, El Rey del Mundo, Bolivar Belicosos, Ramon Allones, Partagas D4, and from the newer ones I prefer the Montecristo Eagles" and added "I smoke around two cigars a day, but my record is 11!". I told him "I have only broken your record in Havana", and then our conversation started from the very beginning of his story, when after finishing school we went to work as a car mechanic!
"I started woodworking around 1992, by making linings for cars and airplanes.  Before that, I was a car mechanic. From that, I switched to wood and linings.  The last aircraft I finished belonged to a cigar lover from New York who, along with everything else, also wanted a humidor in his plane.  That was a big challenge for me, especially if you consider that I had just quit smoking!" . As I watch him passionately go down through memory lane, I light up a velvety Juan Lopez No 2.  He goes on: "When I finished, he gave me a box of (Cohiba) Esplendidos as a present, and I said to myself: here we are". 
As the conversation continues, it inevitably turns to the ideal humidor. "The secret of a good humidor is sturdy construction; it must all be made of solid wood, especially the lid which must be very heavy, fit perfectly and create an ideal seal.  Inside, it must be lined with Spanish cedar which has excellent humidity performance, absorbing any excess humidity and releasing it when needed.  It preserves humidity perfectly, has a wonderful scent and helps combat the no 1 enemy of cigars, the cigar beetle". 
Before we go into the maze of details, I ask him about prices.  The humidors that Christos makes are not cheap (starting at €800 for a small one), nor are the top international brands like Davidoff or Elie Bleu. "A hand-made humidor requires many many hours of work; mine require approximately two months, that`s why they are so expensive.  This does not mean that a cheap humidor will not do the job. It all depends on our requirements. It`s just like cars, a Bentley will take you where you want, but so will a Hyundai".  I ask him about the details that he mainly focuses on, and he insists on the lid closing. It is something that I too have observed in his work.  Right from the start, the closing of the lid on Christos`s humidors, reminded me of the sturdy closing of the heavy doors on a luxury car!  "If I am not satisfied with the closing, the entire build could be scrapped" and added "and of course, the lining of the box with rare timber and inlaid work. I only use top quality materials, all my glues are odour free and non-toxic, all metal parts are platinised, gold-plated or made from top quality surgical grade steel.  I build everything myself". 
In the past 17 years, Christos has constructed a few hundreds of humidors.  Among them, a few very special pieces for private individuals, but for hotels as well, like Grande Bretagne, King George, the Hilton, Grace Hotels or Costa Navarino more recently.  I ask him which one is more special.  Without hesitation, he singles out his latest creation, the Partagas factory.  "This is something that`s been on my mind since 2001. In 2006, returning from Cuba, a friend of mine brought me a photo of a wood-carved box representing the famed factory.  I liked it so much and decided that at some point I would make something better! I wanted to make something unique, something that no-one else would have dared to try, and ultimately I started the project February 2010. 
People who truly love cigars will eventually buy a quality humidor.  The enjoyment of a well-preserved cigar is incredible and aged cigars can offer unique pleasure.  Try it.

Website: www.humidors.gr
Scoreboard Key
0 - 3

Poor

3.5 - 4

Average

4.5

Acceptable

5 - 5.5

Satisfactory

6 - 6.5

Good

7 - 8

Very Good

8.5 - 9

Outstanding

9.5 - 10

Excellent
| | | | | | | | |
| --- | --- | --- | --- | --- | --- | --- | --- |
| 0 - 3 | 3.5 - 4 | 4.5 | 5 - 5.5 | 6 - 6.5 | 7 - 8 | 8.5 - 9 | 9.5 - 10 |
| Poor | Average | Acceptable | Satisfactory | Good | Very Good | Outstanding | Excellent |
User Comments
Login or register to join the conversation